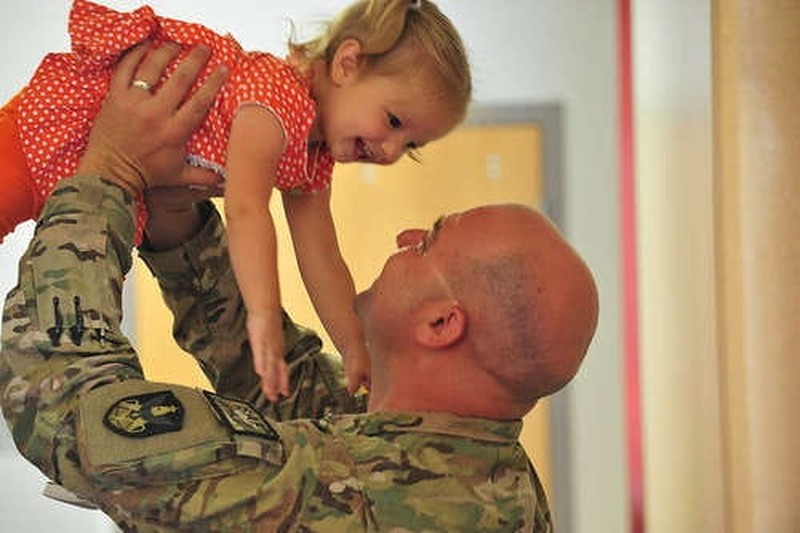 I used to love to dance with my Daddy. When I was very young he would let me ride on his toes as we danced to the music. Later we would dance at weddings or other gatherings. He was light on his feet and I have fond memories of my childhood relationship with my Dad. Fathers and daughters should spend time together. They should have Daddy/daughter dates and when daughters grow up there comes a time when they look forward to dancing with their Daddy on one of the most important days of their lives. Here are just 8 great Christian father daughter songs that you can use for dance or just for special times. I list them in no particular order.
Butterfly Kisses (Bob Carlisle & Randy Thomas)
Bob Carlisle's hit solo Butterfly Kisses was released in 1997. It not only won a Dove Award for Song of the Year in 1997, but it also crossed over that same year to win a Grammy Award for Best Country Song of the Year. In fact, the song was so popular that the Album on which it was released was re-released with the name "Butterfly Kisses (Shades of Grace)". The song recounts a father's memories of his daughter on her wedding day. It remains a favorite of believers and unbelievers alike and I especially like the lyrics:
"I couldn't ask God for more, man this is what love is. I know I gotta let her go, but I'll always remember every hug in the morning and butterfly kisses..."
There You'll Be (Diane Warren)
This was a hit song for powerhouse Faith Hill in 2001 as it was released on the soundtrack of the movie Pearl Harbor. Although not originally recorded or even intended as a father daughter song, I think it can be a song that honors a daddy in the eyes of his little girl. I think especially of a daughter who remembers her Daddy that is no longer with her. Some of my favorite lyrics include:
"Well you showed me
How it feels
To feel the sky
Within my reach
And I always
Will remember all
The strength you
Gave to me
Your love made me
Make it through
Oh, I owe so much to you
You were right there for me"
You're My Little Girl (Jamie Statema)
This is a sweet song that was made popular and performed by the Christian Contemporary group "Go Fish". I read a little about this song years ago and as I recall when Jamie wrote it he had a friend who had a broken relationship. He wanted to remind her of how no matter what happens with our relationships here on earth, God always sees us as His little girl (or little boy) and He will never leave us nor forsake us. Enjoy the video below.
Cinderella (Steven Curtis Chapman)
This is a sweet song written by one of my favorite artists. It is another tribute to a daughter as her daddy recalls all the times his little girl asked him to dance. I love how he sings:
"But she came home today with a ring on her hand just glowing and telling us all they had planned. She says, 'Dad, the wedding's still six months away but I need to practice my dancin' Oh please, Daddy, please'"
Through the Eyes of My Father (Brianna & Austin Haynes)
I just had to list this one because it paints such a beautiful picture of how God sees his children. Brianna and Austin wrote this for their father on Father's Day. The song is summarized in these words:
"A father's like the Father in the way he loves you. A father's like the Father when he carries you through. I am my father's daughter as I'm loving another. See love from my Father in Heaven through the eyes of my father on Earth."
Through My Father's Eyes (Holly Starr)
When Holly wrote this song it was only after many years of struggle about her self-image [1]. She based this song on the following Bible verses:
"The Truth" So God created man in his own image, in the image of God created he him; male and female created he them. (Genesis 1:27)
"The Truth" But the LORD said unto Samuel, Look not on his countenance, or on the height of his stature; because I have refused him: for the LORD seeth not as man seeth; for man looketh on the outward appearance, but the LORD looketh on the heart. (1 Samuel 16:7)
"The Truth" Whose adorning let it not be that outward adorning of plaiting the hair, and of wearing of gold, or of putting on of apparel; But let it be the hidden man of the heart, in that which is not corruptible, even the ornament of a meek and quiet spirit, which is in the sight of God of great price. (1 Peter 3:3-4)
I think you will enjoy this video:
Father's Love
I have heard this one played at many weddings. The rendition I remember most is the one by Bob Carlisle, which he released on the same album as Butterfly Kisses. However, when you do an internet search for this song the most popular version is sung by Gary Valenciano, a Filipino musician (a.k.a. Edgardo José Martin Santiago Valenciano). The lyrics of this song are not specific to father/daughter; I believe they can be connected with father/son as well. Even so, I leave you to contemplate these words:
"There is no power on earth like your father's love

So big and so strong as your father's love

A promise that's sacred, a promise from heaven above

Did I hug enough, did I care enough?

When you most needed me, was I there enough?

Enough to make you feel the power of your father's love"
King of the World (Cindy Morgan)
This one really reminds me of my childhood. It was released by the Christian Contemporary group "Point of Grace" in 2007. The group was most popular several years ago as a quartet. At the time of this release, as trio, these ladies all shared the family trait of having no brothers. Each being a Daddy's girl on their own they sing this song with the sweet lyrics:
"Dance me! Dance me around till my feet don't ever touch down. There's nothin' better than bein' your girl and if I am your princess than daddy uou are the king of the world!"
The relationship between a father and a daughter is something very special. Do you have a song that fits this category? Share it in the comments below.
Do not miss this very popular article also from author Pamela Rose Williams:  20 Best Female Christian Artists
Resources – The Holy Bible, King James Version. [1] Behind the song with Kevin Davis, Photo Credit: The National Guard via Compfight cc