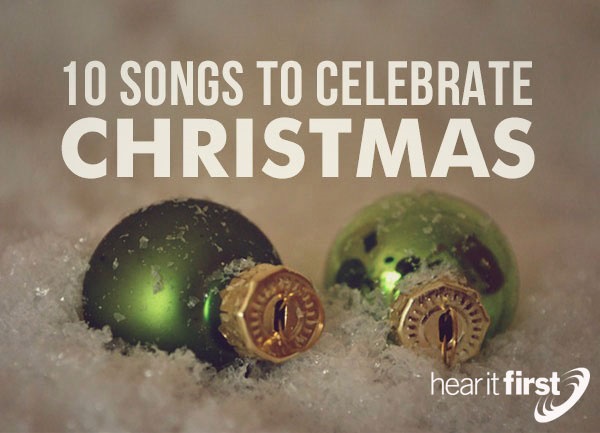 Why do we celebrate Christmas? Baby Jesus, of course. How do we celebrate Christmas? With parties and pageants and pecan pie. And loads of good music! While the birth of Jesus was unassuming, quiet, and humble on earth, it was quite the opposite in Heaven. Hosts of angels sang the praises of the One who had been born to die. The Father's plan to save His most precious of all creations, you and me, had come. Let us rejoice with them!
Here are 10 songs to help you celebrate this Christmas.
1. Chris Tomlin – He Shall Reign Forevermore
There is no better way to start out your Christmas celebrations than by giving your heart to Christ. That is the very purpose of Christmas. Recognizing that He came into this world for the sole purpose of dying. He was born to be a King without a crown. He brought with Him the promise of eternal life. For you. This Christmas, celebrate the Light that has broken darkness. Let Him reign in your heart forevermore.
If I were a wise man, I would travel far
And if I were a shepherd, I would do my part
But poor as I am
I will give to Him my heart. ~Chris Tomlin
2. MercyMe – Our Lullaby
Imagine all the questions and anxious thoughts that must have been present in the manger that night. MercyMe brings us this lullaby of comfort and peace as Heaven sings over baby Jesus as well as Mary and Joseph. Celebrate Christmas knowing that Peace Himself has come.
Lullaby
Let heaven and angels sing for you tonight
For you tonight
This is our lullaby
Peace on earth has finally arrived. ~MercyMe
3. Hillsong Worship – Born Is The King (It's Christmas)
Gather all of the children and celebrate the King with a worshipful heart. Hillsong Worship offers us this musical gift to encourage us to make a joyful sound and praise our King who has been born. We celebrate, we worship, because it's Christmas!
Make a joyful sound
It's Christmas
Let His praise resound
It's Christmas. ~Hillsong
4. Francesca Battistelli – You're Here
Francesca sings this stirring song of gratitude from Mary's perspective. Mary must have marveled at the tiny hands that would one day stretch their way out on either ends of the cross. She held the Savior, King and Creator near to her knowing that she could not keep him.
You're here, I'm holding you so near
I'm staring into the face of my Savior
King and Creator
You could of left us on our own
But you're here. ~Francesca Battistelli
5. for KING & COUNTRY – Baby Boy
Endless joy and relentless hope are ours because a baby won the war. The Baby Boy who was born a King in all of His unexpected majesty and without a crown had come to save the world. We celebrate Christmas because we can! We sing "Alleluia" because we can!
Alleluia, we can sing it
Alleluia, Heaven's ringing
Alleluia!
Endless hope and relentless joy started with a Baby Boy ~for KING & COUNTRY
6. Michael W. Smith – What Child Is This (feat. Martina McBride)
The miracle of redemption in the form of a child had arrived. Emmanuel had come! In true Michael W. Smith fashion, this composition of strings and superb vocals provides a meaningful and moving means of celebrating Christmas.
This, this is Christ the King,
Whom shepherds guard and angels sing:
Haste, haste to bring Him laud,
The babe, the son of Mary. ~William Chatterton Dix, Lyricist
7. Rend Collective – Hark! The Herald Angels Sing (Glory In The Highest)
Celebrate Christmas by joining with Rend Collective in this heart-stirring rendition of a favored classic. This time-honored Christmas carol calls us to rise up and join with the angels of Heaven and rejoice in the birth of Emmanuel.
Joyful all ye nations rise
Join the triumph of the skies
With angelic host proclaim
"Christ is born in Bethlehem"
With angelic host proclaim
"Christ is born in Bethlehem" ~Charles Wesley, Lyricist
Celebrate Christmas with Steven Curtis Chapman's version of one of our favorite traditional tunes. This song reminds us that praise and wonder have no limitations and they are most definitely not meant to be sung quietly.
Joy to the world! the Savior reigns
Let men their songs employ
While fields and floods
Rocks, hills and plains
Repeat the sounding joy. ~Isaac Watts, Lyricist
9. Chris Tomlin (feat. Lauren Daigle) – Noel
Noel, by definition, is Christmas or the Christmas season. We celebrate the story. We celebrate the love. Lauren Daigle masterfully ushers us into Christmas season of celebration. In awe we listen. In awe we sing. In awe we celebrate. Noel.
The story of amazing love!
The light of the world, given for us
Noel ~Chris Tomlin
10. Danny Gokey – Lift Up Your Eyes
Much of our Christmas season is spent looking around. Looking around at all the things that need to be done, all the things that need to be purchased and all the places we need to go. Danny Gokey encourages us to celebrate Christmas as we look down and offer ourselves humbly at the feet of our Savior. Then we can lift up our eyes, to see His glory.
Come and lay your offering at his feet
Where the sons of earth and heavens meet
Let the joy awaken in every heart
Born into the night the morning star
Come and lay your offering at his feet ~Danny Gokey
Listen To All Of The Songs On Spotify
Article by Andrea Stunz
I'm a born-and-raised Texan who enjoys any adventure that requires a passport. As a Christ-following pilgrim, I'm a lover of stories and a connoisseur of sunrises and coffee - best when served together. I listen to a wide range of musicians with Andrew Peterson, Jimmy Needham and Bethel Music being just a few of my favorites. When I'm not writing, you'll find me in the kitchen or spending time with those I love.