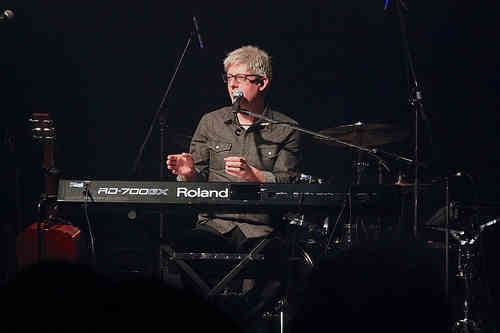 When I am in the office at our Biblical counseling ministry I plug my iPod into the speaker bar and press shuffle for some lovely Christian instrumental worship songs. People who come and go often ask what is playing and I regularly need to look at the player because I have hundreds of pieces. Something that I have noticed is that there are certain ones that are available on several different albums.
Here is my list of 10 popular Christian instrumental worship songs.
10. Your Grace is Enough (Matt Maher)
My grace is sufficient for thee: for my strength is made perfect in weakness. Most gladly therefore will I rather glory in my infirmities, that the power of Christ may rest upon me. (2 Corinthians 12:19)
9. Here I am to Worship (Tim Hughes)
8. Lord I lift Your Name on High (Rick Founds)
I will praise the LORD according to his righteousness: and will sing praise to the name of the LORD most high. (Psalm 7:17)
7. On My Knees (David Mullen, Michael Ochs & Nicole Coleman-Mullen)
Wherefore I desire that ye faint not at my tribulations for you, which is your glory. For this cause I bow my knees unto the Father of our Lord Jesus Christ, (Ephesians 3:13, 14)
6. Mighty to Save (Ben Fielding & Reuben Morgan)
For verily I say unto you, That whosoever shall say unto this mountain, Be thou removed, and be thou cast into the sea; and shall not doubt in his heart, but shall believe that those things which he saith shall come to pass; he shall have whatsoever he saith. Therefore I say unto you, What things soever ye desire, when ye pray, believe that ye receive them, and ye shall have them. (Matthew 11:23, 24)
5. How He Loves Me (John Mark McMillan)
4. Open the Eyes of My Heart (Paul Baloche)
Cease not to give thanks for you, making mention of you in my prayers; That the God of our Lord Jesus Christ, the Father of glory, may give unto you the spirit of wisdom and revelation in the knowledge of him: The eyes of your understanding being enlightened; that ye may know what is the hope of his calling, and what the riches of the glory of his inheritance in the saints… (Ephesians 1:16-18)
3. Revelation Song (Jennie Lee Riddle)
And I beheld, and I heard the voice of many angels round about the throne and the beasts and the elders: and the number of them was ten thousand times ten thousand, and thousands of thousands; Saying with a loud voice, Worthy is the Lamb that was slain to receive power, and riches, and wisdom, and strength, and honour, and glory, and blessing. (Revelation 5:11, 12)
2. You're Worthy of my Praise (David Ruis)
I will praise thee with my whole heart: before the gods will I sing praise unto thee. I will worship toward thy holy temple, and praise thy name for thy lovingkindness and for thy truth: for thou hast magnified thy word above all thy name. (Psalm 138:1, 2)
Some Quotes About Worship from Leaders
In the end, worship can never be a performance, something you're pretending or putting on. It's got to be an overflow of your heart...Worship is about getting personal with God, drawing close to God. ~ Matt Redman
Let the presence of God INVADE you today. It's all about Him...don't get distracted by the stupid things of the enemy. Remember, God wins! ~ Kari Jobe
Being a worship leader means I deeply desire to use the gifts God has given me to lead others in a meaningful response to Him. ~ Chris Tomlin
Worship is more than singing beautiful songs in church on a Sunday. It is more than instruments and music. As a true worshipper, your heart will long to worship Him at all times, in all ways and with all your life. ~ Darlene Zschech
You aspire to be faithful to God's calling in your life, pressing through even when you fall short. And when you hit a certain age, as you grow in your faith, you recognize the potential and the burden of being a leader, realizing 'I've got to step up and be more intentional toward the people God has put in my life.' And your prayer becomes, 'Lord, give me grace to finish well.'" ~ Paul Baloche
Worshipping does not always need words. Sometimes it is just time to listen to beautiful Christian instrumental worship songs and spend time worshipping God that way. Do you have a favorite that I did not mention? Feel free to leave it in the comments below.
Related Post to take a look at: Top 10 Christian Country Songs
photo credit: DennisTsang via photopin cc