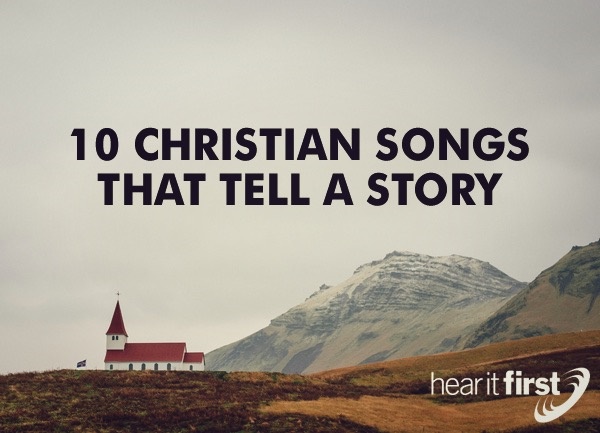 Jesus shared many parables in the Bible in order to teach lessons. Stories remain an incredible tool to breaking down walls and connecting people. Quite a few Christian songs tell stories that speak to my heart and encourage me. I hear a story in each song I listen to and the ones that stay with me long after the radio is turned off are the ones that were written from a place of distress or talk about a horrific time in a person's life. The stories in the songs below are perhaps new to you or ones that you have not heard in a while. Artists such as Chris Tomlin tells a story about people in each one of this songs and other Christian artists tell a story about how amazing God is.
Here are 10 Christian songs that tell a story.
10. "Still That Girl" by Britt Nicole
Favorite Lyrics
You were young, you were free
And you dared to believe
You could be the girl
Who could change the world
Then your life took a turn
And you fell, and it hurt
But you're still that girl
And you're gonna change this world
Woh oh oh oh oh oh
You're still that girl
You're still that girl
Woh oh oh oh oh oh
You're still that girl
You're still that girl
9. "New Man" by All Things New
Favorite Lyrics
I can remember when he left
It's still pounding in my chest
The pain I felt when you said goodbye
All the nights I tried to call
Cause I needed a father's love
To cheer me on, to lift me up, to be my guide

I try to find my worth
In things that didn't work
My confidence was broken
I was hopeless
8. "Does Anybody Hear Her" by Casting Crowns
Favorite Lyrics
She is running
A hundred miles an hour in the wrong direction
She is trying
But the canyon's ever widening
In the depths of her cold heart
So she sets out on another misadventure just to find
She's another two years older
And she's three more steps behind

Does anybody hear her?
Can anybody see?
Or does anybody even know she's going down today
Under the shadow of our steeple
With all the lost and lonely people
Searching for the hope that's tucked away in you and me
Does anybody hear her?
Can anybody see?
7. "Just Like You" by Lecrae
Favorite Lyrics
Dear, Uncle Chris, Uncle Keith, Uncle Ricky,
Before the Lord get me I gotta say something quickly
I grew up empty since my daddy wasn't with me shoot,
I wasn't picky I'd take any male figure
You
Stepped in at the right time,
It's 'cause of you that I write rhymes
You probably never knew that
I loved the way you used to come through,
Teach me to do the things that men do
6. "Leaving Eden" by Brandon Heath
Favorite Lyrics
Feels like I'm leaving Eden
Feels like I'm leaving Eden, oh
It's like I'm further away with every step I take
And I can't go back 'cause I'm leaving Eden

I'm going, going home
I'm going, going home
There's no place, no place like home
There's no place, no place like home, home, oh
5. "Things We Go Through" by Hawk Nelson
Favorite Lyrics
Kyle's parents split up, he thinks it's his fault
Little does he know that the time they're in was difficult
Andrea she left home, said she had enough
All she really wanted was somebody else there to love

She's all alone again, it's the same old argument
And she needs a helping hand to help her find the truth

These are the things we go through
Let's take control and be ourselves
Let's not waste time wondering about
How we're gonna make it out
4. "The Face of Christ" by Chris Rice
Favorite Lyrics
After sixteen years in a cold, gray prison yard
Somehow His heart is soft, but keeping simple faith is hard
He lays His Bible open on the table next to me
And as I hear His humble prayer, I feel His longing to be free someday

How did I find myself in a better place
I cant look down on the frown on the other guys face
Cause when I stoop down low, look Him square in the eye
I get a funny feeling, I just might be dealing with the face of Christ
3. "Slip On By" by Finding Favour
Favorite Lyrics
Early morning by the riverside,
Saw a old man waiting for a bite,
We started talking and he took me back in time.

He said I was young, and thought I'd always be,
Then I woke up, now I'm 83
There's so much I missed, oh how I wish
I could get back all that time I wasted.

I see the tears of a young bride
The morning that we had our first fight.
I should've held her tight.
And on the day that my momma died,
I hung up the phone and never said goodbye.
2. "My Revival Song" by Tim Timmons
Favorite Lyrics
You're my revival song, You start where I belong
On my knees, on my knees
When I am weak or strong You meet me here
When I'm on my knees, on my knees
Oh, it starts with me

Why do I try to work outside of You?
Knocking down doors I should be going through
But I'm so tired, I'm so tired
You take my burdens off of my shoulders
You break the lies that hold me back
I'm not sure enough
1. "I Need a Miracle" by Third Day
Favorite Lyrics
He lost his job and all he had in the fall of '09
Now he feared the worst, that he would lose his children and his wife
So he drove down deep into the woods and thought he'd end it all
And prayed, "Lord above, I need a miracle"

Well no matter who you are and no matter what you've done
There will come a time when you can't make it on your own
And in your hour of desperation
Know you're not the only one
Prayin', "lord above, I need a miracle
I need a miracle"
These are not the only Christian songs that tell a story. Have you heard your story in one of these or another song? Maybe your story is full of sorrow, full of praise or full of redemption. God cares about each one of your stories and He is trying to reach out to you. Don't turn off the radio the next time you feel yourself becoming lighter or connecting with a song. Lean into it and let it fill your soul. Sing out loud even if you mess up the words and your child begins laughing. Create a moment and let God use the time to bring you closer to Him.
Article by Elise Cleary
I am a Christian writer and editor that lives in northern Michigan and thoroughly enjoy music, movies, TV shows, books and other entertainment with a Christian focus. My favorite song is "Oceans" by Hillsong United because it reminds me that has big plans for me and everyone else who puts their trust in Him. There are many movies that have impacted my life, but a few include God's Not Dead, The Shunning and Letters to God. I also write for www.faithandentertainment.com and love connecting with readers, so please don't hesitate to contact me! When I'm not writing I enjoy watching movies and laughing with my busy toddler and husband.