'Praise Him Forever' Chris Tomlin Performance At New Song Cafe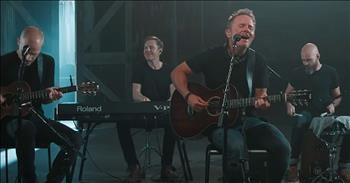 Award winning Christian artist Chris Tomlin performs an acoustic rendition of his hit song 'Praise Him Forever.' After the performance, Chris also shares the story behind these powerful lyrics.

"Oh, sing praise
Let everything that breathes
Let all the earth proclaim
Great is the Lord our God
Praise Him forever
Let all that is within me
Magnify His name
Great is the Lord our God
Praise Him forever"
Chris Tomlin has been a staple in the Christian music scene for decades. There is no doubt that he is one of the most popular modern day Christian artists.
Over the years, he's given us hit songs such as 'Good Good Father' and 'God's Great Dance Floor.' These songs have become a part of church services all over the world and he continues to create new music that gives praise to God's Name.
Today, he's at the famed New Song Café for a special acoustic performance of 'Praise Him Forever.' Continue watching after the song for a look at the creation of this song and how to play it on your own at home.
This is such a beautiful way to shout the praises of our King!
Psalm 95:1-3 "Oh come, let us sing to the LORD; let us make a joyful noise to the rock of our salvation! 2 Let us come into his presence with thanksgiving; let us make a joyful noise to him with songs of praise! 3 For the LORD is a great God, and a great King above all gods."
chris-tomlin

263 views

2019-11-21T09:54:52

source: Chris Tomlin Award winning Christian artist Chris Tomlin performs an acoustic rendition of his hit song 'Praise Him Forever.' After the performance, Chris also shares the story behind these powerful lyrics.

"Oh, sing praise
Let everything that breathes
Let all the earth proclaim
Great is the Lord our God
Praise Him forever
Let all that is within me
Magnify His name
Great is the Lord our God
Praise Him forever"

Chris Tomlin has been a staple in the Christian music scene for decades. There is no doubt that he is one of the most popular modern day Christian artists.

Over the years, he's given us hit songs such as 'Good Good Father' and 'God's Great Dance Floor.' These songs have become a part of church services all over the world and he continues to create new music that gives praise to God's Name.

Today, he's at the famed New Song Café for a special acoustic performance of 'Praise Him Forever.' Continue watching after the song for a look at the creation of this song and how to play it on your own at home.

This is such a beautiful way to shout the praises of our King!

Psalm 95:1-3 "Oh come, let us sing to the LORD; let us make a joyful noise to the rock of our salvation! 2 Let us come into his presence with thanksgiving; let us make a joyful noise to him with songs of praise! 3 For the LORD is a great God, and a great King above all gods."

Today's Devotional
A Prayer to Be Sober-Minded - Your Daily Prayer - July 7
Top Artists