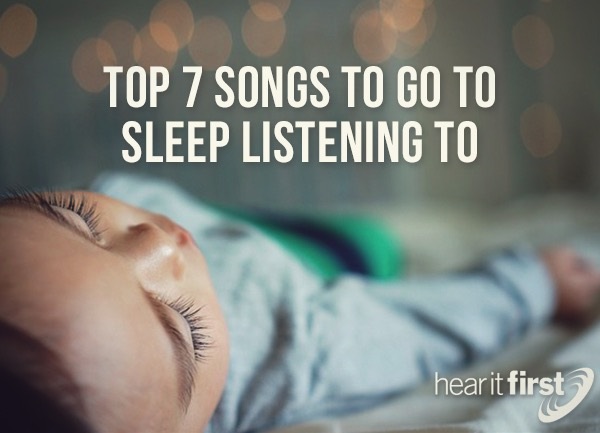 Here are seven great songs you can fall asleep to.
What Do You Go Home To? By Explosions in the Sky
This American rock group, Explosions in the Sky, has some very unique music that's off the beaten path of most genres, even that of rock and roll, and especially this song, "What Do You Go Home To?" It's very soothing and has some very unique instruments that I'm not even able to identify, but it doesn't seem to matter, because the music is just so enjoyable. I found that it did help to relax for a moment. Next to white noise, this may be one of the best things you can hear while trying to go to sleep, because its softness makes it not only easy to listen to, but it allows your mind to unwind. In fact, most of this group's music is just as soothing as the song, "What Do You Go Home To."
Sleep by Eric Whitacre
"Sleep," by Eric Whitacre and his "virtual choir" has a very calming effect when hearing all of the different soft, human voices in the background. If you listen to this song long enough, you'll see why it's called, "Sleep." Its echo-like sounds bounce softly off of one another, and all the voices blend perfectly into one another, into a four part harmony. Since the song doesn't have any hard endings or breaks, it seems that it's never ending, and the only thing you might notice is the quiet transitions from line to line. There is no harshness to this song at all, and it's a beautiful song to end your day and a beautiful way to fall asleep.
Sol Solis by Moving Mountains
The song, "Sol Solis," by Moving Mountains, is a very soft and tender song where the vocals are unimposing and the melody is softly chanting, yet it's clear enough to hear the words if you turn them up. The acoustical nature of "Sol Solis" makes this song even more relaxing, and you can almost see the stars from where you lie in bed. This rock band from Purchase, New York has a soft style in almost everything they produce, but most of them have a great variety of instrumentation. This allows a person's mind to drift off into sleep, much more easily.
Shadows by The American Dollar
The song, "Shadows," by The American Dollar, almost disappears into the night because it's so quiet and unassuming. The song never really goes away, but you don't have to strain to hear it because there is a consistency to the music's level. This song is all instrumental which serves to quieten the mind, and when it does come back up to a higher level, what you hear is a slow, pulsating rhythm. There is no particular melody to it, but you don't even notice it; and maybe that's the point.
Canvas by Imogen Heap
"Canvas," by Imogen Heal, is a touch faster song than most of the other songs listed here; however it is really worth listening to. It has moderate tempo but it's not even close to fast, and the British singer's voice is beautifully calming, even if that's all you hear. She has some very lovely arrangements in most all of her music, but this song is one that could easily put you in the mood to sleep, and you'd be out before you knew it.
Moonlight Sonata by Ludwig von Beethoven
The song, "Moonlight Sonata," by Ludwig von Beethoven, is a beautiful song to drift off into the night, as its melody easily takes you along…into the moonlight and on toward the stars. This may be one of Beethoven's most brilliant compositions; his "Fifth Symphony," notwithstanding, but it has hushed movements where the piano brings back the very slow and relaxing pace. This classic was written in 1801 and dedicated in 1802 to his pupil, Countess Giulietta Guicciardi, so there is some heartbreak you can almost hear in it.
Gymnopédie No.1 by Erik Satie
Gymnopédie No.1, by Erik Satie, was published in Paris starting in 1888 and includes three different piano compositions by the French composer and pianist, Erik Satie. Most of the selections I've listened to deserve to be in the top seven songs to go to sleep by, but Mr. Satie's album,, "Minimalism," is by a European jazz group performed with the Vienna Art Orchestra and features several different interpretations complied by Erik Satie, and almost all of it is most relaxing, however "Gymnopédie No.1," is perhaps Satie's best work, and is nothing short of an adult lullaby.
Conclusion
If you are having trouble sleeping, what has always worked well for me is to read some of the Word of God. If you can't sleep anyway, why not make it productive and read the Bible. Another way is to find sleep is to pray. When we begin to pray, it seems the stress just starts leaking out of our bodies, and lets us place all of our burdens on Him. It is God Who "gives to his beloved sleep" (Psalm127:2b), so you might even pray to God to send you sleep, but for those who have trusted in Christ, they can pillow their head at night knowing that if the Lord should return, they will be with Him forever more, but if not, we can sleep in peace, knowing that He is coming back sometime, and then the ultimate rest comes when this mortality puts on immortality (1st Cor 15:53-54), and death itself, will be no more (Rev 21:4).
Article by Pastor Jack