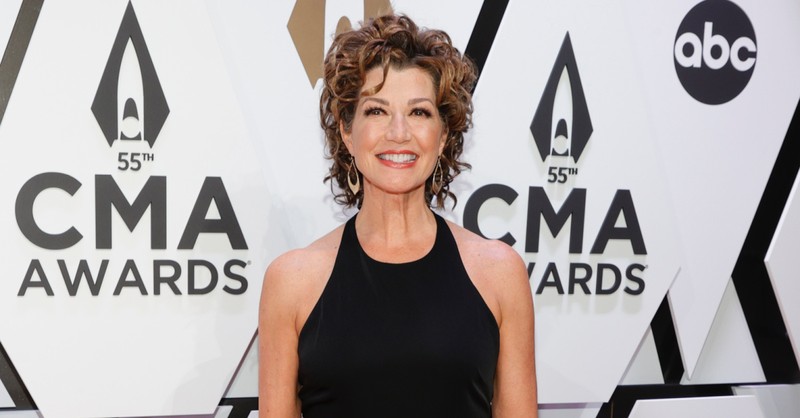 Amy Grant has been on the Christian music scene for more than 35 years as a singer/songwriter. Her first album released when she was only 17 years old. Since then she has crossed over to become popular in the secular pop genre as well. Her second album received a Grammy Award and it incorporated some gospel and some pop. Her unique blend of gospel, hymns (being raised in the church) and what was known as "Jesus music" which incorporated rock music to bring the gospel message is what allowed her to quickly rise to the top of the charts in the late 70s and early 80s. When I first began listening to Contemporary Christian Music Amy Grant' songs were at the top of the charts.
Here are my top 15 picks for Amy Grant Christian songs, most of them are from back in the day.
15. Christmas Lullaby [I Will Lead You Home] (1999)
So many Christmas carols have been played over and over almost to the point where you get tired of hearing them. This "Christmas Lullaby" is not one of them. You should consider adding this one to your Christmas playlist. Better yet, add it to your everyday playlist. It is so beautiful.
14. Believe (2005)
This is the theme song from the reality TV show "Three Wishes" hosted by Amy. In the series she and her team traveled around America to grant wishes to people in a wide spectrum of circumstances.
The Truth: "And all things, whatsoever ye shall ask in prayer, believing, ye shall receive" (Matthew 21:22).
13. Tennessee Christmas (1993)
This is a lovely Christmas song about the tender love of family. Amy considers other places that she could celebrate Christmas while realizing that Tennessee is home and that is where she wants to be. You can find this on several of her Christmas albums including the 1983 "A Christmas Album."
12. Arms of Love (1982)
This is a heartwarming and personal prayer that Amy offers to the Lord. You can feel the power of her prayer as you listen to this prayerful ballad.
Favorite Lyrics:

Storms will come and storms will go

Wonder just how many storms it takes until

I fin'lly know You're here always

Even when my skies are far from gray

I can stay teach me to stay there

In the place I found where I can hide
11. He Gave Me a New Song (1978)
From her first album Amy included this quick little song. It was not a big hit but in my book it is an upbeat, happy, little tune that will stay in your heart. Enjoy this YouTube video that I found, then try to get this song out of your heart!
10. Better than a Hallelujah (2010)
This song has enjoyed lots and lots of play on the radio. I have heard it on Christian radio as well as secular radio. Although Amy did not write this song, she has made it popular and I think we will hear it for years to come.
9. Angels (1984)
Written in 1984 this song praises the Lord for His angels that watch over us. It is one that helps you to think about all those times that "near-death experiences" were missed by His protective hand – sometimes because of "Angels watching over me."
Favorite lyrics:

God only knows the times my life

Was threatened just today

A reckless car ran out of gas

Before it ran my way

Near misses all around me

Accidents unknown

Though I never see with human eyes

The hands that lead me home

But I know they're all around me

All day and through the night

When the enemy is closing in

I know sometimes they fight

To keep my feet from falling

I'll never turn away

If you're asking what's protecting me

Then you're gonna hear me say
8. Thy Word (1984)
Co-written with Michael W. Smith this simple praise song has been sung for more than two decades. It incorporates the words of Psalms 119:105.
The Truth: "Thy word is a lamp unto my feet, and a light unto my path" (Psalms 119:105).
7. Breath of Heaven (1992)
This is a lovely song which is sung from the perspective that Mary of Nazareth might have had when she pondered the things of the nativity in her heart. Take a look at the powerful words to the first verse of this prayer:
Favorite Lyrics:

I have traveled many moonless nights

Cold and weary with a Babe inside

And I wonder what I've done

Holy Father You have come

And chosen me now to carry Your Son
6. Jehovah (1984)
I just like the lyrics of this song because they are right out of the Bible. Look up Matthew 6:27-30 to find Amy's inspiration for this song.
5. If I Could See [What the Angels See] (2007)
Imagine if you could see what the angels see. That is what Amy sings about in this song.
Favorite Lyrics:

If I could see what the angels see

Behind the walls to you and me

And let the truth set me free

I'd live this life differently

If I could
4. Father's Eyes (1979)
When I hear this song I think of a girl who is contemplating the day that she stands before our Holy Father in Heaven. She is hopeful that when she stands there that Jesus will present her as his sister and the one deserving to be joint heir with Him. Take a look at the lyrics in the chorus:
Favorite Lyrics:

She's got her Father's eyes

Her Father's eyes

Eyes that find the good in things

When good is not around

Eyes that find the source of help

When help just can't be found

Eyes full of compassion seeing ev'ry pain

Knowin' what you're going through

And feeling it the same

Just like my Father's eyes

My Father's eyes

My Father's eyes

Just like my Father's eyes
3. Carry You (1997)
With words straight from the Scriptures this song causes us to meditate upon how very blessed we are to have a Lord that takes our burdens upon Him – if only we remember to rely upon Him.
"The Truth": Cast thy burden upon the Lord, and he shall sustain thee: he shall never suffer the righteous to be moved (Psalms 55:22).
2. Imagine (2002)
It is a little-known fact that this song, made popular by CCM band MercyMe, was co-written by Amy Grant and Bart Millard. In my opinion, this is one of the best collaborations by Amy Grant.
Favorite lyrics:

Surrounded by Your glory

What will my heart feel

Will I dance for You Jesus or

In awe of You be still

Imagine I can only imagine
1. El Shaddai (1982)
My all-time favorite release by Amy Grant is "El Shaddai" back in 1982. This is one that my daughter and I have sung for special music on several occasions, including for a homeschool event when she was a very young girl. This song holds a precious memory in my heart. Here is a video of the young Amy Grant singing this lovely song with a bold message.
I have only nicked the surface of all the songs Amy Grant has written and sung. I would love for you to share your favorite Christian Amy Grant song in the comments below.
Related Reading:
Top 10 Christian Contemporary Female Vocalists
Amy Grant: Finding Joy on the Other Side of Loss
Photo Credit: ©Getty Images/Jason Kempin/Staff