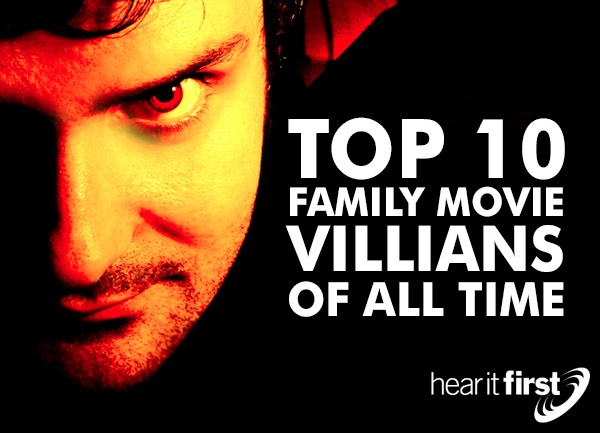 It's easy to curl up on the couch and watch your favorite movies as the temperature drops outside and snow begins to swirl. I love movies that have strong characters, including villains. It's fun to watch your kids repeat the lines with an evil laugh and many of my favorite childhood films include villains. Here are the top 10 family movie villains of all time. There are other great movies with evil characters too, but these ones include villain characters that play major roles in the films highlighted.
Top 10 family movie villains of all time:
10. Maleficent from Sleeping Beauty (Original Movie from 1939 Not Rated)
Maleficent is an evil fairy that wants to kill Princess Aurora. She casts a spell on Aurora as a child and states that she will prick her finder on a spinning wheel and die before she turns 16. Three good fairies try to protect her and Fairy Merryweather uses her blessing to cause the princess to fall into a deep sleep that true love's kiss can awaken. Eleanor Audley was the voice of Maleficent in the original 1959 film.
9. Harry and Marv from Home Alone (Rated PG)
Harry Lime (played by Joe Pesci) and Marv Merchants (played by Daniel Stern) are crooks that try breaking into the home where eight-year-old Kevin McCallister (played by Macaulay Culkin) happens to live. Kevin was supposed to be on a family vacation during the holidays, but he was left behind. He puts Harry and Marv through so many obstacles you would think they would just leave, but the two crooks only become angrier.
8. Captain Hook from Peter Pan (No Rating in 1953 Version)
The original Peter Pan movie was released in 1953 and Captain Hook has become a favorite villain. He shows his best pirate manners (or lack of) as he fights Peter Pan and his friends. Hans Conried was the original voice of Captain Hook, but Cyril Ritchard, Paul Schoeffler and Jason Isaacs also lent their voices for the role.
7. Scar from The Lion King (Rated G)
Scar is pure evil and filled with selfishness and hatred of his brother, King Mufasa and his nephew Prince Simba. He begins taking over the kingdom, but Simba ruins his plans just in time and puts his unruly uncle in his place. Jeremy Irons was the voice for Scar.
6. Trunchbull from Matilda (Rated PG)
Trunchbull is Matilda's evil principal that believes in extreme and harsh punishment for children who do not follow her made-up rules. Six-year-old Matilda is a genius, but her parents barely notice her. Fortunately, her teacher Miss Honey stands up against Trunchbull and ends up rescuing Matilda. Pam Ferris played Trunchbull in the 1996 film based on the book Matila by Roald Dahl.
5. Queen Grimhilde from Snow White and the Seven Dwarfs (Original Movie from 1937 Not Rated)
Queen Grimhilde has been labeled evil many times since she became so filled with rage over not being the fairest of all – second only to her stepdaughter Snow White. She was filled the jealousy even after Snow White ran away and tried to poison her. Lucille La Verne voiced the original Queen Grimhilde from the 1937 film.
4. The Wicked Witch of the West in The Wizard of Oz (Original Movie from 1939 Not Rated)
Who can forget the green face of the Wicked Witch of the West? Her shrill voice crying, "I'm melting" is a fun line to repeat. She was a harsh ruler and all she focused on was getting the Silver Shoes so she can become more powerful. Margaret Hamilton plays The Wicked Witch of the West in the original film from 1939.
3. Rodmilla from Ever After: A Cinderella Story (Rated PG-13)
Ever After is one of my favorite movies with a Cinderella story because of how atrocious Rodmilla is to Danielle (played by Drew Barrymore). She marries Danielle's father before he dies and treats her stepdaughter as a servant. Danielle is forgiving and she didn't banish her stepmother and stepsisters from the kingdom when she becomes Anjelica Huston plays Rodmilla.
2. Ursula from The Little Mermaid (Rated G)
Ursula is delighted to see your Princess Ariel ask for her help to become human and marry a prince. The wicked sea witch is really after power and convinces Ariel to agree to give up her voice for three days in order to become human. The catch is that Ariel must get Prince Eric to kiss her or she will belong to Ursula forever. Pat Carroll was the voice for Ursula in the original 1989 film.
1. Cruella DeVil from 101 Dalmatians (Rated G)
Right away you start getting a picture of Cruella's true personality. She is used to getting her way and steals from her own assistant! The only thing Cruella doesn't do is accurately predict how animals can work together helping each other or Anita and Roger's devotion to finding the puppies. Betty Lou Gerson lent her voice for Cruella DeVil in the original film from 1961.
Each of these stories includes a happy ending and the villain is captured or defeated. What are your favorite villains from family-friendly movies?
Article by Elise Cleary
I am a Christian writer and editor that lives in northern Michigan and thoroughly enjoy music, movies, TV shows, books and other entertainment with a Christian focus. My favorite song is "Oceans" by Hillsong United because it reminds me that has big plans for me and everyone else who puts their trust in Him. There are many movies that have impacted my life, but a few include God's Not Dead, The Shunning and Letters to God. I also write for www.faithandentertainment.com and love connecting with readers, so please don't hesitate to contact me! When I'm not writing I enjoy watching movies and laughing with my busy toddler and husband.