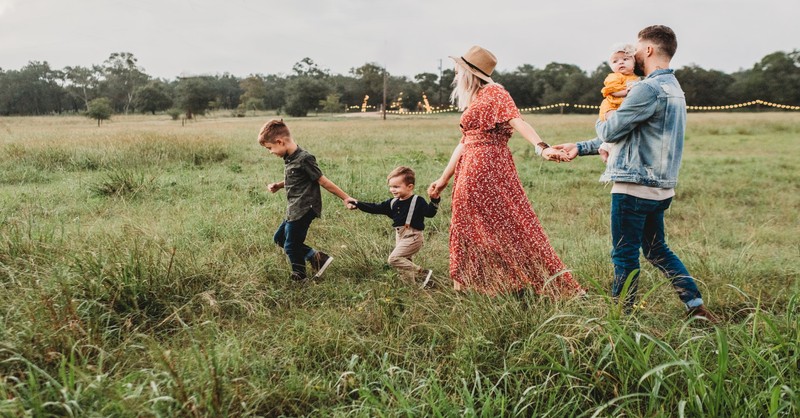 Christian music is some of the best when it comes to writing songs about the family. Whether it is about parenting, the family itself, being in God's family, marriage, moments missed, death of loved ones or anything else related, you can feel God tug at your heart when you listen. God is our Father, and He loves us more than we will ever know.
10 Best Christian Songs about Family
A good family is truly a blessing from God. Here are 10 of our favorite Christian songs about family.
10. One Life To Love, 33 Miles
"One Life To Love" is about making bad choices and having regrets later. It always keeps things in perspective for me to be the best dad that I can to my children!
Favorite Lyric – "You only get just one time around. You only get one shot at this, one chance to find out the one thing that you don't wanna miss. One day when it's all said and done I hope you see that it was enough, this one ride, one try, one life to love."
9. Family Tree, Matthew West
This song is about the hardships of growing up in a dysfunctional family and overcoming them to start a brand new family tree that is full of God and love!
Favorite Lyric – "I have a dream for you. It's better than where you've been. It's bigger than your imagination. You're gonna find real love. And you're gonna hold your kids. You'll change the course of generations."
8. This Is Not Goodbye, Sidewalk Prophets
This song is about learning to let go of your loved ones and letting them fly free to be the people that God has planned for them. This is a good one for parents of kids about to leave the house to start their lives.
Favorite Lyric – "I can see it in your eyes that you are restless. The time has come for you to leave. It's so hard to let you go, but in this life I know you have to be who you were made to be. As you step out on the road I'll say a prayer so that in my heart you always will be there."
7. After The World, Disciple
"After The World" is a song sung from God's view on us as His children.
Favorite Lyric – "Was I there for the worst of all your pain? And was I there when your blue skies ran away? Was I there when the rains were flooding you off of your feet? Those were my tears falling down for you, falling down for you."
6. Cinderella, Steven Curtis Chapman
This is a song sung from a father about his daughter and how she won't be with him forever. It is so beautiful, but it does bring out the tears.
Favorite Lyric – "So I will dance with Cinderella while she is here in my arms 'cause I know something the prince never knew. Oh I will dance with Cinderella. I don't want to miss even one song 'cause all too soon the clock will strike midnight and she'll be gone."
5. God Gave Me You, Dave Barnes
Although Dave never says who he is talking about in this song, I would attribute it to thinking about your spouse. It's a wonderful song regardless.
Favorite Lyric – "On my own, I'm only half of what I could be. I can't do without you. We are stitched together. And what love has tethered I could never undo."
4. Always, Seventh Day Slumber
"Always" is sung from a father to his son about how Jesus is who saved him and how he will always love his boy. Again, this one may bring out some tears.
Favorite Lyric – "I'll never find the words to say how beautiful you are, my son. And every day that this life brings you have to know how much you're loved, even when I'm far away. And I will dream of you tonight. I'll pray to God to bless your life always, always. And as you grow and start to change, I will love you just the same always, always."
3. The Marriage Prayer, John Waller
This song is perfect for married couples or those who are engaged to be married! John and his wife, Josee, sing this one together!
Favorite Lyric – "(John) Lord, help me love her as You love the church, Your bride. (Josee) Help me submit to him as I submit to You, my life."
2. Lead Me, Sanctus Real
"Lead Me" is a beautiful song from a man asking God to lead him as he leads his own family with God's principals.
Favorite Lyric – "Won't You lead me to lead them with strong hands, to stand up when they can't? Don't want to leave them hungry for love chasing things that I could give up. I'll show them I'm willing to fight and give them the best of my life, so we can call this our home. Lead me 'cause I can't do this alone! Father, lead me 'cause I can't do this alone!"
"Homesick" is about one of the hardest parts of the family. We are left behind as our loved ones move on into eternity and meet Jesus. The pain is real, and will never be completely gone until we join with them in Glory.
Favorite Lyric – "You're in a better place, I've heard a thousand times and at least a thousand times I've rejoiced for you. But the reason why I'm broken, the reason why I cry is how long must I wait to be with you. I close my eyes and I see your face. If home's where my heart is then I'm out of place. Lord, won't You give me strength to make it through somehow? I've never been more homesick than now."
Best Family Songs: Conclusion
These are 10 of my favorite Christian songs about family. If you get a chance you should listen to the ones you aren't familiar with. I would love to know what some of your favorites are. Please feel free to comment below! God bless!