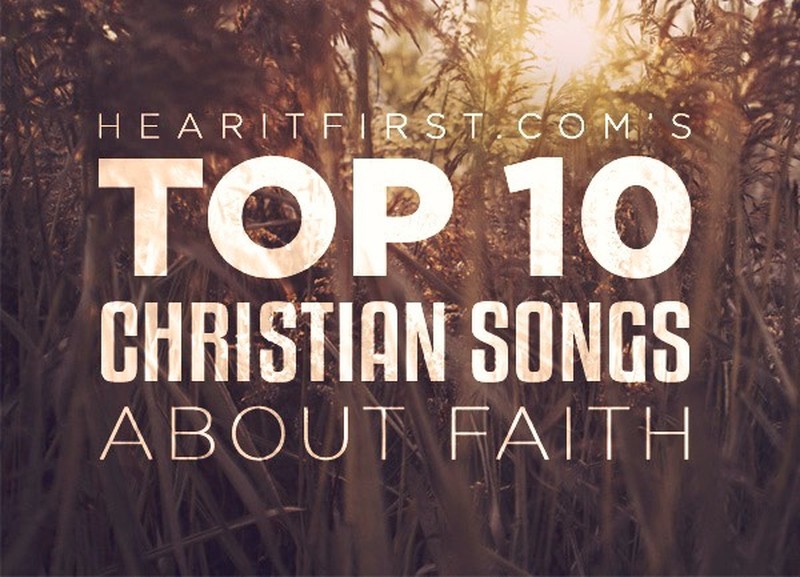 Every single believer will have a crisis of faith. Not that they don't believe in God anymore (although it's possible to have those doubts), it's that they are being stretched in unfamiliar ways and it can be difficult.
Yet the stretching of our faith is what makes us stronger in the journey and more prepared for God's purpose in building His kingdom. This extensive, but not exhaustive list of Christian songs about faith will encourage your spirit regardless of where you are spiritually.
#1) Find Us Faithful (Steve Green 1994)
"Don't let anyone look down on you because you are young, but set an example for the believers in speech, in conduct, in love, in faith and in purity." (1 Timothy 4:12).
Faith is demonstrated by what we say and do around those closest to us. Our family members and friends can either be drawn in or repelled to Christ based on our faithfulness to God. It's not necessarily the great and miraculous moments of our lives—but rather it's in the difficult days of trials when our faith shines the brightest.
#2) Walk By Faith (Jeremy Camp 2012)
"For we live by faith, not by sight" (2 Corinthians 5:7).
Believers don't sit or think about faith—we must live it! We are walking one day at a time in the simple faith that God is in control of our lives even when we can't see it. If we could see everything just as we wanted it to be, why would we need faith? The Lord disciplines us so that when the way is darkened, we can still walk in faith that He is leading us along the right way.
#3) Faithful Friend (Twila Paris 1996)
"A friend loves at all times, and a brother is born for a time of adversity (Proverbs 17:17).
God's faithfulness is represented in the faithful friendships of Christian brothers and sisters. We are to weep, laugh, and encourage one another throughout our time together. Beautiful and long-lasting relationships are built on a foundation of faithfulness in our praying for one another. Believers have a tremendous advantage in their earthly friendships because they will only get better our heavenly home.
"Because of the Lord's great love we are not consumed, for his compassions never fail. They are new every morning; great is your faithfulness" (Lamentations 3:22-23).
No matter what we are going through—God's faithfulness is great and awesome. When we are young in the faith, we don't always understand how precious and wonderful is His faithfulness. Yet as we mature, we recognize how His unseen hand and purpose begins to shape our lives towards spiritual growth. God will never desert His people, He is faithful to keep us in perfect peace as we depend on Him.
#5) Faith Is The Key (Alvin Slaughter 2005)
"And without faith it is impossible to please God, because anyone who comes to him must believe that he exists and that he rewards those who earnestly seek him" (Hebrews 11:6).
What keeps us from falling into the world's trap of destruction and pain? Faith is the key. Faith in the living and true Jesus Christ as the Messiah is what keeps us from falling away. Sometimes we may be on the verge of despair, and then without warning as we meditate on the Holy Scriptures—our faith is ignited and we are once again on fire for God.
#6) Where Is Your Faith (James Cleveland 1990)
"'Where is your faith?' he asked his disciples" (Luke 8:25).
This penetrating question from Jesus to His disciples on the boat can easily be transferred to our times of weak faith. We forget that we are connected to the Creator of the universe who uses the evil in the world for His ultimate plans and purposes. Where is our faith in God? Our faith can rise above the horrible and painful circumstances of living in a sinful world.
#7) Faith Enough (Carman 2013)
"For this very reason, make every effort to add to your faith goodness; and to goodness, knowledge; and to knowledge, self-control; and to self-control, perseverance; and to perseverance, godliness; and to godliness, mutual affection; and to mutual affection, love" (2 Peter 1:5-7).
Faith is the foundation that our spiritual characteristics are built upon. If our faith is shaky, it causes everything else to crumble. We have faith enough to believe in Jesus as our Savior—we must also have faith enough to live out the rest of our live demonstrating His goodness. To each of us is given a measure of faith to accomplish God's purpose in us and through us.
#8) I Call You Faithful (Donnie McClurkin 2005)
"Know therefore that the Lord your God is God; he is the faithful God, keeping his covenant of love to a thousand generations of those who love him and keep his commandments" (Deuteronomy 7:9).
We live in a world of covenant breakers—many people have no idea of what it means to keep a covenant of marriage, business, or friendships. Yet God is above man and He always keeps His word. He remains faithful even when we are faithless. His faithfulness is evident every day when we take the time to meditate on His word and His hand over our lives.
#9) Faithful One (Selah 2009)
"I saw heaven standing open and there before me was a white horse, whose rider is called Faithful and True. With justice he judges and wages war" (Revelation 19:11).
Everyone will one day see the Faithful and True come from the heavens with justice. Jesus promised that He was preparing a place for those who place their trust in Him. His faithfulness will be understood and accepted on that great and terrible day. Yet if we trust in the Faithful One right now, we can join Him in His triumphant entry.
#10) He's Been Faithful (Brooklyn Tabernacle Choir 1989)
"God is faithful, who has called you into fellowship with his Son, Jesus Christ our Lord" (1 Corinthians 1:9).
When we are in the pit of despair, do we call God faithful? We must call out His faithfulness because the memories of His answering our prayers bring us hope. It is in the looking back and realizing how far the Lord has brought us that give us the momentum to keep moving forward. We aren't victorious because of our acts of righteousness, but because of His faithfulness.
"Have faith in God" (Mark 11:22)
How simple it is to say "have faith in God" and yet how difficult it is during those days of doubt. Even though we may be tempted to doubt our God, we can rise about the temptation with simple acts of faith in our words and actions. God is glorified when we put our faith in Him no matter what is going on around us. You will never be disappointed with having faith in God.