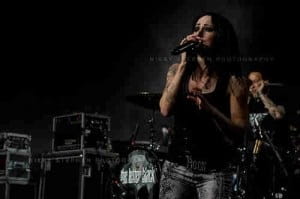 The Letter Black is a Christian rock band fronted by none other than Sarah Anthony. They have been making music since 2006 when they were known as "Breaking The Silence". I have had the opportunity to interview Sarah about their recent release of their second album "Rebuild" last month, along with other areas of her life. I am excited to see where God is taking this band! They have so much talent!
Exclusive Interview With Sarah Anthony
1. So, you guys just released a new album, "Rebuild" on 11/11/13. What can your fans expect from this album? Did you experiment with new ideas lyrically or musically on this one?
Sarah: "It's a little heavier musically. This record is more mature and cohesive than the last record. We have grown a lot since then! :)"
2. How is your latest tour going? Where have you been to? How long are you touring this time?
Sarah: "The tour has been going great! We've been all over the north east on this tour and even flew out for a show in Germany for a weekend. Now we are about to head out west as far as Reno. We'll get back home just in time for Christmas!"
3. How did you come to know Christ as your Savior?
Sarah: "I grew up in church, so I had heard it my whole life. It wasn't until I was older, after I went through a stage of rebellion that I realized I could never live my life separated from God again."
4. How has God impacted The Letter Black?
Sarah: "We wouldn't be where we are without Him. The point of the band is to share the hope that we have to those who don't know about it."
5. Your latest video is for a brand new song, Pain Killer, off of Rebuild. What is the concept of this song and video?
Sarah: "Everyone goes through painful things in life, and some people try to numb the pain with things like drugs, alcoholism, even expensive things, etc. and it consumes and imprisons them. Instead of killing the pain with things like that, we kill pain in the name of Love."
6. Do you plan on making any more videos for the new album?
Sarah: "You never know! I enjoy doing music videos, so I wouldn't mind."
7. What is your favorite song off of the new album and why?
Sarah: "That's such a hard question! It's too hard for me to pick just one, but the first songs that come to mind are Pain Killer, Sick Charade, and Outside Looking In."
Read this related post where we have Sarah as the top Female Christian Rock Singer:  Top 10 Female Christian Rock Singers
The Letter Black,  "Pain Killer"  Video
Final Thoughts
As you can see, Sarah is an energetic person. She is passionate about Jesus and about music! Just like all of us she has tried life on her own and realized that God is the only way. If you are into Christian rock, than The Letter Black is definitely worth checking out! Being a young band, they are making a huge impact in the music world and more importantly for Christ! Please check out their video for "Pain Killer" above! The message, as she described it, is about killing your pain with love instead of drugs, alcohol or any other means. This is such an awesome concept! I will leave you with lyrics for "Pain Killer" below in case you want to read while you listen. Enjoy! God bless you all!
Pain Killer Lyrics
I'm killing pain in the name of love
I'm fearless of what you can do to me
I'm hiding all my tears
Even though I wear them on my sleeve
I can't erase what you've done to me
Wanted you to love me
Always seemed to hurt so deep inside
I can't erase what you've done to me
Killing pain
Killing pain
You kill my pain in the name of love
I'm killing pain in the name of love
I'm fearless of what you can do to me
In the name of love
I'm killing the pain in the name of love
There's no hurting now from the scars I have
So deep in the past
And I let it go
In the name of love
I'm killing pain in the name of love
I can see just who I am always seems to find me where I am
I can't erase what you've done to me
Killing pain
Killing pain
You kill my pain in the name of love
I'm killing pain in the name of love
I'm fearless of what you can do to me
In the name of love
I'm killing the pain in the name of love
There's no hurting now from the scars I have
So deep in the past
And I let it go
In the name of love
I'm killing pain in the name of love
I'm hiding all my tears
Even though I wear them on my sleeve
It kills the pain
Killing pain
Killing pain
You kill my pain in the name of love
I'm killing pain in the name of love
I'm fearless of what you can do to me
In the name of love
I'm killing the pain in the name of love
There's no hurting now from the scars I have
So deep in the past
And I let it go
In the name of love
I'm killing the pain
I'm killing pain in the name of love
Killing pain
Killing pain
I'm killing pain in the name of love