'Glorious Day (Living He Loved Me)' Casting Crowns Live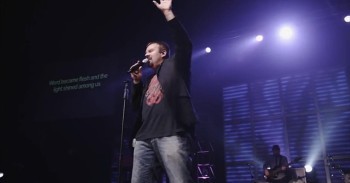 Award-winning musical group Casting Crowns performs a live rendition of 'Glorious Day (Living He Loved Me).'

The lyrics of this powerful song truly remind us that God is fighting for us each and every day.
"Living, He loved me
Dying, He saved me
Buried, He carried my sins far away
Rising, He justified freely forever
One day He's coming
Oh glorious day, oh glorious day"
God made the ultimate sacrifice for us when He sent His only Son to Earth to die for our sins. Because of this gift, we are now all forgiven and free from our earthly chains.
This incredible sacrifice should be shouted from the rooftops. The Lord is truly the source of our light and strength and when we hand our worries over to Him, we are opening ourselves up to an amazing new world.
That's exactly what the poignant lyrics of 'Glorious Day (Living He Loved Me)' are all about. God has given us so many blessings in our lives and I am thankful for each and every one of them.
He granted us life and continues to fight for us every day. This beautiful worship from Casting Crowns is the perfect way to give praise to His name and share God's message with the world.
Galatians 2:20 "I have been crucified with Christ and I no longer live, but Christ lives in me. The life I now live in the body, I live by faith in the Son of God, who loved me and gave himself for me."
Buy Now

casting-crowns

438878 views

2011-04-26T14:10:00

source: Casting Crowns Award-winning musical group Casting Crowns performs a live rendition of 'Glorious Day (Living He Loved Me).'

The lyrics of this powerful song truly remind us that God is fighting for us each and every day.

"Living, He loved me
Dying, He saved me
Buried, He carried my sins far away
Rising, He justified freely forever
One day He's coming
Oh glorious day, oh glorious day"

God made the ultimate sacrifice for us when He sent His only Son to Earth to die for our sins. Because of this gift, we are now all forgiven and free from our earthly chains.

This incredible sacrifice should be shouted from the rooftops. The Lord is truly the source of our light and strength and when we hand our worries over to Him, we are opening ourselves up to an amazing new world.

That's exactly what the poignant lyrics of 'Glorious Day (Living He Loved Me)' are all about. God has given us so many blessings in our lives and I am thankful for each and every one of them.

He granted us life and continues to fight for us every day. This beautiful worship from Casting Crowns is the perfect way to give praise to His name and share God's message with the world.

Galatians 2:20 "I have been crucified with Christ and I no longer live, but Christ lives in me. The life I now live in the body, I live by faith in the Son of God, who loved me and gave himself for me."
Today's Devotional
A Prayer to Help Your Kids Love God's Word - Your Daily Prayer - July 5
Top Artists