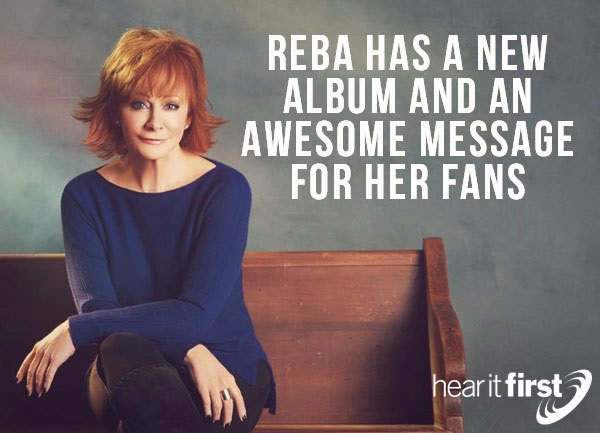 Reba McEntire is a legend in the country music business, but her latest album is a double disc gospel album of both classic traditional songs of faith and new songs of hope. In finally making a gospel album, Reba returned to her roots of Christian music, something she had been hesitant to do because she felt gospel music was more her sister's arena. However, she fondly remembers "Jesus Loves Me" as the first song she sang in public for money. She grew up listening to and singing the songs featured on the first album, and she turned the album into a family affair with tracks featuring her sisters and mother.
Yet, the idea to create this album was not really hers in the beginning. "It wasn't really my decision," Reba said. "It was my old manager, Bill Carter, who was my manager back in the 80s, and my producer Tony Brown. They both kind of teamed up on me and said this is the right time for you to do a gospel album." When the idea was discussed, everybody was very positive about it.
The first disc begins appropriately with "Jesus Loves Me," which she once sang as a child in a hotel lobby to entertain other guests for a nickel. One standout track on the album is "Softly and Tenderly," on which she collaborated with Trisha Yearwood and Kelly Clarkson. This collaboration came about after they sang together on Kelly's Christmas special. According to Reba, her friends liked the idea and checked their schedules before even knowing what song they would sing. When Reba selected "Softly and Tenderly," they had lunch together and recorded and "had a full day of girlfriends just chatting it up and having a great time!"
"Softly and Tenderly" is one of the tracks that has been released early for fans. Fans who pre-order the album will receive a new track each week leading up to the release of the album on Feb. 3.
The album is co-produced by Reba and Jay DeMarcus of Rascal Flatts and was recorded in his home studio. "There's a lot of people in the country music business who are very spiritual and love country music and love gospel music because a lot of us grew up in churches, like Jay DeMarcus," Reba explained. "He was very rooted in gospel music. To go into country music out of gospel music, that's a huge family there in the country music business."
Because Reba is so strongly rooted in her fatih, the only problem she was having was cutting down the song list. With so much good material, the decision was made to make it a double album. Especially on the first album of traditional songs, Reba made choices based on those songs that touched her heart. She said, "All of the songs are our favorites." However, she also listened to input from her friends, like Melissa Peterman, her former "Reba" co-star, who requested "Oh, Happy Day." Jay DeMarcus suggested she add "Wonderful Peace" to "In the Garden" to make a kind of medley. Her sister Susie and Kix Brooks both requested "Swing Low Sweet Chariot."
For Reba, she felt an extra special connection to "How Great Thou Art." She explained, "I just felt the Holy Spirit all over me when I was singing it. And then listening back to it, I just sit there and sob. It's so reverent. He's in tune with me, and I'm right connected with God. The song is just me praising God. I don't know what the connection is yet, but it's overwhelming to me."
The second disc is filled with contemporary songs designed to inspire hope. "Sing It Now," the album's title song, drives home the idea that if we sang old hymns as children, we can still turn to those songs and the Lord who inspired them in our times of trouble as adults. As Reba said, "If I could sing them then, I can sing them now with even more enthusiasm in my voice."
"God and My Girlfriends" was another of Reba's favorite tracks. "After what I've gone through in the last two years, I've had God with me all the time, and I've always had my girlfriends to encourage me, so that's a special song." Another track is titled, "There is a God." Reba stated, "Really? How much more proof do you need? Just walk outside and see all the great things he's made."
Reba wrote the song, "I Got the Lord on my Side," however her mother, Jackie McEntire, also received a writing credit after listening to Reba in the recording studio. She made the suggestion to change the line on the last verse from "I'm so happy" to "If you're happy." Yet when asked for a favorite track on the second album, the first song that came to Reba was "Back to God," a track originally recorded (and co-written) by Randy Houser. "The message of the song is to take one's pain and give it to God, turn over the bad to Him and ask Him to turn it into good."
"It's just an eclectic group of songs that touches my heart in different ways every time I listen to it," Reba said. "So I'm very proud of this album. I hope everybody likes it."
Another first for Reba will be a concert at the legendary Ryman Auditorium in Nashville on February 15. Throughout her entire career, she has never done a whole concert in the storied venue before, and attendees of this show will not only see the legend perform, but also will receive a copy of the new album. It promises to be a special evening for both the concert-goers and the performer.
Reba is looking forward to 2017 as a chance to "travel and sing and act. I want to live each day one day at a time and enjoy each day as the Lord has given me and not rush through anything. To savor it. To savor this year. I've gotten to do so many things in my life and a lot of things I don't remember because I breezed past them. The advice I give to young entertainers is to keep a journal and write down your thoughts, your moments that you were down, the moments that you were up, the events, where were you when this happened. It will fly by you; you've got to stop. I know it's a funny cliche, but you really do need to stop and smell the roses."
Even with such a full plate, Reba is very mindful to never neglect her spiritual health or her relationship with God, no matter how busy her schedule is. "I think you've got to make time," she said firmly. "That's very important. The more time you give to God, the more time He'll give you in a day. I learned that the hard way, when you kind of push Him to the back burner, you get a little stressed and can't fit in everything in the day. When you set aside a special time, make an appointment with him, it just seems as if everything runs smoother throughout the day."
Listen to the First Single To Be Released- Softy and Tenderly (Feat. Kelly Clarkson and Trisha Yearwood)

Article by Kim Frauli
Kim Frauli lives on a farm in rural Illinois with her husband, three children, and a menagerie of animals. She spent several years in marketing and communications for non-profit organizations, including serving as editor-in-chief of a hospital's health magazine. She took a break from full-time work to focus on family and volunteer work and became involved in education. She has served as a PTO president, board of education member, reading tutor and youth sports coach, in addition to chairing various events. Grab a free copy of Kim's book "Project Mnemosyne" at kimfraul.authorreach.com