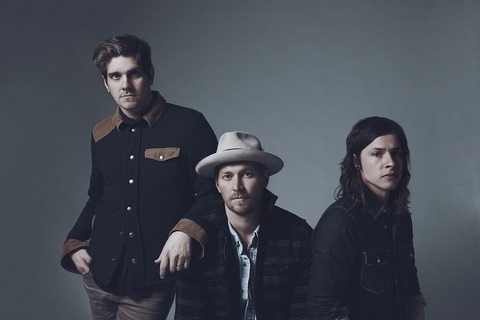 NEEDTOBREATHE is gearing up for the release of their new album Rivers In the Wasteland, out next Tuesday, April 15 on Atlantic/Word Records. In support, the critically acclaimed band will bring their captivating live show to The Ellen DeGeneres Show on April 18 and will return to the Late Show with David Letterman on April 23 to perform new single "The Heart." Check out the record's official video below.
Early praise for Rivers In the Wasteland includes the UK's The Clash who applauds the albums "strident, anthemic songwriting," while MTV praises the bands "thunderous folk-rock." Jesus Freak Hideout said "the collection of songs is joyful and soaked in a longing for home…it's a welcome return for the South Carolina boys, and one of the best releases of 2014 so far."
"Difference Maker" continues to climb the charts, reaching No. 11 on the Hot AC/CHR chart this week. Last week, RELEVANT exclusively premiered the cinematic music video for "Difference Maker." The video, which was shot on the outskirts of Los Angeles, CA and was directed by Gus Black, can be viewed here. NEEDTOBREATHE's next single "Multiplied" will go for adds at Christian radio starting April 18.
NEEDTOBREATHE started to tease fans with new music last week by releasing one new song a day via USA Today, VH1, Yahoo, HitFix, Team Coco and RELEVANT. Check out the tracks below and stay tuned for more music on Paste and American Songwriter later this week. Also coming later this month, CCM Magazine will be featuring NEEDTOBREATHE as their cover story.
In addition to making their Grand Ole Opry debut on April 19, NEEDTOBREATHE will kick off a North American headlining tour on May 1 that will see them visit some of the country's most notable venues and perform at summer festivals such as Ichthus Festival, Creation NE and DownPour Festival. Tour dates below, and additional dates to be announced soon!
Along with the tour, NEEDTOBREATHE will travel to Charleston on May 20 for their annual celebrity golf tournament, the "NEEDTOBREATHE Classic." The golf tournament is sponsored by Commonwealth and will raise money for the nonprofit, Palmetto Medical Initiative (PMI).
Rivers In The Wasteland – Track Premieres:
RELEVANT Magazine -- "Difference Maker"
Yahoo! -- "State I'm In"
HitFix -- "Feet Don't Fail Me Now"
USA Today -- "Rise Again"
Tour Dates (more to be announced):
5/1/14 - Gillioz Theatre - Springfield, MO *
5/2/14 - Brady Theater - Tulsa, OK *
5/3-4/14 - Suburbia Music Festival - Plano, TX
5/5/14 - Marquee Theatre - Phoenix, AZ *
5/6/14 - The Wiltern - Los Angeles, CA *
5/7/14 - The Fillmore - San Francisco, CA *
5/9/14 - The Neptune - Seattle, WA *
5/10/14 - The Neptune - Seattle, WA *
5/11/14 - Vogue Theatre - Vancouver, BC *
5/14/14 - The Fillmore - Denver, CO *
5/15/14 - Uptown Theater - Kansas City, MO *
5/16-18/14 - Hangout Festival - Gulf Shores, AL *
5/31/14 - The Tabernacle - Atlanta, GA *
6/1/14 - The Tabernacle - Atlanta, GA *
6/3/14 - Stage AE - Pittsburgh, PA *
6/5/14 - House of Blues - Cleveland, OH *
6/6/14 - Murat Theatre - Indianapolis, IN *
6/8/14 - Pabst Theater - Milwaukee, WI *
6/10/14 - Simon Estes - Des Moines, IA *
6/12/14 - Skyway Theatre - Minneapolis, MN *
6/13/14 - The Pageant - St. Louis, MO *
6/14/14 - House of Blues - Chicago, IL *
6/15/14 - House of Blues - Chicago, IL *
6/17/14 - Town Ballroom - Buffalo, NY *
6/19/14 - Danforth Theatre - Toronto, ON
6/20/14 - The Fillmore - Detroit, MI *
6/21/14 - Meijer Gardens - Grand Rapids, MI *
* With Foy Vance