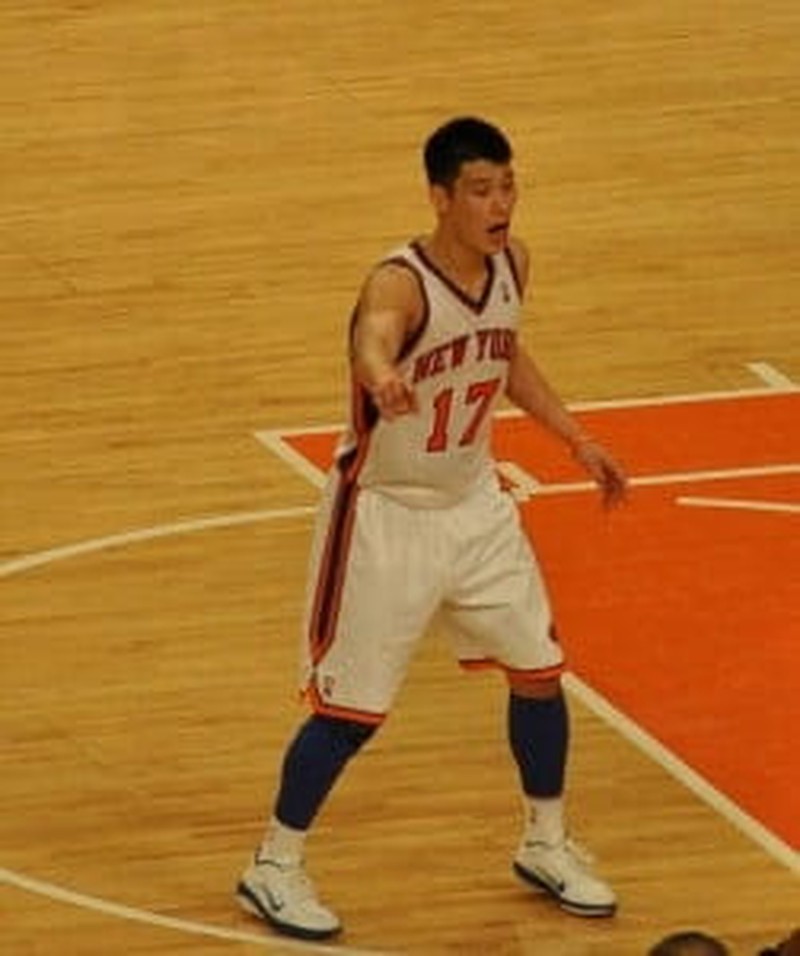 Jeremy Lin shot his way to NBA stardom in February of 2012 as he led the New York Knicks on a 7 game winning streak. He came out of nowhere to being promoted to the starting line-up. The phenomenon surrounding him was known as "Linsanity" and for good reason. He was an unstoppable force during this season of his career. He is the first American of Chinese/Taiwanese descent to play for the NBA. His life and strong convictions in his faith have made him an excellent role model for us all. Here is a brief summary of his life.
His Beginnings
Jeremy Lin was born on August 23, 1988 in Los Angeles, CA and grew up in Palo Alto, CA. He grew up in a Christian home which is where his foundation with Christ started. His mother and father both encouraged him to play basketball because he loved it and was good at it. When he reached high school he was named team captain on the varsity team his senior year. The ironic thing is that no one would give him a scholarship to play basketball for their college, so Jeremy decided to go ahead and attend Harvard University. At 6' 3" and 200 LBS he proved to be a big contributor to the team. He played 115 games during his 4 years there scoring 12.9 points per game on average. His free throw percentage was a very decent 73.3% and in his junior year he was making 40% of his 3 pointers. He was definitely a key player for Harvard while he was there. He made the All-Ivy League First Team twice while attending Harvard.
After college he started his NBA career with the Golden State Warriors for the 2010-2011 season where not much happened for him and he was rejected. He then signed on to the New York Knicks for the 2011-2012 season where he became a media sensation. In February of 2012 "Linsanity" swept the nation! He proved his worth for the starting line-up by helping his team defeat the New Jersey Nets, as he scored 25 points. The very next game he was given a place in the starting line-up. In this 7 game winning streak he outscored Kobe Bryant when they beat the Los Angeles Lakers 92 to 85. Lin scored 38 points that game compared to Kobe's 34. It was amazing!
Not far after this amazing streak of wins, Lin was benched because of knee surgery. He ended up signing on to the Houston Rockets and has since remained with them. Jeremy Lin has proven he has the skills to play basketball, but he's also shown that his faith in Christ is more important.
Quotes from Jeremy
"At the end of the day, I have to remember my calling. My purpose on this earth is to glorify God in what I do and right now that calling is to play basketball."
"For me to remember to play for an audience of One, for God, that was liberating for me to kind of lift that burden off of me for me to remember why I am playing."
"I believe in an all-powerful, all-knowing God who does miracles."
"My identity is in Christ, not in basketball."
"Suffering produces character and character produces hope and hope does not disappoint us."
"The Truth" Hebrew 12:2 Let us fix our eyes on Jesus, the author and perfecter of our faith, who for the joy set before him endured the cross, scorning its shame, and sat down at the right hand of the throne of God.
"Ive learned how to be open and bold about my faith, but in terms of my influence, I just try to lead in a godly way. What that means for me is to serve them, whether it's just doing the dirty work, like cleaning up sweat on the floor, or deferring to other people, or carrying equipment bags."
"I need to be in the Word daily. I read and pray in the morning and at night. It helps me get off to a good start in the morning and at night I look back at what happened during the day."
"I think one of the most rewarding experiences in life is to see people come to Christ and make lifestyle changes. When that happens, you definitely see God behind it. This year we've seen eight students make first-time decisions for Christ and when I see that, it's a great feeling. I'm really thankful that God is changing somebody, or sometimes he's changing me."
Conclusion
Jeremy Lin is kind of like the Tim Tebow of basketball but on a smaller stage. His faith in God is very evident and he makes no apologies for it. It is so refreshing to see men like Jeremy Lin on national sporting leagues living a life for Christ while competing on the court. May God continue to bless him and also all of you!
If you are a Christian sports fan and enjoyed this article, don't miss our article covering Colin Kaepernick, the latest breakout Christian athlete superstar.  Colin Kaepernick:  Bio, Tattoos, Quotes 
Resources- ESV Holy Bible, youtube.com,photo credit: fressica via photopin cc, photo credit: scott mecum via photopin cc