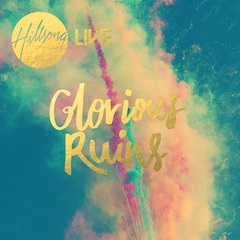 This week Hillsong church celebrates one of the biggest events on the world's calendar with the annual Hillsong Conference held in Sydney, Australia. It is also the launchpad for their 22nd release of Hillsong LIVE with their project, Glorious Ruins, which debuted at No. 2 on the overall iTunes album chart and currently No. 1 on the iTunes Christian & Gospel chart.
The Hillsong Conference is always the backdrop for introducing the annual Hillsong LIVE recording and this year, Glorious Ruins, brings a true international feel to the project as it was written and produced across the church's Sydney and London campuses. The Hillsong Conference will be coming to the United States for the first time ever in October. Two conferences will be held in New York City (October 4-5) at Radio City Music Hall and in Los Angeles (October 18-19) at the Nokia Theatre. Click here for more information on the U.S. conferences.
Glorious Ruins is an acknowledgment of humanity and a bridge to redemption. It includes 12 fresh new songs (14 songs on the Deluxe Edition) written by Hillsong team members including Joel Houston, Reuben Morgan, Ben Fielding and Matt Crocker. The core of the album is the thought that "through Jesus Christ what we look at as ruins become glorious," according to Senior Pastor Brian Houston. The album features the title track, "Man of Sorrows," which is already being sung in churches internationally, and "We Glorify Your Name," a collaboration between Reuben Morgan and Chris Tomlin.
Here is what media outlets are saying about Glorious Ruins:
"Glorious Ruins is easily one of the best worship album choices to date in 2013. ... the captured authentic worship on this recording cuts through any din created by the over-abundance of available choices." -- Worship Leader

"Hillsong Live frequently proclaims the transforming power of Christ, and listeners will once again encounter that on the group's newest release, Glorious Ruins....It's a fitting reminder that not only are the songs on the project written with the church in mind, but that the ministry behind Hillsong Live is created and nurtured out of local churches." -- Charisma Magazine

"Glorious Ruins is a great batch of songs from a songwriting community of faith that appears to only be getting better as time goes on." -- Christian Manifesto

"Currently, there's no other name that has such a global impact on today's worship music than Hillsong." -- HM Magazine

"Glorious Ruins proves that Hillsong Live is still a force and power source to contemporary Christian music. Mark my words, in the next 10 years people will still be singing songs from this album as it houses several timeless classic songs in the making." -- The Underground Site

"This Hillsong album is rich with creative music, strong anthems and great lyrics that will get the listener closer to God, and that's the main purpose of any worship album." --Louder Than Music