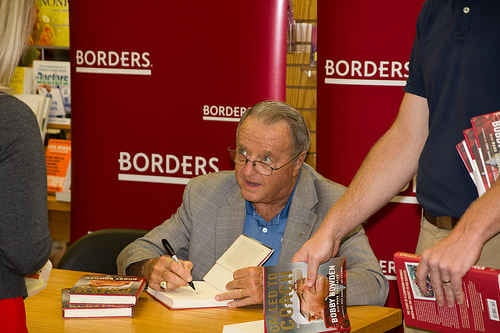 Bobby Bowden is one of the most elite college football coaches of all time.  He is also a devout Christian who is totally reliant upon God.  Bobby led a dominating dynasty over the course of 34 seasons amassing 377 career victories, the most ever by a div. 1 coach.  He is the patriarch of the Bowden family and was 80 years old when he retired after the 2009 season.
Bobby was around football and football fields his entire life, but as a young boy at the age of 13 he fell ill with rheumatic fever and had swelling of the knees.  This led to a 6 month stay in the hospital which in turn left Bobby with a lot of free time.  Having grown up during World War 2, he started watching shows and listening to radio programs about WW2 and soon became an expert on the topic.  He learned a lot about the battlefield strategies of War Generals and this obviously translated into college football coaching just fine.  During his youth Bobby was an extreme Alabama Football fan saying "To me there was no other school.  I was so avid that I can even remember crying.  I remember praying 'God, please help them win."  When Bowden had graduated he received a scholarship to play for the Alabama football program, his   dream.  However he only lasted one semester and then was too homesick and transferred out of Alabama so he could return home to his high school sweetheart, Ann Estock.  On April 1, 1949 Bobby and Ann eloped and were married at the ages of 19 and 16 respectively.
From 1909-1947 FSU was known as "Florida State College for Women" and they didn't even field a football team until 1947, some four decades after arch rival Florida got their program under way.  Bowden arrived on the scene in 1976 and he would actually spend the rest of his career with FSU even after being pursued by his beloved Alabama Crimson Tide.   He became the first coach to ever lead a team to 27 consecutive bowl games, and also had a streak where they won 11 consecutive bowl games.  Bowden's FSU teams would have a stretch from 1987-2000 where they finished in the Top 5 of the season's end AP Top 25 rankings.  Bobby coached 2 players that won the coveted Heisman Trophy Award, Charlie Ward in 1993, and Chris Weinke in 2000.  During the Bowden Era Florida may have been their "arch rival", but the Miami Hurricanes were certainly their "arch nemesis" beating FSU 7 times in 8 seasons, often times being the one thing keeping the Seminoles from a National Championship.  Certainly the standout infamous game for the 'Noles and the 'Canes was a 1991 affair where #1 FSU was losing 17-16 to #2 Miami and the Seminoles were poised to take the lead on a 34 yard field goal by Gerry Thomas.  Until his kick sailed to the far right, the game would go onto be remembered as "wide right."  Coach would reach the pinnacle of the sport in 1993 when they defeated Nebraska 18-16, ironically after the Cornhuskers missed a game-winning field goal attempt.  FSU would also reach Championship caliber in 1999, and this time they would do it like no one else before them had.  Not only having an undefeated season, but they were the preseason #1 rank.  So from coast to coast they stayed #1 all season and finished 12-0 winning the BCS National Championship game 46-29 over Virginia Tech.
"The Truth" Luke 24:25-26 Jesus Speaking: O foolish ones, and slow of heart to believe all that the prophets have spoken. Was it not necessary that the Christ should suffer these things and enter into his glory.
Coach Bowden did have to encounter his fair share of criticism and controversy.  He was accused of being too lenient on players.  Starting with All-American cornerback Deion Sanders who played in the 1989 Sugar Bowl and helped FSU to defeat Auburn 13-7.  This however was after he had stopped going to classes and hadn't taken his previous year's exams.  This incident would lead to a rules change regarding attendance and eligibility known commonly as the "Deion Rule."  Also in the 1999 season Heisman candidate Peter Warrick and Laveranues Coles were charged with receiving deeply discounted merchandise from a department store.  Bowden kicked Coles off the team and suspended Warrick for 2 games.  Warrick would go on to catch 6 passes for 163 yards as well as returning a punt 59 yards for a touchdown.  In that same game some people were calling for a suspension of star kicker Sebastian Janikowski, who missed the team curfew.  Bowden did not suspend Janikowski and responded by saying he didn't have any "warsaw rules" regarding his polish kicker.  The biggest scandal hit in 2007 when 61 student athletes from 10 different sports got busted for cheating in an online music course.  FSU was hit with four years probation, the loss of 19 athletic scholarships, and they also called for Coach Bowden to have 12 of his career victories vacated.  In the end it wasn't due to any wrongdoing on Bobby Bowden's part but due to the suspended athletes having been involved in the victories.
The thing that sets coach Bowden apart from the pack is his faith which gives his team's their confidence and swagger.  He says the defining moment in his life isn't winning championships but when he rededicated his life to Jesus Christ.  His stoic and overachieving career prompted FSU to name the playing field after their longtime coach.  Also in front of Moore Athletic Center you can see a bronze statue of the likeness of Coach Bobby Bowden.  After he was retired for a while in 2011 the Coach came out and revealed he had won a battle with prostate cancer in 2007.  He kept this hidden initially feeling he wanted to safeguard perceptions of strengths and weaknesses.  Not wanting to compromise the moral or confidence in the program.  But now post retirement he has found value in sharing his story of survival and helps and inspires others afflicted with the disease.  A true champion for Christ is Coach Bobby Bowden of the Florida State Seminoles.  Please enjoy the following countdown of 20 amazing and intriguing quotes from the Coach.
20. "Don't go to the grave with life unused."
19. "You can't imagine how many boys I've coached here that became ministers.  That has to be just as satisfying as winning a football game.  All we got to do is present it.  We ain't gonna save nobody.  But He will, and all He asks us to do is present it."
18. "He who gets the best players usually wins."
17. "When I recommitted my life, my whole thinking was….God I'm making myself available to You.  I think this is what You want me to do, God."
16. "I was raised during WW2.  So I became very interested in the military.  A lot of these skills and strategies carry over.  I get a lot of sayings out of it.  Some things that General Patton or Stonewall Jackson said I can use and you'd be amazed at how much the strategy is alike."
15. "I believe young men need a male in the home.  Young boys raised need a male figure in the home.  It's not what most of them got…somebody to discipline them.  I take them to church, have Bible reading with them, and pray at supper.  I think that myself and the staff add a lot."
14. "As good as we were, we didn't win a National Championship until 1993, mainly because we kept losing to Miami on missed kicks.  I used to get mad because nobody else would play Miami.  Notre Dame would play them, then drop them.  Florida dropped them.  Penn State dropped them.  We would play Miami and lose by one point on a missed field goal, and it would knock us out of the National Championship.  I didn't want to play them, either, but I had to play them.  That's why I said, When I die, They'll say, 'At least he played Miami."
"The Truth" 1 Peter 5:4 And when the chief Shepherd appears, you will receive the unfolding crown of glory.
13. "They always said, 'He can't win the big one'.  When you finally win it (1993), it was more of a relief.  When we won the second National Championship, it was more of an accomplishment, you were the #1 in the country from start to finish, which had never been done before.  That was a great accomplishment."
12. "They're going to make mistakes.  I made them!  I still do!  But if it's up to me, and I've got a chance to save someone, and it's the first time they've done something like this….I'm going to give them a second chance."
11. "I guess I'll retire someday if I live that long."
10."To Have the kind of year you want to have, something has to happen that you can't explain why it happened, something has to happen that you can't coach."
9. "In 50 years of coaching, I've never been accused of cheating.  Now they want to penalize me for something I didn't have a part in."
8. "It's something we don't talk about.  My religion and faith won't let it matter to me.  Sure, winning matters in this job.  But some record?  You're not going to take it when you go, are you?  Whoever wins it, wins it.  #1 it's either him or me.  It's not like there's somebody else ready to step in there.  That guy hasn't been born yet."
7. "If somebody mistreats you, treat 'em good.  That kills 'em."
6. "I don't care what they say.  I'm in charge of 115 boys.  If I have 5 get in trouble, I have 110 who didn't.  That's a pretty good average, but we'll be criticized for it.  That's our society today.  I've always been pretty tough.  You probably get a little more understanding as you get older, but I've always felt I was pretty tough when it came to discipline.  People have always called me a second chance coach, but that's the way I was raised.  If people hadn't given me a second chance, I'd have never made it."
5. " He doesn't know the meaning of the word fear, but then again he doesn't know the meaning of most words."
4. "I'm one of those guys that thinks if you don't have adversity, forget about character.  Because your character is going to be developed by how well you handle adversity.  Now if you never have adversity, how are you going to develop character."
3. "Faith is the most important thing in the world to me.  It's the greatest strength I've had.  It's helped me get through the hard times.  You're not going to win every one of your football games.  I've always said I'm not going to make football my God.  A lot of coaches put so much into coaching football games that they have nothing left.  I've never made football my priority.  My priorities are my faith and my dependence on God."
2. "I was a boy myself at  one time.  If someone had not forgiven me for some of the things I had done, I would never have made it.  So I'm coaching these young men, and I know what they go through and the temptations they're faced with."
 

 

1. "When I put everything in God's hands, I don't have to worry about anything.  I don't have to worry about winning ball games.  I want to.  I want to win as much as anybody does, but I don't have to worry about this.  I know that when I die, I live eternally with my God, so the pressure's off."

 
 

 

Conclusion

 

 
I can truly indentify, relate to, and agree with a lot of Bobby Bowden's philosophies and beliefs.  I once heard Bowden state "the Bible is the most underutilized tool in all of sports."  He is a very compassionate, understanding, driven, and focused leader.  He left a great legacy at FSU and college football will never have another.  His dedication to Christ and trust in his faith is certainly to be admired.  He has changed all the people around him for the better over the course of a great career and served as a great witness for the Lord to so many people for so many years.  Hope you enjoyed this look at the life and wisdom of Coach Bobby Bowden.  Tell us at F&E if we missed any of your favorite Bowden quotes.  God bless, Jesus is King!
"The Truth" 1 Peter 5:5-7 Likewise, you who are younger, be subject to the elders. Clothe yourselves, all of you, with humility toward one another, for "God opposes the proud but gives grace to the humble. Humble, yourselves, therefore, under the mighty hand of God so that at the proper time he may exalt you, casting all your anxieties on him, because he cares for you.
Resources- Resources-photo credit: jramspott via photopin cc, The Holy Bible, English Standard Version"Scripture quotations are from The Holy Bible, English Standard Version® (ESV®)copyright © 2001 by Crossway, a publishing ministry of Good News Publishers. Used by permission. All rights reserved.",www.youtube.com