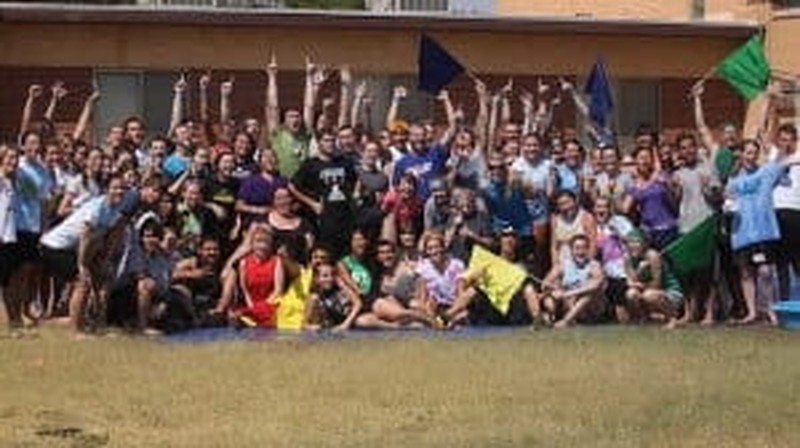 Summer vacation is the best time of the year for kids!  No school!  They can take a break from the stresses of the academic world to play with their friends or develop new interests.  While on break, Christian Camp is always a great way for them to connect with God and other kids at the same time.  Here is a list of 8 of the best Christian summer camps in America.  These are in no particular order.
Kanakuk Kamps
These camps have locations in Colorado and Missouri.  They are HUGE!  They offer an amazing experience to any child between the ages of 7-18.  They offer over 70 sports and activities that will definitely keep your child engaged.  They are owned by Joe and Debbie-Jo White.  These camps have been thriving since 1926 and are a must if you have the resources.  They are American Camp Association Accredited.
"Every child that comes through our gates is a masterpiece of God." – Joe White
Camp Magruder
Camp Magruder is located in Rockaway Beach, Oregon.  This camp caters to children, youth and adults.  It has been around since 1945 and it features many activities including: hiking, fishing, tether ball, campfire circles and even a labyrinth!  Part of their mission statement reads, "We nurture persons so they may affirm and expand their faith in God and their service as Christian disciples within God's world" (campmagruder.org).  There is a great mix of fun and real Biblical lessons to be had at this camp!  They are American Camp Association Accredited.
Rock N Water
This camp is located in Coloma, California.  There are different packages available from 1 day adventures to a mix of 2-5 day adventures.  There are many great activities for the summer campers including: river rafting, rock climbing and canyoneering.  The goal of the camp is "to help youth come to accept Jesus Christ as their personal Lord and savior." (rocknwater.com)
Camp Victory
Camp Victory is located in Zumbro Falls, Minnesota and has been around since 1943.  It is a non-denominational Christian camp designed for adventure.  Some of the great activities to try there are: paintballing, canoeing, fishing, and a BB/air rifle range.  The main goal is for every camper to grow in their walk with Christ.  This camp is American Camp Association Accredited.  You can be sure that your child will be safe and will learn core values to apply to their faith in Christ.  They strive to instill values that promote life-long spiritual growth.
Grindstone Lake Bible Camp
Grindstone Camp is located in Sandstone, Minnesota.  The goal of this camp is to help campers grow in their faith and to learn about God.  There are many fun things that occur at this camp from: worship services to camp-wide water fights!  Kids learn about fellowship at this camp and learn how to love one another while learning to love God even more!  This camp is American Camp Association Accredited.
"The Truth" (Hebrews 1:3) He is the radiance of the glory of God and the exact imprint of his nature, and he upholds the universe by the word of his power. After making purification for sins, he sat down at the right hand of the Majesty on high.
Kidder Creek
Kidder Creek is located in Etna, California in a place called, Scott Valley.  They offer programs for primary/junior, junior high, and high-school.  Some of the fun activities offered are: horseback riding, white water rafting and rock climbing.  The main focus is "to make campers know they are special to God and to us. In doing this, we offer a clear presentation of God's Word embedded in a well-designed program and presented by a spiritually mature staff." (mounthermon.org/kidder-creek)
Living Water Bible Camp
Living Water Bible Camp is located in Westby, Wisconsin.  They offer programs from kindergarten through 12th grade and also for families.  A few activities provided are: swimming, horseback riding and campfire outings.  A great time of fellowship, friendship and discipleship is something to look forward to at Living Water.  Their mission statement reads, "To reach, train and equip individuals to become servant leaders through the truth of God's Word and adventures in His creation" (lwbc.org).  They are American Camp Association Accredited.
T Bar M Camp
T Bar M Camp has locations in New Braunfels, Texas and Lake Travis near Austin, Texas.  They offer camp sessions for kindergarten to 11th grade and for families.  There is a wide array of camps including: sports camp, swim camp and baseball camp.  There is definitely something for everyone here.  The mission of the camp is "to present Jesus Christ and teach His ways through an exciting, enthusiastic, and encouraging camp and retreat experience." (tbarmcamps.org)
Conclusion
This is a general synopsis of 8 really good camps.  I encourage you to visit their websites to see awesome videos, photos and details about the camps.  It is so amazing the amount of fun and Biblical education that is received at all of these camps.  They are all worth checking out!  God bless!
Resources- The Holy Bible, English Standard Version"Scripture quotations are from The Holy Bible, English Standard Version® (ESV®), copyright © 2001 by Crossway, a publishing ministry of Good News Publishers. Used by permission. All rights reserved.", www.youtube.com,photo credit: LCUedu via photopin cc