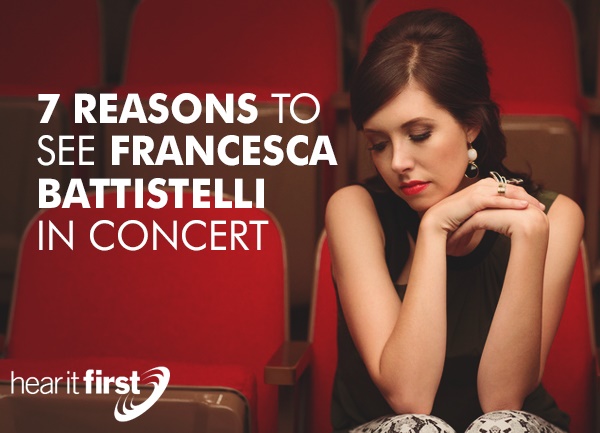 Francesca Battistelli has been on the Christian music scene since releasing her first album, Just a Breath, in 2004. I have enjoyed her music because she is genuine and honest about her faith in each song. This comes out even more when you attend one of her concerts! I saw her on the Francesca Battistelli Christmas Tour at Gaylord Evangelical Free Church in Gaylord, Michigan in December and again earlier this month at Winter Jam 2015 in Grand Rapids. I highly recommend seeing Francesca in concert when you get the chance and here's why!
#7. Kid Friendly
Have you taken kids to a concert and ended up focusing more on keeping them entertained and holding your breath that you wouldn't run out of snacks? There were many kids at both concerts and she embraced them. A little girl at the Christmas concert was invited on stage to sing! Francesca showed her so much appreciation and gave her a CD and thanked her! One of my favorite parts was when the auditorium was filled with bubbles. Who doesn't love bubbles?
#6. Personable
Francesca has always come across as personable in her songs with lyrics like, "I got a couple dents in my fender, Got a couple rips in my jeans" from the song "Free To Be Me" and "Spent today in a conversation, In the mirror face to face with, Somebody less than perfect, I wouldn't choose me first if, I was looking for a champion" from the song "He Knows My Name". It's incredible how personable she is on stage! She shares glimpses of her family, daily challenges and faith. She doesn't paint the picture of a perfect family or luxurious life.
#5. Not Over the Top
I was genuinely impressed by the simple decorations. She has a unique and personable style that often includes loose clothing with prints and uniquely colorful jewelry. She stood on stage in a white dress during one of the Christmas songs with all the lights off except a spotlight. The performance was powerful and moving as she focused on the power of Christ's birth. She could bring anything with her on stage, but she keeps it simple.
#4. Real and Honest
Francesca is real and honest. You sense this in her music and more so when she is singing. Her husband and two kids travel with her and this is inspiring because she doesn't try to separate family and work. The song "I Am Home" is a tribute to her husband Matthew and the simple and sweet lyrics show how down to earth she really is.
#3. Genuinely Musically Talented
Some people support Christian singers because of their beliefs. Others are in love with music and first notice how a song is composed and the instruments used. I love that Francesca isn't afraid to try a new style of music and incorporate different instruments. Her Christmas tour featured Shaun Groves, violinists, cellist Becca Bradley, piano and other instruments.
#2. She Is Thankful
I can't count the number of times she thanked the singers and musicians were performed with her during the Christmas concert! Her appreciation is contagious and you could tell she wasn't just putting on an act. Francesca lead the group and show, of course, but you can tell that she doesn't become controlling. As with all live shows, there were a few unexpected events, but you leave remembering her thoughtful and thankful attitude, which is encouraging and uplifting. It felt like you were watching a family perform on stage.
#1. It's Not About Her
It's true! Francesca does not keep the spotlight on herself when she performs. She sings to an audience and glorifies God in the process. Her lyrics for each song lead and she directs your mind to the powerful God we serve. She praises her band, the back up singers and everyone who performs with her. Artists are in a position where it can be easy to keep the spotlight on themselves, but Francesca goes out of her way to intentionally serve God as she performs. During the Christmas concert, Shaun Groves shared about what Compassion International is doing and invited everyone to sponsor a child. Winter Jam 2015 is also about more than just going to a concert as they share what Holt International does and take a love offering that supports local ministries.
Francesca Battistelli is a huge encourager in the Christian community and example of how God is shining through. Here are some of the upcoming tour dates for your chance to see her live!
Winter Jam 2015 touring various cities throughout January, February and March.
4/12 – Poteet Strawberry Festival in Poteet, TX
5/23 – Grand Wailea Resort & Spa in Wailea, HI
8/15 – Gothenburg 4 Plex in Gothenburg, NE
Article by Elise Cleary
I am a Christian writer and editor that lives in northern Michigan and thoroughly enjoy music, movies, TV shows, books and other entertainment with a Christian focus. My favorite song is "Oceans" by Hillsong United because it reminds me that has big plans for me and everyone else who puts their trust in Him. There are many movies that have impacted my life, but a few include God's Not Dead, The Shunning and Letters to God. I also write for www.faithandentertainment.com and love connecting with readers, so please don't hesitate to contact me! When I'm not writing I enjoy watching movies and laughing with my busy toddler and husband.