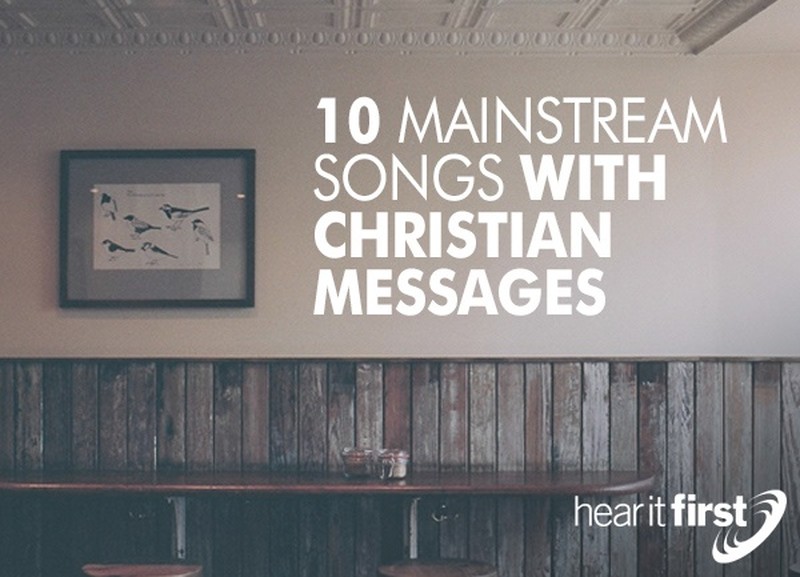 Have you heard a song on mainstream radio that you assume HAS to be from a Christian artist? Yeah, me too. There is a division between Christian music and secular music and the two don't always play nice together. Many country artists have professed their faith in God and this doesn't surprise me because God leads people down different paths for different reasons and often switches things up! Yes, a pop artist can be a Christian! A Christian artist can move into focusing on the secular world. This isn't a new concept, but there has been a lot of talk about whether a singer is a Christian artist just because they don't primarily focus on a Christian audience. I'd love to hear what you think about this. In the meantime, here are 10 mainstream songs with Christian messages.
10. "Unanswered Prayers" by Garth Brooks
Favorite Lyrics

She was the one that I'd wanted for all times
And each night I'd spend prayin' that God would make her mine
And if he'd only grant me this wish I wished back then
I'd never ask for anything again

Sometimes I thank God for unanswered prayers
Remember when you're talkin' to the man upstairs
That just because he doesn't answer doesn't mean he don't care
Some of God's greatest gifts are unanswered prayers
9. "Anyway" by Martina McBride
Favorite Lyrics

God is great, but sometimes life ain't good
When I pray it doesn't always turn out like I think it should
But I do it anyway
I do it anyway

This world's gone crazy and it's hard to believe
That tomorrow will be better than today
Believe it anyway
You can love someone with all your heart
For all the right reasons
And in a moment they can choose to walk away
love 'em anyway
8. "Below My Feet" by Mumford and Sons
Favorite Lyrics

Keep the earth below my feet
For all my sweat, my blood runs weak
Let me learn from where I have been
Keep my eyes to serve, my hands to learn
Keep my eyes to serve, my hands to learn

And I was still
I was under your spell
When I was told by Jesus all was well
So all must be well
7. "Learn to Fly" by Foo Fighters
Favorite Lyrics

I'm looking to the sky to save me
Looking for a sign of life
Looking for something to help me burn out bright
I'm looking for a complication
Looking 'cause I'm tired of trying
Make my way back home when I learn to...
6. "Can I Live" by Nick Cannon
Favorite Lyrics

I am a child of the king
Ain't no need to go fear me
And I see the flowing tears so know that you hear me
When I move in your womb that's me being scary
Cause who knows what my future holds
Yo the truth be told you ain't told a soul
Yo you ain't even showing I'm just 2 months old
Through your clothes try to hide me deny me
5. "Something In the Water" by Carrie Underwood
Favorite Lyrics

Well, I heard what he said and I went on my way
Didn't think about it for a couple of days
Then it hit me like a lightning late one night
I was all out of hope and all out of fight

Couldn't fight back the tears so I fell on my knees
Saying, "God, if you're there come and rescue me."
Felt love pouring down from above
Got washed in the water, washed in the blood and now I'm changed
And now I'm stronger

4. "Lord Give Me a Sign" by DMX
Favorite Lyrics

Lord Give me a Sign!
I really need to talk to you Lord
Since the last time we talked the walk has been hard
Now I know you haven't left me
But I feel like I'm alone
I'm a big boy now but I'm still not grown
And I'm still going through it
Pain and the hurt
Soaking up trouble like rain in the dirt
And I know!
Only I can stop the rain
Wit just the mention of my saviors name
IN THE NAME OF JESUS!
3. "Everything" by Lifehouse
Favorite Lyrics

How can I stand here with you,
And not be moved by you?
Would you tell me,
How could it be,
Any better than this?

You calm the storms,
And you give me rest.
You hold me in your hands,
You won't let me fall.
You steal my heart,
And you take my breath away.
Would you take me in,
Take me deeper now.
2. "Jesus Take the Wheel" by Carrie Underwood
Favorite Lyrics

She had a lot on her mind and she didn't pay attention
She was going way too fast
Before she knew it she was spinning on a thin black sheet of glass
She saw both their lives flash before her eyes
She didn't even have time to cry
She was so scared
She threw her hands up in the air

Jesus take the wheel
Take it from my hands
Cause I can't do this on my own
I'm letting go
So give me one more chance
Save me from this road I'm on
Jesus take the wheel
1. "You Raise Me Up" by Josh Groban
Favorite Lyrics

When I am down and, oh, my soul, so weary;
When troubles come and my heart burdened be;
Then I am still and wait here in the silence,
Until you come and sit awhile with me.

You raise me up, so I can stand on mountains;
You raise me up to walk on stormy seas;
I am strong when I am on your shoulders;
You raise me up to more than I can be.
These songs are powerful and I hope they challenge your faith so you continue your personal walk with Christ. What is your favorite mainstream song with a Christian message?
Article by Elise Cleary
I am a Christian writer and editor that lives in northern Michigan and thoroughly enjoy music, movies, TV shows, books and other entertainment with a Christian focus. My favorite song is "Oceans" by Hillsong United because it reminds me that has big plans for me and everyone else who puts their trust in Him. There are many movies that have impacted my life, but a few include God's Not Dead, The Shunning and Letters to God. I also write for www.faithandentertainment.com and love connecting with readers, so please don't hesitate to contact me! When I'm not writing I enjoy watching movies and laughing with my busy toddler and husband.