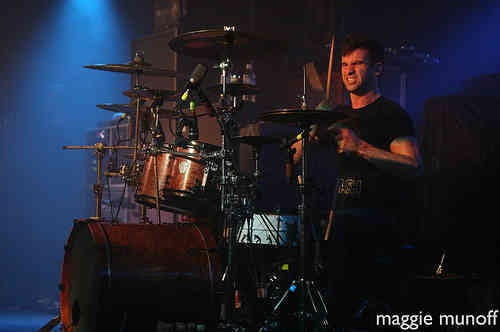 I am a guitar player and I envy drummers so badly! You guys and the bass players are the "backbone" of a band. Without you the music would not have a solid foundation. I can't play drums but man do I respect talented drummers. I am an avid music enthusiast and I love hearing a good drummer have at it! Please note that most of these drummers are in the rock/metal or gospel genre. This is because they are known for more technicality and speed. No offense to any style of music, but this is true.
Here are 8 of the best Christian drummers!
8. Andy Williams, Casting Crowns (former drummer)
I wish I could have seen Andy when he was with Casting Crowns. He was an amazing drummer for them. I know their music doesn't focus on drums much, but at live shows his drum solos were amazing! He deserves a spot on this list!
7. Brandon Trahan, Impending Doom
This man is the king of double bass in Christian metal! His beats are ridiculously fast and when he is following the guitar on the heavy breakdowns you can't help but want to go nuts! He is so good! If you haven't had a chance to check out Christian metal much, these guys are worth checking into! I would recommend you check out one of their new songs, "Beyond The Grave", off of their newest album, "Death Will Reign". It shows his ability to play fast as well as keep the groove going. Plus the lyrics are awesome!
6. Ted Kirkpatrick, Tourniquet
I must give Ted Kirkpatrick HUGE props! He is one of the original Christian thrash metal drummers to promote Christian music into the minds and hearts of the youth, me included! If you understand thrash metal than you understand why I put him on here. He hits the toms, snare, cymbals and double bass with lightning speed! If you want to check him out, check out the song "Psycho Surgery"! It showcases his talent well!
5. Matt Greiner, August Burns Red
Matt Greiner is a big influence on the metal youth of today. I didn't get into ABR until a youth came to me a showed me them. I was blown away! Matt is ridiculous! If you ever get a chance to see him play live you will not be disappointed. I recommend listening to "Poor Millionaire" if you want to check him out.
4. Jeremy Haynes, Daryl Coley, Men of Standard and many others
Gospel drummers are so amazing and Jeremy Haynes must be mentioned! I can't really describe how amazing he is! He has tons of videos on YouTube if you want to check him out! He plays in the "pocket" very well to keep the beat, while still independently producing some quick hits to the toms, snare and cymbals to fill in the gaps. His style is one to be admired!
3. Calvin Rodgers, Fred Hammond
Calvin Rodgers is one of the best drummers I have ever heard! His style is very energetic and full of life! Like Jeremy Haynes, he has many videos on YouTube featuring his solos or him playing with a group. He is a must see! You just have to watch him to experience his awesomeness! Words can't really describe it!
2. Lance Garvin, Living Sacrifice
Lance Garvin holds a dear place in my heart. Living Sacrifice kept me on the right track through high school and college. Lance is so good at playing off beat rhythms and metal breakdowns! If you want to check out anything by him I would recommend either "Bloodwork" or "Conditional". Both are off of "The Hammering Process" which was their second album with Bruce Fitzhugh on vocals. The entire album is awesome! For newer stuff I definitely would recommend "Your War" off of their latest release, "Ghost Thief"
1. Chris Coleman, Israel Houghton and many others
This guy is off the charts! He is just awesome! Chris has played with many different Christian artists and he also gives drum clinics throughout the year. Like Calvin Rodgers, I can't describe in words how ridiculous he is! You need to experience this guy. He plays fast, but with tempo. He plays technically, but maintains the groove. He plays with serious skill, but can blend in with the band! Please do yourself a favor and check him out! If you know me, you know I am very drawn to metal music, so if a gospel artist is getting the #1 spot, you know he is amazing!
Conclusion
I hope you have enjoyed this list of my favorite Christian drummers that play in Christian bands! Please let us know who you think are some of the best Christian drummers. As always, God bless you all! It's always a pleasure to hear from you!
Related Post- 15 Awesome Movies About Jesus
Resources- Youtube,Photo Credit: jubileelewis via Compfight cc
photo credit: maggiemunoffphoto via photopin cc