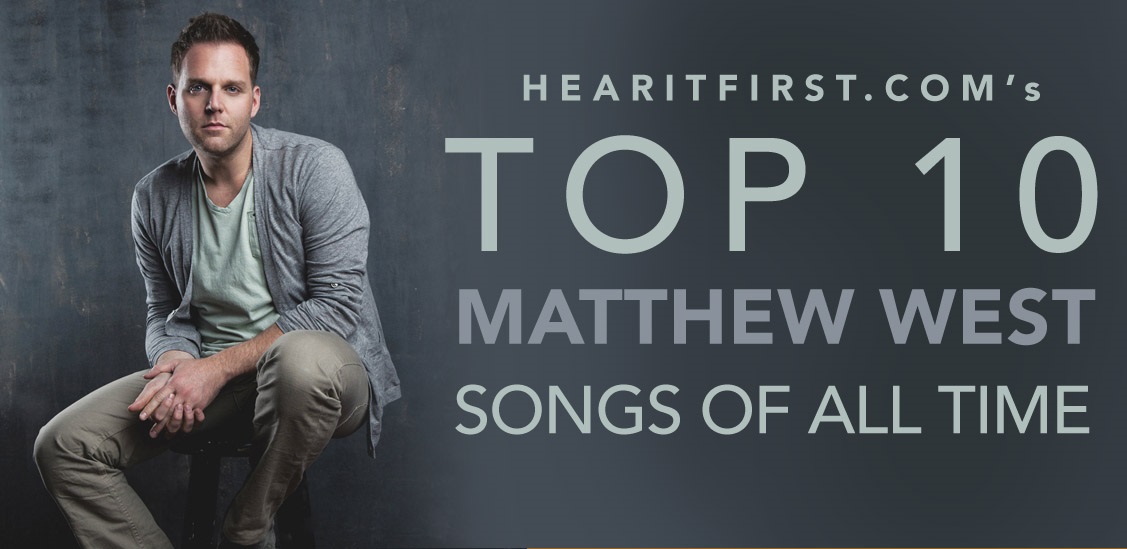 I have to admit that I haven't always loved Christian music, but it's when I started dating my now husband that I really began appreciating what Christian musicians do. My first CD from a Christian artist was "History" by Matthew West and I played it until the CD player in my old Camry decided to eat it. I've been following Matthew West since 2007 and love the meaning behind his songs and how he is influencing Christians of all ages.
Here are the top 10 Matthew West songs of all time!
10. "Next Thing You Know" from the album History
Favorite Lyrics
Well, I wish I could say I always stayed right there
And I did until my freshman year
But the world was pulling me a long way from thirteen
And you were calling but I didn't hear
Still I knew there was something more S
o, one day my knees hit the dorm room floor
I said, "If you're there, and if you really care,
Come and talk to me like I was thirteen.
9. "My Own Little World" from the album The Story of Your Life
Favorite Lyrics
What if there's a bigger picture?
What if I'm missing out?
What if there's a greater purpose?
I could be living right now
Outside my own little world
?
8. "History" from the album History
Favorite Lyrics
Yesterday is history And history is miles away
So, leave it all behind you
But let it always remind you of the day
The day that love made history

You know you can't stay right where you fell
The hardest part is forgiving yourself
But let's take a walk into today
And don't let your past get in the way
7. "The Motions" from the album Something To Say
Favorite Lyrics
I don't wanna go through the motions
I don't wanna go one more day
Without Your all consuming passion inside of me

I don't wanna spend my whole life asking
What if I had given everything
Instead of going through the motions?

No regrets, not this time
I'm gonna let my heart defeat my mind
Let Your love make me whole
I think I'm finally feeling something
6. "More" from the album Happy
Favorite Lyrics
I love you more than the sun
And the stars that I taught how to shine
You are mine, and you shine for me too
I love you yesterday and today
And tomorrow, I'll say it again and again
I love you more
5. "Strong Enough" from the album The Story of Your Life
Favorite Lyrics
Cause I'm broken
Down to nothing
But I'm still holding on to the one thing
You are God
and you are strong
When I am weak

I can do all things
Through Christ who gives me strength
And I don't have to be
Strong enough
Strong enough
4. "Forgiveness" from the album Into the Light
Favorite Lyrics
It's the hardest thing to give away
And the last thing on your mind today
It always goes to those that don't deserve

It's the opposite of how you feel
When the pain they caused is just too real
It takes everything you have just to say the word…

Forgiveness
Forgiveness
3. "Only Grace" from the album History
Favorite Lyrics
There's only grace
There's only love
There's only mercy
And believe me it's enough
Your sins are gone
Without a trace
There's nothing left now
There's only grace
2. "Hello, My Name Is" from the album Into the Light
Favorite Lyrics
Hello, my name is child of the one true King
I've been saved, I've been changed, I have been set free
"Amazing Grace" is the song I sing
Hello, my name is child of the one true King
1. "Do Something" from the album Into the Light
Favorite Lyrics
If not us, then who
If not me and you
Right now, it's time for us to do something
If not now, then when
Will we see an end
To all this pain
It's not enough to do nothing
It's time for us to do something
Did you know that Matthew West has been nominated for eight GMA Dove Awards, winning in 2005 for Recorded Music Packing of the Year for Happy? He has released five studio albums, including Happy, History, Something to Say, The Story of Your Life and Into the Light. Through the years Matthew West has worked with many other Christian musicians, including Mandisa, Natalie Grant, Casting Crowns and Point of Grace. He has also teamed with Vince Gill, Billy Ray Cyrus and Rascal Flatts.
Article by Elise Cleary
I am a Christian writer and editor that lives in northern Michigan and thoroughly enjoy music, movies, TV shows, books and other entertainment with a Christian focus. My favorite song is "Oceans" by Hillsong United because it reminds me that has big plans for me and everyone else who puts their trust in Him. There are many movies that have impacted my life, but a few include God's Not Dead, The Shunning and Letters to God. I also write for www.faithandentertainment.com and love connecting with readers, so please don't hesitate to contact me! When I'm not writing I enjoy watching movies and laughing with my busy toddler and husband.