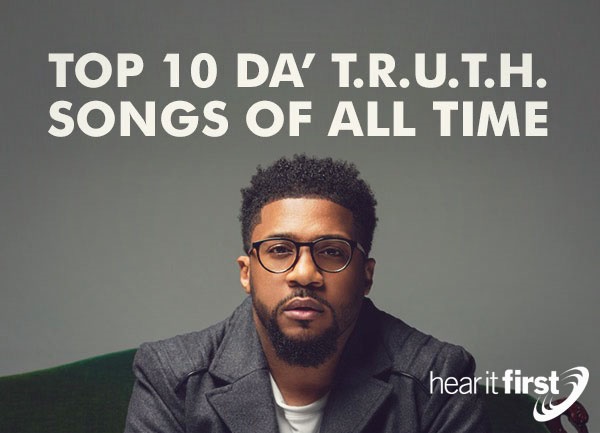 Here are ten of Da' T.R.U.T.H.'s greatest songs of all time.
Who is Da' T.R.U.T.H.?
Da' T.R.U.T.H. is listed among the top ten Christian rap artists but who is Da' ' T.R.U.T.H.? The author's real name is Emanuel Lee Lambert, Jr. We must not confuse him with Muslim artist Imran "Da Truth" Khan because Da' T.R.U.T.H raps about the truth of God and so here is a list of the Top 10 songs by Da' T.R.U.T.H.
Legend
The song, Legend, by Da' T.R.U.T.H., is rapped in the way that Jesus would speak. He is grand, He is king, He is strong, He was present in time before time existed. These are many of the attributes of God as Creator, the Sovereign God, and the Omnipotent God. He is all these and more, the Alpha and the Omega; the beginning and the end. Jesus says of Himself, "I am the Alpha and the Omega," says the Lord God, "who is and who was and who is to come, the Almighty" (Rev 1:8). The self-existing One, Who was, Who is, and Who is to come (with His second coming). Legend seems to borrow from these biblical ideas.
The Portrait
The Portrait is an intense self-examination when placed up against the Holy God, in Jesus Christ. This song reminds us that Christ was buried in real time and in a real grave, and that He would "walk out of His tomb to His throne." Da' T.R.U.T.H. takes on the swoon theory or that Jesus was moved by the disciples by asking "Was He removed by delusional dudes that refused to believe in the truth," suggesting just how foolish these theories are. Da' T.R.U.T.H. even asks what skeptics would ask, "Were the disciples hallucinating was the truth evaded." The Portrait is a defense of the actual, historical account of the resurrection. This makes it biblically sound but also apologetic in nature.
Trumpet Blow
Trumpet Blow by Da' T.R.U.T.H. is all about that Day…that Day of Jesus' visitation with the focus on the trumpet blowing…"cuz Jesus is coming ba back." Da' T.R.U.T.H.'s incessant theme is to live with an expectation of His return, at any moment, when "Christ on His white horse and His battle gear" and "Satan is chained by the Angels" and there'll be "peace in every burrow." These are things that every Christian should be eagerly anticipating.
After Your Heart
The song, After Your Heart, by Da' T.R.U.T.H., asks God the questions, "Why am I here? What is my purpose? Why did You make me? He later answers his own question, probably questions that many of us have had before about why we're here and what's our purpose, so Da' T.R.U.T.H. answers it by rapping, "He made me so I could give him worship…with my life and not merely lip service." Da' T.R.U.T.H. makes his main point by saying "the just live by faith…I've been purchased," so "purge us Lord please help us to purpose In our hearts to live godly." That's great counsel for all who trust in Christ.
Fantasy
The song, Fantasy, by Da' T.R.U.T.H, is seeks to glorify God in the lyrics, singing about the "One who's greater than anything you could ever have" and it's not found in "Hotel resorts, tailored shorts, fancy smeets on Miami beach," and it's neither "Short hair, long legs, full lips, white tee, new whip, new chain, new fresh white tee" but "Jesus says life doesn't exist in the abundance of things" and that is seeking Him and the kingdom first (Matt 6:33), which is what Da' T.R.U.T.H. is telling us.
You Made
Da' T.R.U.T.H.'s You Made is also listed among his top ten songs. This song refers to God as both Creator and Redeemer, which He is and tries to make sense of life and our purpose here on earth. He is so convinced about the account of creation that he asks, "How did I get here?" to which he responds, "through a natural selection?" No sir, it was the Master's selection." Da' T.R.U.T.H. have several songs that are apologetic in nature and even come with arguments for the existence of God, while still focusing on Jesus Christ, "the Author and Finisher of our faith" (Heb 12:2), where God sent "a Redeemer."
Lost
Lost, by Da' T.R.U.T.H. is a lot about grace as he asks, "Where would I be if He hadn't died for me…and if He never gave His life for me I would be lost" like you and me. This song is more of a celebration but one that looks forward and being "glad that He's coming." This song is certainly reassuring to those who belong to Christ but could convict those who are still lost today. Who knows whether God may use his words, like "What if there was no remission of sin? You got what you deserved not what you were given," to show people what grace is and perhaps, point someone to Christ?
Great Wall
Great Wall, from Da' T.R.U.T.H. is a song that has a message so desperately needed today and that's to stop the prejudice, hatred, with a prayer/rap, "Lord forgive us for being prejudiced. I know I said that in the present tense" so his message is clear. It's not about race, it's all about grace and the free gift of God (Eph 2:8-9), so "remove the glass, separating your disciples. Please grant repentance for all the class divisions." This song is good counsel to those who are the leaders and body members of Christ, the church.
Fourplay
The song, Fourplay by Da' T.R.U.T.H. is probably close to what you associate that word with and here, D'' T.R.U.T.H. is trying to warn young people about the dangers of sexual immorality, and rightly so. He raps a biblical message of "Sex is alright in god's sight. As long as the two are married [but] not prom night." He emphasizes the sanctity of marriage and the plain fact that sex before or outside of marriage is sin, so "stand firm and exercise your faith" and keep yourself pure.
My Story
The song, My Story, by Da' T.R.U.T.H., is a persona testimony to his life before Christ and his life after Christ. Some call it BC (Before Christ) and AC (After Christ), but personal testimonies can be powerful ways to witness to the lost, particularly when Scripture is used. As if taking a page out of Ephesians chapter one, he declares "I knew I was called before the day of my birth," which is what God told Jeremiah when he was called before birth to be prophet of the nations (Jer 1:5). None of us will be called to that, in all likelihood, but we are all called by God, and Da' T.R.U.T.H. concludes My Story by rapping that it was "the blood of the lamb saved my soul and that's my testimony." Is it yours?
Conclusion
Da' T.R.U.T.H. reaches many different parts of society with his uniqueness and can read the hearts of those we might not ever meet. He is passionate about the truth, thus the name, and he uses logic, rationality, and science to state his proof for a Creator. His songs wrap themselves around the essentials of salvation and there is no deviance from biblical doctrine that I saw in any of his lyrics, therefore, if rap is your style or if you want to reach the youth, Da' T.R.U.T.H. is trustworthy.
Article by Jack Wellman