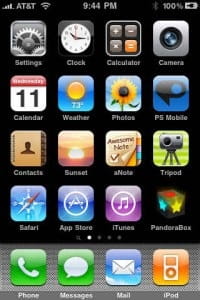 Most people have at least one mobile device and there have been millions of apps developed, especially for the iPhone. You can find great Christian-based apps to keep you organized, entertained, inspired and encouraged. These are my top 10 Christian iPhone apps.
"The Truth" 1 Timothy 4:15 "Practice these things, immerse yourself in them, so that all may see your progress."
This is a fun app if you are looking for some quick entertainment or have a few minutes to spare. It's a great way to sharpen your Bible knowledge and remember key details of Bible lessons. Over 4,000 users have rated this game and it receives an average of 4 out of 5 stars.
Seller: Celso Zlochevsky
Cost: FREE
Size: 16.9 MB
9. The Word Search
This app is fun, interactive and great way to either learn key details from the Bible or sharpen your knowledge. It comes with four levels of difficulty and is great for children through adults. You can learn the definition of words in the word bank that explains the Biblical significance. Words are organized by chapter and each chapter includes bonus trivia questions.
Seller: Christian Family Games, LLC
Cost: FREE
Size: 44.5 MB
8. Daily Bible Inspirations
If you love to see inspiration photos with Bible verses, then this is a great app to keep you focused and encouraged. It will send you a daily reminder to help you stay on track with Christ. You can share images on social media websites and set the time of day to receive your inspirational photo. This app has been downloaded over 300,000 times and photos are tweeted hundreds of times each day.
Seller: Minima Software LLC
Cost: FREE
Size: 46.4 MB
7. Bible Lock Screens
Add a touch of Christian flare to your phone with the Bible-based wallpapers that change every time you go to unlock your screen. The content is updated regularly so it doesn't get boring and you can also access home screens. You can save the images to your Camera Roll and use the "suggest a verse" feature for new screens you would like to see.
Seller: James Maher
Cost: FREE
Size: 20.4 MB
"The Truth" I Thessalonians 5:17 "Pray without ceasing."
6. Prayer Notes
Become more mindful of your prayers and take note of new prayers throughout your day. Use this app to organize your prayers and notice when they get answered. Features allow you to easily share, review and write prayers. It will also provide a prayer time reminder. This is a great app if you are trying to get into a more prayerful routine!
Seller: Michael Chu
Cost: Free version and a Pro version for $1.99
Size: 8.7 MB
5. Daily Devotion
This app delivers short devotions each day that you can apply in your everyday life. You can also access recent broadcasts from the Baptist Bible Hour radio ministry, view their website and review additional devos based on the category and date. If you like a devotional, you can quickly share it on Facebook, SMS or email.
Seller: Woodfield Labs, LLC
Cost: FREE
Size: 3.1 MB
4. K-LOVE
If you listen to one of the hottest Christian radio stations, then take it with you by downloading this app. They play the mainstream Christian artists and offer positive and encouraging commentary 24/7. You can set the built-in alarm clock to wake up to K-LOVE and change your settings to stream high or low bandwidth. If you like a song they are playing, you can easily purchase it, view the lyrics and share it on social media networks.
Seller: Emf Broadcasting
Cost: FREE
Size: 16.6 MB
"The Truth" Ecclesiastes 4:9 "Two are better than one, because they have a good reward for their toil."
3. Loving Her / Honoring Him
Okay, these are two different apps, but they both help married couples stay connected. Life gets so busy and we may mean well at times, but sometimes we forget to make sure our spouse feels like they are the most important person in our lives. Each app is tailored to serving a wife and husband respectively and will provide ideas to inspire us and enhance our marriages in a Christian manner with accompanying Bible verses.
Seller: Greg Cordero
Cost: $2.99 each
Size: 24.6 MB
2. Bible
Always have a Bible close by with this FREE download. It's one of the most popular Bible apps, and for good reason. There are various versions to choose from, including the NIV, ESV, NKJV, NASB, The Message and countless others. You can select from over 150 different languages. If you like to follow topical reading plans you can choose from hundreds of different topics that range from a few days to a few weeks.
Seller: LifeChurch.tv
Cost: FREE
Size: 14.3 MB
"The Truth" Mark 16:15 "Go into all the world and proclaim the gospel to the whole creation.
1. SermonAudio
If you are looking for a diverse app that offers a lot of features for FREE, then be sure to download this one! You will have the world's largest library of sermons you can download or stream. Browse audio sermons, video sermons, PDF transcripts, featured sermons, speakers and scroll through countless categories. You can also search for churches by location and view churches on an interactive map. Since most people multitask on their phones, you can listen to sermons in the background.
Seller: SermonAudio.com, LLC
Cost: FREE
Size: 13.4 MB
Check out this F&E article featuring hilarious Christian youtube videos:  6 Funny Christian Videos

 Conclusion
I really love using Christian apps because I always have a Bible on hand. I find that the more I immerse myself in Christian-themed content, the more I am reminded of my blessings. New apps are released everyday, so please comment below with your favorites!
Resources- ESV Holy Bible, youtube.com, photo credit: nemuneko.jc via photopin cc