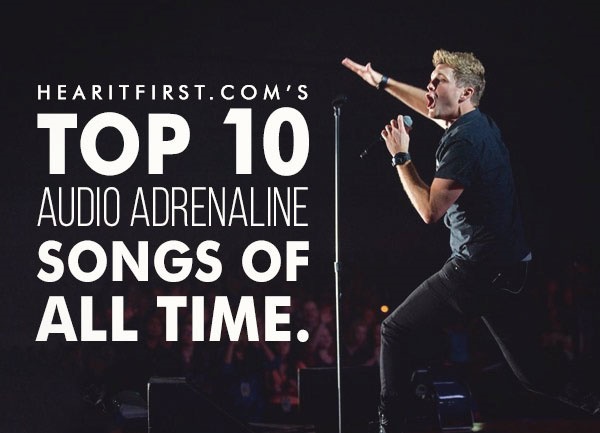 The Christian rock band Audio Adrenaline has been on the music scene since the mid-80's after the original group formed while attending Kentucky Christian University. They took a six-year break from 2006 through 2012 and now feature new band members that bring vast collective Christian music experience. Their new album Sound of the Saints will be released May 4, 2015. They have been touring all over the U.S. since the beginning of the year and have tour dates set through the beginning of May.
Band Members and A New Season
This new season of Audio Adrenaline brings together Adam Agee formerly the frontman of Stellar Kart, Dave Stovall (formerly of Wavorly), Brandon Bagby (toured with Plumb and Seventh Day Slumber) with Jack Campbell on the drums. Co-founder Will McGinniss has stepped back to devote more time to the Hands & Feet Project as president of the board. In stepping down McGinniss stated, "The last several years have been an incredible blast and honor," said McGinniss. "To get to bring back Audio A, for one sole purpose—to champion the cause of the orphan and abandoned children through our work at the Hands & Feet Project in Haiti—was incredible. But now God is calling me to a new season in Him off the road. I have every confidence that with this new group of guys and an incredible bunch of new songs, Audio A will be all about that same goal. I pray God's heart and blessing over them."
I'm excited for the new album to release. Lets take a look at the top 10 Audio Adrenaline songs of all time before diving into what this reformed group has in store.
10. "People Like Me" from the Album Some Kind of Zombie
God created all people different and the message in "People Like Me" is one that needs to be spread further. We all have different strengths, weaknesses, purposes, circumstances, struggles and physical appearances. Think about this and take it as a humbling reminder of God's plan.
Favorite Lyrics
People like me, persons like you.
We want to be, closer to God.
Closer to free.
All you people like me.
9. "My World View" from the Album Don't Censor Me
You might recall that Kevin Max was the lead singer when this song was released! The message in this song is deeply relevant today as it talks about seeing the world through the eyes of Jesus.
Favorite Lyrics
My world view
It's how I see the world
It's how I look at you
My world view
It's how I see the world
Would you like to see it to?
My world view
8. "Ocean Floor" from the Album Lift
"Ocean Floor" is a great reminder God doesn't remember our sins, but we often let them linger in our thoughts and actions.
Favorite Lyrics
Take them away
To return no more
Take them away
To the ocean floor
7. "Leaving 99" from the Album Worldwide
This song talks about leaving 99, which references Luke 15:4 and a shepherd leaving 99 sheep to find one that strayed away. Still a powerful message today!
Favorite Lyrics
When I fear
I'm on my own
You remind me
I am not alone

You say, I'd leave 99
Leave them all behind
To find you, for you alone
6. "Love Was Stronger" from the Album Sound of the Saints
This is a brand new song from Audio Adrenaline and is already on my favorite list. It's an awesome reminder that nothing, absolutely nothing, is stronger or bigger than God's love. His perfect love is revealed as we surrender and you soon realize that God's redemption doesn't end.
Favorite Lyrics
You are stronger

Than my sins you carry

To the cross

With resurrecting love

Love was stronger

Love was stronger
5. "Get Down" from the Album Underdog
I remember this song blasting the car speakers via cassette tapes. It's still catchy and a favorite! It's also a great reminder that God does lift you up when you are feeling down.
Favorite Lyrics
I get down and He lifts me up
I get down and He lifts me up
I get down and He lifts me up
I get down
4. "Hands and Feet" from the Album Underdog
"Hands and Feet" offers a great perspective on the process of becoming Jesus' hands and feet. The responsibility is huge and comes with sacrifices, as Audio Adrenaline reminds us – to "abandon every selfish thought" and "surrender every thing I've got." Can you imagine what type of world this would be if everyone did these two things?
Favorite Lyrics
I want to be your hands
I want to be your feet
I'll go where you send me
I'II go where you send me
3. "Believer" from the Album Kings & Queens
Have you seen the official music video for "Believer"? It features Derek Rabelo who is a professional surfer and also blind. Do you live life in fear or have you figured out how to let go of control and let God guide you?
Favorite Lyrics
When I walk through the valley of the shadows
When I'm trapped in the middle of the battle
I will trust in You
'Cause trouble comes, but you never let it take me
I hold fast 'cause I know that You will save me
I will trust in You, I will trust in You
2. "Big House" from the Album Hit Parade
I love to dream about what God's house will be like! It's fun to associate with earthly comforts like a lot of room and really awesome food, but I know it will exceed all human expectations.
Favorite Lyrics
It's a big big house
with lots and lots a room
A big big table
with lots and lots of food
A big big yard
where we can play football
A big big house
Its my Fathers house
1. "Kings & Queens" from the Album Kings & Queens
I feel like God's message through this song is breaking through to say how special His children are. Every word drips with truth from "every child has a dream to belong and be loved" to "when we love the least of these."
Favorite Lyrics
Boys become kings, girls will be queens
Wrapped in Your majesty
When we love, when we love the least of these
Then they will be brave and free
Shout your name in victory
When we love when we love the least of these
When we love the least of these
I can't wait for Audio Adrenaline's new album Sound of the Saints to be released! Each one of their songs brings a truth about God, walking with Jesus and what it means to spread His love. It's clear that the former members are still involved with the band, as founding member Mark Stuart stated, "Watching the guys practice for this upcoming tour and record has been such a joy." What is your favorite Audio Adrenaline song?
Article by Elise Cleary
I am a Christian writer and editor that lives in northern Michigan and thoroughly enjoy music, movies, TV shows, books and other entertainment with a Christian focus. My favorite song is "Oceans" by Hillsong United because it reminds me that has big plans for me and everyone else who puts their trust in Him. There are many movies that have impacted my life, but a few include God's Not Dead, The Shunning and Letters to God. When I'm not writing I enjoy watching movies and laughing with my busy toddler and husband.