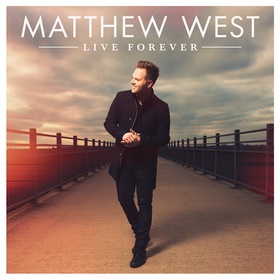 On Saturday, August 29, four-time GRAMMY [®] nominee Matthew West will appear in Birmingham, Alabama in front of thousands during the Restoring Unity event to perform his hit single "Do Something." Restoring Unity is a two-day event helmed by Glenn Beck which supports his non-profit organization, Mercury One.
When West appeared on Beck's radio show earlier this summer, to talk about his brand new album, Live Forever, the two made an instant connection. And during their visit, Beck soon realized that Matthew West was the artist and songwriter behind "Do Something," the very song that Beck wanted as the theme for his Mercury One event, Restoring Unity. Leading up to August 29, "Do Something" can be heard every day on Glenn Beck's TV show. To find out more about this very special event, please visitNow.MercuryOne.org.
GO CUBS!
In between festival dates, last weekend West appeared at Chicago's famed Wrigley Field for the Cubs' home game to sing the National Anthem. He also performed "God Bless America" in front of the packed stadium and went on to watch his favorite team win against the San Francisco Giants.
LIVE FOREVER TOUR
With festival performances throughout the rest of the summer, West will embark in later September on the second leg of his successful The Live Forever Tour with special guests Francesca Battistelli and Mr. Talkbox, formerly of TobyMac's Diverse City Band. Compassion International presents this 40-city tour that will begin on September 24 in Eau Claire, WI. Tour dates are listed below and by clicking here.
The Live Forever fall tour dates*
September 24 - Eau Claire, WI
September 25 - Fargo, ND
September 26 - Eden Prairie, MN
September 27 - Waukesha, WI
October 1 - New Albany, IN
October 2 - Madison, TN
October 3 - Savannah, GA
October 4 - Aiken, SC
October 8 - Andrews, TX
October 9 - Alamogordo, NM
October 10 - Phoenix, AZ
October 11 - Yorba Linda, CA
October 13 - San Diego, CA
October 15 - San Jose, CA
October 16 - Roseville, CA
October 17 - Portland, OR
October 18 - Boise, ID
October 22 - Tucson, AZ
October 23 - Albuquerque, NM
October 24 - Colorado Springs, CO
October 25 - Dodge City, KS
October 29 - Effingham, IL
October 30 - Wisconsin Dells, WI
October 31 - Naperville, IL
November 1 - Jackson, MI
November 5 - Bensalem, PA
November 6 - Johnson City, NY
November 7 - Hawthorne, NJ
November 8 - Wheeling, WV
November 12 - Jackson, MS
November 13 - Baker, LA
November 14 - Longview, TX
November 15 - Round Rock, TX
November 19 - Middleburg Heights, OH
November 20 - Lowellville, OH
November 21 - Zeeland, MI
*All dates subject to change