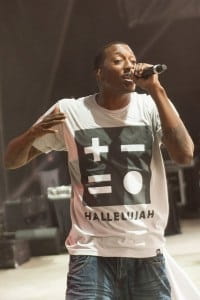 In the Hip Hop culture, people like to ask about your "Top 5 Dead or Alive," which basically means, "Who are your favorite rappers of all time?" If you were to ask me about my Top 5, I would probably say, Tupac, The Notorious B.I.G, Big L, Jay-Z, and Lecrae. Of course, this is a very subjective list, but as a Hip Hop producer & connoisseur, I have listened to many artists throughout the years. What differentiates these rappers from the thousands of others is their ability to effectively convey heartfelt emotions and messages to people. Out of these five, Lecrae is the only rapper who is known for being a Christian. One might say that it is impressive for a "Christian rapper" to have made it on anyone's Top 5 Dead or Alive, since this is such a rare feat. However, I believe that this is why Lecrae stated in a past interview, that he would prefer to be viewed as a Christian who raps, instead of a "Christian rapper" doing "Christian Rap."
He brings up this point, because "Christian Rap" may turn away many people, who may be in urgent need of Jesus' healing message. If you are known to be a Hip Hop artist, who happens to be a Christian, this not only helps non-believers become more open to hearing what Lecrae has to say, but also opens up new opportunities for any listener to let Christ into their lives. Whether you want to consider Lecrae a Christian rapper, or an influential Hip Hop artist who loves Christ, it is clear that Lecrae has been blowing up in the Hip Hop community.  Whether he is talking about his personal failures, or his greatest achievements, the beauty about this situation is that he is serving to spread the good news of the Gospel to believers and non-believers alike.
Top 20 Lecrae Tracks
20. Far Away
19. APB
18. Finally Free
17. Gimme a Second
16. Fakin
15. Divine Intervention
14. Fanatic
13. Gravity
12. I Love You
11. Like That
And Now The Top 10
10. Price of Life
Attention sisters! Are you are feeling down, because of your appearance or lack of material goods? If you are, and even if you aren't, please take a listen to this song. There is a huge difference between how commercial rappers today portray women, and how Lecrae and Andy Mineo speak about y'all. Remember that you are beautiful and perfectly made in the eyes of God! Brothers, listen closely as well.
9. Misconception
There is a line in Verse 3, by Odd Thomas, where he says,
"You really believe that you could receive God's favor by your good deeds and right behavior? But you're dead in your transgressions and need a Savior. Cause you could never win God's approval with the removal of sinful discretions – your righteous acts of removing God's wrath is in fact the biggest misconception..."
Now that is some powerful stuff... Many people have misconceptions about Christianity and God, and this song is jam packed with truths. Sometimes, the truth hurts.
8. Mayday
This beat hits really hard and the lyrics hit even harder. If you like J.Cole, this song definitely has a similar feel to some of his songs. "Man down! Help is one prayer away. Don't be afraid to say, 'Mayday!'"
7. Take Me As I Am
There are a lot of people who won't come to Christ, because they believe that they must clean their lives up first. Lecrae says,
"I used to think that way too. I thought I had to change myself before I could come to Christ, but Christ changed me."
Jesus takes us as we are. All we have to do is, "Let go and let God."
6. Background
This song is a constant reminder that we need to put ourselves second. When we put God first, He will bless us. Like Matthew 6:33 says,
"But seek first the kingdom of God and his righteousness, and all these things will be added to you."
Let us all play the background and let God lead us in our life's journey.
5. Just Like You
This song is very deep. I was able to relate to this, because two of my best friends grew up without fathers in their lives. On the outside, they both seemed nonchalant, but when I got the chance to have deeper conversations with them, I saw how profoundly they were affected by their non-existent fathers. In this song, the chorus represents Lecrae's feelings toward the male figures in his life. He wanted to be just like them, because he did not have a father to look up to. At the end of the song, the chorus takes on a new meaning of hope, when he says, "In comes Jesus!" This heartfelt song is a reminder that we all have a heavenly father who will always love us, and will never leave us.
4. Prayin' for You
This song reflects the heart and soul of a struggling Christian. This could be any of us during the lowest points of our walk with God. Everything from the beat to the lyrics makes this song a top Lecrae track. Also, if you like plot twists, you are in for a surprise. Stay tuned!
3. Boasting
Lecrae says in this song that tomorrow is never promised. This line reminded me of all of the pain and suffering going on in the world, such as the Boston bombings, Texas fertilizer plant explosion, and the earthquake in China. While there are people suffering all over the world, are we doing anything to help? Are we making an impact in anyone's life with ours? Are we contributing to anyone's spiritual well-being? These are just thoughts that came into my mind while listening to this song. Let us strive to boast in Christ and make it known to everyone! Let us shine our lights and boast in Him. Acts 5:14-16.
2. Don't Waste Your Life
Like Crae says in this song, you need to go check out "everything in Luke 12:15 down to 21." I don't know about you, but sometimes I feel like I need some change in my life. However, instead of turning to Christ, I turn to other worldly things to fill that emptiness in my heart. Be prepared to hear some really fast rapping with a message so powerful, that you will want to get out of your seat and not waste your life any longer!
1. Tell the World
Nothing expresses the Gospel more effectively than this song does. Lecrae's first verse explains his shortcomings, as Romans 3:23 states,
"for all have sinned and fall short of the glory of God."
However, he describes his transformation through Christ as the song goes on. The chorus powerfully comes in with Mali singing,
"Now I'mma tell the world, tell em. I'mma tell it everywhere I go. Tell the world, tell em. Yea I'm a billboard. Tell the world, tell em. Cast Him like a radio. Tell the world you ought to know I'm brand new."
Wait... Isn't that Jesus' Great Commission? Oh yeah, it is! You can check that out in Matthew 28:16-20. Brothers and sisters; let us go into the world, to the lost, to the poor and hungry, and proclaim the name of Jesus!
Lecrae speaks volumes of truth, while skillfully articulating what he believes in. As an avid Hip Hop listener, I like Lecrae, not only because he is a brother in Christ, but because real Hip Hop is about effectively demonstrating one's freedom of speech and expression.
Guest Post By David Kim
I am an aspiring producer and songwriter currently in Los Angeles, CA. I am also a follower of Jesus Christ and an avid Christian music listener/blogger. My faith has been shaped largely by my family and my father, who serves as a pastor of a church in New Jersey. Through the ups and downs, God has been a huge part of my life. When times get rough, God always seems to find a way to remind me of His love. "I can do all things through him who strengthens me." - Philippians 4:13 (ESV)
photo credit: DarkElfPhoto via photopin cc