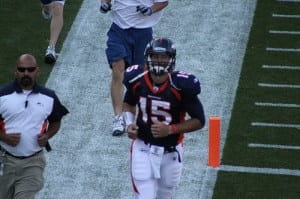 Do you know that moment of anticipation as the wide receiver is in the end zone waiting to catch the football flying right towards him?  He runs to catch it as the crowd is cheering him on frantically.  The moment arrives!  He reaches his hands out to grab it and drops it.  In this point of the game is where the moment of truth really happens.  Many players get mad and swear or even shove the other team.  Other players stay silent and beat themselves up in their own mind.  Still others stay positive and keep playing the game.  There are moments like these all of the time in sports, not just in football.  Attitude is everything when you are in the spotlight.  So, how can you glorify God as you play sports?  Here are a few general concepts to think about before you hit the field and while you are on it.
"The Truth" (Psalm 86:12) I give thanks to you, O Lord my God, with my whole heart, and I will glorify your name forever.
The War in the Mind
In sports you practice all of the time to get good at what you do.  This is clear to see when you watch professional players.  Kobe Bryant soars over many players in basketball.  This is because of shear talent, but also years of practice.  If you want to be good at something, practice is a must.  The same way you practice your game is the same way you should be in the Bible and prayer.  God is the ultimate life source and He is who has blessed men and women with their talents in sports.  Before you engage on the field, engage your heart and mind on God.  Take some time before your game and pray to God for a gentle spirit that won't berate other players or allow cursing to leave your lips.  You will completely lose your witness if these are regular habits.  There is a war going on in your mind all of the time.  When you engage God, you can fight off the evil that wants so desperately to win your heart.
Proactive VS Reactive
Basketball and football are 2 sports where you can get good views of the coaches and players on the side lines.  Every decision a referee makes affects 2 different teams drastically.  One team is helped while the other is penalized.  The team that is punished is the sideline that is shown most of the time because of the reactions.  Tony Dungee is an excellent example of what a great coach looks like.  He is retired, but when he was coaching he was one of the best examples to live out Jesus in the world.  You wouldn't see Tony fly off of the handle on bad calls.  He knew how to be angry and yet not sin. (Ephesians 4:26)  Bobby Knight, also retired, is completely on the other end of the spectrum.  You could always catch him losing his temper and swearing at referees, players and even fans.  There is a clear, distinct difference between these 2 coaches; Tony was proactive and Bobby was reactive.  When you are playing any sport it is important to maintain your morals and convictions while playing.  You cannot be a credible witness for Christ if swearing, cursing, insulting, and berating other people is normal for you.  Choose to be proactive instead of reactive.  Accept the penalty that you are given whether it is fair or not.  Jesus accepted the ultimate penalty and it was by no means fair at all.  He did, however, handle it the best way possible.  That is what we should all strive for.
Make Your Faith Obvious
God deserves props too!  Find a way to give God the glory when you score for your team.  Many athletes point to the sky when they score a touchdown or hit a homerun.  This is usually to signify their faith in God and to tell Him "thanks".  Tim Tebow used to wear Bible verses in the black under his eyes until it got banned.  Find some way that you can show your faith.  Some athletes have tattoos that showcase their faith.  Colin Kaepernick is a great example of this.  He has tattoos all over his body and many of them reflect his faith.  Still other athletes kiss their cross necklace in victory.  The point is that there is always time to give God the glory, even in the most intense part of a sporting event.  So, be intentional about giving God praise while playing the game.  Find a way to show others that your faith in God is real.
Conclusion
These are only 3 of many ways that you can really showcase your faith in sports.  When you choose what is right, you will always glorify God and that is what is most important.  Please feel free to comment on other ways to glorify God in sports below.  God bless you!
If you are a fan of all sports, check out this link to our popular article of the greatest Christian athletes of all time!
Resources- The Holy Bible, English Standard Version"Scripture quotations are from The Holy Bible, English Standard Version® (ESV®), copyright © 2001 by Crossway, a publishing ministry of Good News Publishers. Used by permission. All rights reserved.", www.youtube.com, photo credit: Jeffrey Beall via photopin cc