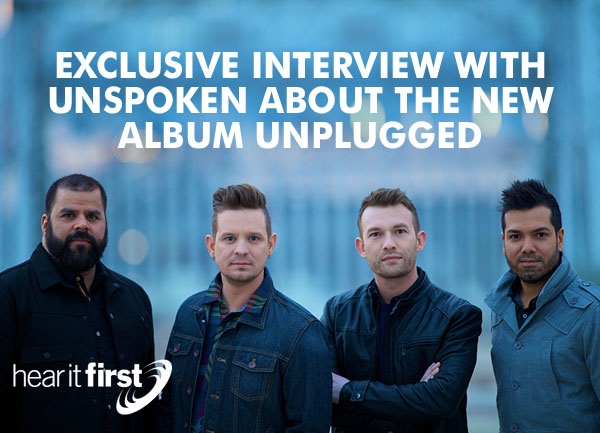 Unplugged is the latest album from the Christian band Unspoken and it's a welcome breath of fresh music to calm the soul. The band delivered a smooth and upbeat album with Unspoken in 2014 and Unplugged offers a similar sound, but with a more laid back vibe. It features 10 songs, including acoustic versions of "Start a Fire", "Good Fight" "Lift My Life Up" and "Who You Are". Unspoken delivers fresh and upbeat music that is a blend of soul, reggae, pop – a very eclectic sound that reflects all the members of the band. You can check out Unplugged on Spotify.
I had the chance to chat with lead singer Chad Mattson about the new album.
Question: What was it like to record Unplugged?
Chad: "The cool thing about doing an unplugged record is that it was about doing whatever we wanted, compared to a full length record. We just wanted to play the songs as they were and create an organic sound. For all of our shows, we do an acoustic part. All of us were really excited with no pressure."
Question: How would you describe the genre of music?
Chad: "I don't know how to describe it. I would describe it as soulful. I would describe it as pop. One member grew up on 80's rock. One on hip-hop and R&B. One on artsy singer/songwriter music. It's [Unplugged] very eclectic compared to some of our other music. All of our personalities and musical tastes come through on the record."
Question: Do you have a favorite song on the album?
Chad: "That's hard to say. There are songs I like for different reasons. I really like "Broken Man" and "Solid Rock"."
Question: What inspired the direction of the album?
Chad: "We were on tour and one of the performances was snowed out. We were at my parent's house in Maine and sat down to decide what to record over the kitchen table with the guitar and it flowed."
Question: Did you think you were going to be a singer when you grew up?
Chad: "I grew up around music some, but I was always into sports. I never thought I would make a living or thought I would be good enough to do music. Going on a missions trip to the Dominican Republic and finding my own walk with the Lord, I was introduced to the guitar player I started the band with. Some neat things happened along the way that brought us together during those two months. I thought, "Okay, the Lord wants to use not only my musical gift, but my story and my testimony and to share His story of redemption and love for this world."
If you haven't checked out Unplugged yet, here's a preview of what you are missing!
"Broken Man"
This song written by Jon Lowry, Chad Mattson and Hunter Sparkman is about a broken man calling out for help and life-giving words and music. The music offers a calming blend of piano, guitar, drums and other organic sounds.
Favorite Lyrics
Help this broken man when the road is long

Write in me a melody so I can sing redemption's song

'Cause when push comes to shove

Never be enough to make it on my own

Help this broken man's soul, help this broken man's soul.
"Tell Somebody"
The reggae sounds blends smoothly to create a fun and uplifting tune. Listening to "Tell Somebody," I imagine gathering for a picnic at a park on a warm, sunny day and slowly more people gather and we all share lunch, swap numbers and grow a group of people fully accepted and loved.
Favorite Lyrics
Tell somebody, tell somebody

That we are the ever loved

There is nothing, there is nothing

The cross can't overcome

Just believe it, just receive it

Then go tell somebody, tell somebody

About love
"Call It Grace"
This is such an uplifting song that whispers truths about what God's grace really looks like. God's grace is unending and full of redemption and life. Chad Mattson wrote this song with Jon Lowry, Seth Mosley and Michael Farren.
Favorite Lyrics
Some may call it foolish and impossible

But for every heart it rescues it's a miracle

It's nothing less than scandalous

This love that took our place / last chorus - Jesus took your place

Just call it what it is

Call it grace
"Green Light"
Written by Jon Lowry, Chad Mattson and Tyrus Morgan, this song is about waiting on God's timing and surrendering your plans to Him. Live life waiting for the green light to move.
Favorite Lyrics
Keep fighting the good fight

(never give up never give in)

Keep letting your light shine

(holding it high as long as you live)

Cause I'm never gonna leave you

Always gonna see you through to the other side

Keep fighting the good

Fighting the good

Fighting the good fight, good fight
This entire album is incredible and each song is unique, but cohesive at the same time. Chad Mattson also mentioned that the album was a collection of songs they had previously written and some they changed. Some albums that include laid-back versions of songs lose the original artistic feel, but this album does the complete opposite. You can tell that they did not over edit the songs, which gives the songs a raw edge and fluid vibe. Purchase the album on iTunes and let us know what you think!
Article by Elise Cleary
I am a Christian writer and editor that lives in northern Michigan and thoroughly enjoy music, movies, TV shows, books and other entertainment with a Christian focus. My favorite song is "Oceans" by Hillsong United because it reminds me that has big plans for me and everyone else who puts their trust in Him. There are many movies that have impacted my life, but a few include God's Not Dead, The Shunning and Letters to God. When I'm not writing I enjoy watching movies and laughing with my busy toddler and husband.