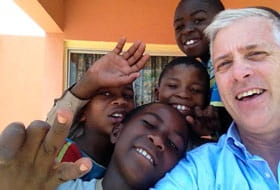 Being a father to the fatherless seems distant and far for many of us and "a great idea" that "someone else handles." This is what David Kase, USA Country Director of Christ's Hope International – based in Traverse City, Michigan – used to follow as a real estate broker who donated money, but never thought volunteering in Africa was for him. God had something BIG to say about this and placed the needs of AIDS affected children in Africa on the hearts of he and his wife Becky.
This brings a new perspective on what John 13:34-35 states, which is the verse they have selected for this year:
"A new commandment I give to you, that you love one another: just as I have loved you, you also are to love one another. By this all people will know that you are my disciples, if you have love for one another."
It's Your Responsibility to Listen to the Call
Christ's Hope International is an organization with coordinators in 14 countries that formed in 2003. Jos and Sylvia Holtzhausen, who were working with Youth for Christ in Africa realized that the needs of AIDS affected individuals were outside of what YFC was able to meet. Instead of shoving the needs aside as "a great idea that someone else could handle," they formed a group in Florida who prayed endlessly for months to hear God's calling. Christ's Hope International was born and soon after, a seed was planted in the Kase's hearts that began developing before they could even admit their certainty of visiting Africa in 2005.
Repairing Ongoing Destruction
AIDS rips apart families and often times when a mother becomes too sick to care for her children, they are left to fend on their own. Christ's Hope International began building children's homes to house orphans, but realized that they could expand their outreach by changing their model and eliminating some of the negative effects of institutional care. Ministry CarePoints were established in local buildings, schools and churches to take care of all physical needs, such as food, clothing and health care while providing an education for children. Children live with their families who are overjoyed to have them knowing their individual needs are met. Before the Ministry CarePoints were setup, Christ's Hope housed 38 children. Within a few months of proposing the Ministry CarePoint concept, the children and families came together and the number of residents in the home dropped to 12.
Embracing this model reduces the cost of care per child from $250 for institutional to $50 – $70 per month in a Ministry CarePoint. This allowed them to connect and build relationships with families and help more children. There are currently 15 Ministry CarePoints across Africa and 714 kids are helped in the program, with eight churches in the United States who are partners, advocating for their church families to sponsor the children in their partner CarePoint at $38 a month. "Champions" are donors, foundations or corporate partners who provide seed money to support the launch of new CarePoints.
Preventing AIDS through Sexual Purity
"Many of the children simply wouldn't go to school without Christ's Hope," states Mr. Kase reflecting on the distressed situations the kids are raised in. Besides providing basic education, a huge aspect of Christ's Hope International is teaching God's intent for sexual purity through a study called Genesis Design. The goal is to become a cycle breaker. Whether or not a woman or child was forced or chose their sexual activity, the goal is to teach the value of each person and God's blessings of sex in marriage. "Every person involved in Christ's Hope International is required to go through Genesis Design training and it has had a huge impact on our organization," states Mr. Kase.
Each day, 4000 people will die from AIDS, 5000 new people will become infected and at least 200 children will suddenly become orphans. "We can't help everyone or completely stop AIDS, but we can change one person to become a cycle breaker," states Mr. Kase. This one person may be a child living with multiple siblings and extended family who can have a profound influence on those around them. This grows and pretty soon an entire community has changed.
Truth Hurts, but Saves
This is a young man named William who was admitted to Christ's Hope Care and Compassion program, which focuses on home-based care of people sick and dying from AIDS. Though on his deathbed, he thought he was only suffering from tuberculosis and would recover. The workers strongly encouraged him to be tested for HIV and he refused. They eventually convinced him and the results showed just how sick he was with AIDS. Countless individuals are infected with AIDS in Africa and there is a very negative stigma about the illness that leads them to avoid treatment in order to hide and eventually die. William received the proper nutrition and anti-retroviral medication and started healing. He was terrified to tell his wife, but eventually found the strength. She tested positive for the HIV virus and there was a huge concern that their child would also become ill, but it was a miracle that the baby was free of the virus! The family is now healthy and has been rebuilt. The outcome could have been devastating, leaving another child fatherless.
Sacrificing Sweat, Blood and Stability
As with many missions, the individuals with Christ's Hope International are rich in faith, but not in finances. They utilize every donation to help the kids and families they serve. The founders, Jos and Sylvia have dedicated their life and given up luxuries that people assume entitled to own. One of Mr. Kase's God moments has been, "Living testimonies who have taught us about faith and are walking in faith." It is clear after speaking with Becky, David and others that there is a profound joy that the people who have found Christ in Africa carry. They don't have many belongings, but they have an inner peace and strength that only comes from God.
This is a testament of Matthew 18:20 "For where two or three are gathered in my name, there am I among them."
Working together as Servants
Christ's Hope International partners with many other organizations in sharing it's Genesis Design materials and training, including Compassion International, Youth With A Mission, Operation Mobilization and many others to ensure this valuable and affective tool helps reach as many young people as possible to become cycle breakers. Some groups have relationships established in certain countries where Christ's Hope is focused, so it makes sense to utilize resources already available. By developing more partnerships and continuing to raise funds and awareness, Christ's Hope International has set God-driven goals to build 12 new Ministry CarePoints throughout Africa and double the number of children they serve. They currently work in the Democratic Republic of the Congo, Kenya, Namibia, South Africa, Uganda and Tanzania.
Most directors are native to the countries they serve, which is invaluable in showing respect and understanding the cultures. "We do not want to support an image of coming in and trying to tell an unfamiliar culture what to do," states Mr. Kase.
Watch this video of the Matthew West song "Do Something" and a story of one woman's journey to try to save children in Uganda.
How Can You Help?
Faithful disciples are needed who can provide financial support, volunteer time in Africa, pray for guidance and safety, churches to become partners and champions and to raise awareness. Traditionally, they have partnered with churches, but many businesses have expressed their desire to sponsor children or even a Ministry CarePoint.
Contact David Kase, USA Country Director at davidk@christshopeusa.org or Austin Jenness at austin@christshope.org. You can also visit www.christhope.org to learn more about how to get involved.