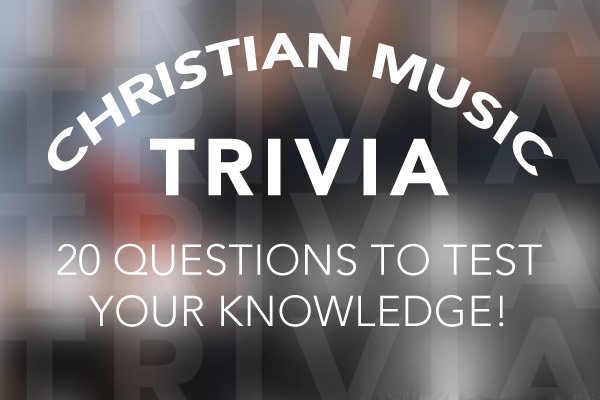 Are you an expert on your favorite Christian artists? Some, like Michael W. Smith and Steven Curtis Chapman have been performing for over 20 years. Whether you prefer Christian Rock, Christian Pop or Christian Country, there is a group or solo artist that you will love! Newer artists like Citizen Way, Lecrae and King and Country bring new sounds and rhythms into the Christian music world.
See how much you truly know about your favorite artists with these 20 Christian music trivia questions to test your knowledge.
Christian Music Trivia Questions
Trivia Question #1. What city did Christian rock band Third Day get started in with lead singer Mac Powell, guitarist Mark Lee and former band member Billy Wilkins?
Trivia Question #2. Which Christian music artist played a role in the Christian movie The Heart of Christmas with Candace Cameron Bure?
Trivia Question #3. What song was Natalie Grant nominated for "Pop/Contemporary Recorded Song of the Year" in 2005?
Trivia Question #4. Which single by Francesca Battistelli was #1 on Christian Airplay earlier this year, in 2014?
Trivia Question #5. Which Christian artist sings "Lord, I Need You" and is originally from Newfoundland, Canada?
Trivia Question #6. Which reality television show did Colton Dixon place seventh on that helped launch his career?
Trivia Question #7. The chorus to Chris Tomlin's newest song is "You'll never stop loving us, No matter how far we run, You'll never give up on us, All of heaven shouts: let the future begin." What is the name of this song?
Trivia Question #8. Mandisa propelled into the Christian music world after competing and placing 9th on American Idol in 2006. Now she has a new line of clothing and accessories. What is the name of her new fashion line?
Trivia Question #9. Which Christian group sings "Live Like That", "You Love Me Anyway" and "The Words I Would Say"?
Trivia Question #10. TobyMac started his solo career in Christian music in 2001 and has released five studio albums. Which popular music group was he part of through the 1990's until it broke apart in 2000?
Trivia Question #11. In 2009, Tenth Avenue North won New Artist of the Year and then won Song of the Year the following year for which song?
Trivia Question #12. Audio Adrenaline began in 1986 and their hit song "Big House" helped launch their career, but they did not start out with the band name "Audio Adrenaline". What was their original name?
Trivia Question #13. Which song by Britt Nicole was featured as the motivational song on NBC's "The Biggest Loser"?
Trivia Question #14. Which well-known Christian music group sang "God's Not Dead (Like A Lion)" in the movie God's Not Dead, which starred Kevin Sorbo and Shane Harper?
Trivia Question #15. Can you name the first two lines of Building 429's "We Won't Be Shaken"?
Trivia Question #16. Which Christian group is originally from Chicago and sings the song "Nothing Ever (Could Separate Us)?
Trivia Question #17. Which female Christian singer was a backup singer for Amy Grant at five years of age and came out with the song "The Broken Beautiful"?
Trivia Question #18. This Christian group is currently made up of Daniel Biro, Jonathan Steingard, Micah Kuiper and Justin Benner and came out with their first album "Riding Around the Park" in 2000?
Trivia Question #19. Which song from Laura Story's album God Of Every Story is about her personal journey of realizing how much she was trying to control in her life instead of letting God take the reins?
Trivia Question #20. Can you name the Christian artist who lost his first wife to ovarian cancer, is an author and sings "There Will Be A Day" and "Reckless"?
Christian Music Trivia Answers:
Question #1: Marietta, Georgia

Question #2: Matthew West

Question #3: "Live for Today"

Question #4: "Write Your Story"

Question #5: Matt Maher

Question #6: American Idol

Question #7: "God's Great Dance Floor"

Question #8: SimplyMandisa

Question #9: Sidewalk Prophets

Question #10: DC Talk

Question #11: "By Your Side"

Question #12: A-180

Question #13: "Walk On The Water"

Question #14: Newsboys

Question #15: "This world has nothing for me, This life is not my own"

Question #16: Citizen Way

Question #17: Ellie Holcomb

Question #18: Hawk Nelson

Question #19: "I Can Just Be Me"

Question #20: Jeremy Camp
Rating
1 – 5 Correct: You need to begin listening to Christian music 24/7.

6 – 10 Correct: Time to go to more Christian music festivals.

11 – 15 Correct: Not bad! You are a backup Christian singer.

16 – 19 Correct: You are a Christian music expert!

20 Correct: You should receive a degree in Christian music trivia!
Do you think you can stump me? Submit your Christian music trivia questions and I promise not to cheat!
Article by Elise Cleary
I am a Christian writer and editor that lives in northern Michigan and thoroughly enjoy music, movies, TV shows, books and other entertainment with a Christian focus. My favorite song is "Oceans" by Hillsong United because it reminds me that has big plans for me and everyone else who puts their trust in Him. There are many movies that have impacted my life, but a few include God's Not Dead, The Shunning and Letters to God. I also write for www.faithandentertainment.com and love connecting with readers, so please don't hesitate to contact me! When I'm not writing I enjoy watching movies and laughing with my busy toddler and husband.