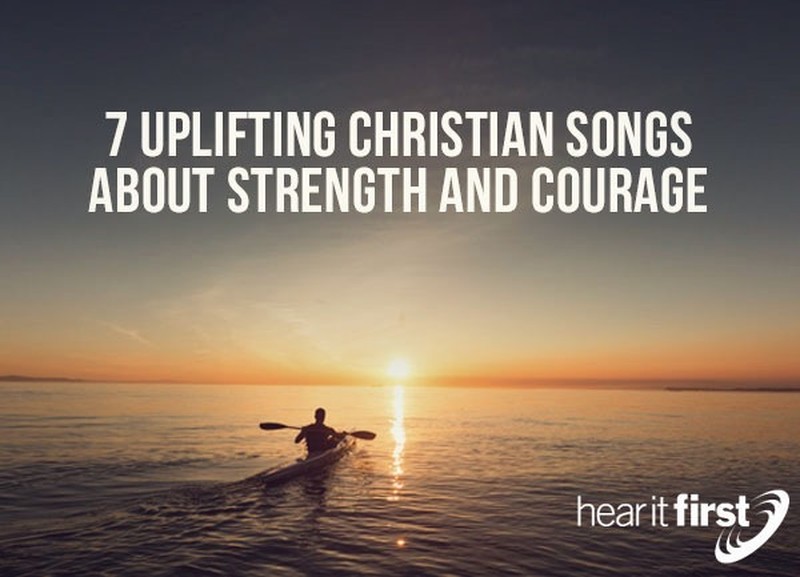 We were never promised that life would be easy. In fact, Jesus flat out told us that as Believers we would have trouble. (John 16:33) We long for inspiration that provides strength and courage in our troubled times. Music so often draws us into the presence of God – where our help comes from. It is in His presence that we are overwhelmed by His provision that lifts us, that carries us, that sustains us in the battle.
May these 7 songs be your "Aaron and Hur" supporters in musical form that lift up your arms and bring strength and courage to you today in your battle.
"But Moses' hands were heavy. Then they took a stone and put it under him, and he sat on it; and Aaron and Hur supported his hands, one on one side and one on the other. Thus his hands were steady until the sun set." Exodus 17:12
Soar, Meredith Andrews
Award winning Christian recording artist, Meredith Andrews, has a new album that is set to release in February - Deeper. This album follows her 2013 release Worth It All. Word Worship will release two versions of Deeper - a standard 11-song version along with a 14-song deluxe edition.
In only one word, Deeper, the album title conjures a sense of wonder about what life might be like if we take The Father's hand and go deeper. To where He is. To where He wants us to be. To where all we have is Christ because He is all we need. What if we get out of our comfortable place? What if we go beyond dipping our toes in the shallow waters? What if we go Deeper?
This inspiring song from Meredith Andrews' upcoming album, Soar is already released and topping the charts. The honest lyrics are based on scriptural truths and promises. They speak to the power we have available to us to give us the strength and courage to spread our wings and soar.
"This desert holds a song I will sing, on and on. You're a river when the ground I walk is dry." ~Soar, Meredith Andrews

Shoulders, for KING & COUNTRY
Where does my help come from… this is how the song begins. for KING & COUNTRY brilliantly reminds us that our help comes from the Lord. This captivating message lifts us up and gives us the courage to believe that in our time of need, when we are weak, His shoulders are strong enough. There is so much comfort and hope here.
"I look up to the mountains. Does my strength come from the mountains? No. My strength comes from God – who made heavens and the earth and the mountains". ~Shoulders, for KING & COUNTRY
Thrive, Casting Crowns
So much of our life is spent striving. So much of our life is spent trying to merely survive. In life's disappointments, unrealized dreams, and frayed days, this song offers the motivation to do more than just survive. The meaningful lyrics set to an upbeat melody are the perfect combination to lift our spirits and push us to press on.
"Joy Unspeakable. Faith Unsinkable. Love Unstoppable. Anything is possible." ~Thrive, Casting Crowns
Impossible, Building 429
With God, nothing is impossible. Which means with God, all things are possible. What a simple yet profound truth. This song packs a punch and puts pep in your step. It helps us believe that with God we can dream the impossible and do the impossible. Believe in the impossible. Oh… and don't listen to this song sitting down. Anything with "Woo ooh ooh ooh ooh (hey!) Ohhhhh" cannot be taken in the seated position or on low volume.
"You can rise above the typical, and be anything but usual. We know, we know, we know that there's no such thing as impossible." ~Impossible, Building 429
Life is Beautiful, The Afters
I can't think of anything much more uplifting than a reminder that life is beautiful. We need those reminders some days. This song is one of my favorites from The Afters. It helps us remember that even when life may not be facing the up direction, that our world is filled with beauty and purpose. Tomorrow will bring the sunrise.
"I know there are long nights but we'll make it. With every sunrise comes a new light." ~Life is Beautiful, The Afters
Is it time for a new perspective? Have you lived in your fear, guilt and pain long enough? He's ready for you. He's ready for you to bring all of that to Him. This life-giving song will fill us with strength and courage to live in this world that we don't belong to. We belong to someone Greater.
"And greater is the One living inside of me than he who is living in the world" ~Greater, Mercy Me
Warrior, Steven Curtis Chapman
Inspired by the movie, The War Room, this song reminds us that there is no better way to fight than through prayer. Prayer is our direct connection to the Source of Victory Himself. We can handle anything, face anything, and endure anything with warrior-like prayer. Strength and courage for the battle is best found when we're on our knees.
"We are the Warriors when we are on our knees the enemy trembles..." ~Warrior, Stephen Curtis Chapman
In the times of life where pain and struggle come, and they will come, we need strength and courage to help us a long. These 7 songs lift my spirits and give me the motivation I need to not only keep going but to Soar! I hope they will do the same for you.
Article by Andrea Stunz
I'm a born-and-raised Texan who enjoys any adventure that requires a passport. As a Christ-following pilgrim, I'm a lover of stories and a connoisseur of sunrises and coffee - best when served together. I listen to a wide range of musicians with Andrew Peterson, Jimmy Needham and Bethel Music being just a few of my favorites. When I'm not writing, you'll find me in the kitchen or spending time with those I love.