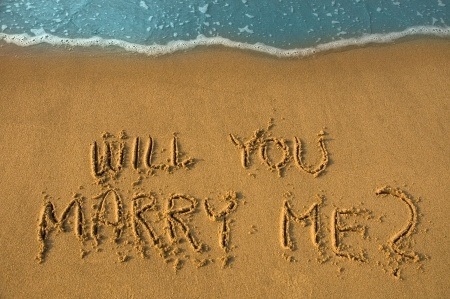 Marriage is a sacred union between God, a man, and a woman. The Apostle Paul used marriage as an example of the union between Christ and the church. The most unique marriage proposal is the one in which Jesus knocks on the door of one's heart so that they may be united in the love, joy, and peace of the Holy Spirit. A unique marriage proposal can continue to unite a couple's memory long into their marriage. Try one of these 7 unique marriage ideas for the Christian couple:
Propose in a Song
"I will sing for the one I love a song about his vineyard" (Isaiah 5:1)
Not everyone has the gift of singing, but if you do try serenading a love song to your significant other and end it with a proposal. For those without singing talent, you could ask a friend or group of friends to sing to her while you're out for dinner. In some cases, you may be able to get a choir to sing a melody asking the question of marriage.
Propose with Praise Dancers
"Again you will take up your timbrels and go out to dance with the joyful" (Jeremiah 31:4).
Many churches use praise dancers with colorful, flowing clothing to usher in worship during their services. There are many love songs that would fit beautifully in a proposal with praise dancers. Seek out through your local churches to find praise dancers who would be willing to perform at a private gathering of family and friends. Take dance lessons with her and propose on the last day.
Propose in Prayer
"And this is my prayer: that your love may abound more and more in knowledge and depth of insight" (Philippians 1:9).
Praying together regularly helps set this proposal on a good foundation. It also helps if you are already on your knees. Allow her to pray first and you follow with a prayer about listening to God's direction in your life. Before ending the prayer, pop the question, and pray again asking for the Lord to keep you both in His will.
Propose in the Scriptures
"If you really keep the royal law found in Scripture, "Love your neighbor as yourself," you are doing right" (James 2:8).
Place her engagement ring in Song of Solomon 2:4 and have her read the verse out loud. Or have her look up the following scripture passages (Song of Solomon, Matthew 25:10, Luke 14:8, John 2:1-2, and Revelation 19:7-9) and ask her what the key word was in each of those passages (wedding). Follow with getting on your knees and asking her to marry you.
Propose in the Fellowship of other Believers
"Rejoice with those who rejoice" (Romans 12:15).
Plan a get together with your small group and have a cake served with the proposal written on it for her. You could also get your friends together to plan a scavenger hunt in which she finds clues to your upcoming proposal with wedding trinkets to search for. Or have a night out with a few couples and ahead of time have them share their proposal stories.
Propose at the End of Church Service
"Let them exalt him in the assembly of the people and praise him in the council of the elders" (Psalm 107:32).
Depending on your church and pastor, you could request to be given time after the service is over to ask her to marry you. You could have ushers bring her roses a few a time preceding your proposal and ask the pianist to play a few tunes from the wedding stance.
Propose with Sunday School Students
"From the lips of children and infants you, Lord, have called forth your praise" (Matthew 21:16).
If you serve at the church in children's ministry, you could make little posters with the proposal on it and have the children hold them up. You could ask the children to draw pictures for you and use their artwork as a background for your proposal.
Positioning for a Marriage Proposal

A wise and discerning man would have a really good idea of how their spouse-to-be would like to be asked. If she's a private person and doesn't like crowds—keep it small and intimate. If she loves to be in fellowship—secretly invite her friends to come and celebrate the proposal. Remember marriage is a binding covenant that the Lord will honor throughout your lifetime. Be prayerful. Be honest. Be ready for the greatest adventure of your life.
Article by Crystal McDowell
Crystal McDowell is a writer, speaker, and teacher with a passion to encourage believers to know and grow in their relationship with Jesus Christ through practical application of God's word.
Crystal and her husband, Marshall, raise their five children in the Bloomington, IL. As a freelance writer and editor for over 13 years, Crystal has published numerous Christian curriculums for Sunday School and VBS as well as many articles dealing with marriage, motherhood, and relationships. She's a weekly staff writer for www.whatchristianswanttoknow.com as well as writing her own blog at http://crystalmcdowellspeaks.blogspot.com.