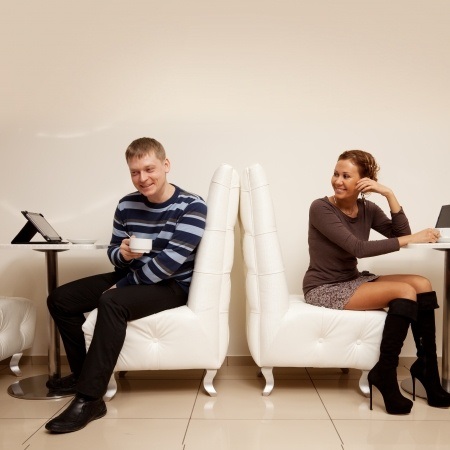 If you are on the dating scene and looking for other Christian singles, you may be looking in the obvious places, but don't rule out a few surprising opportunities to meet others. Church singles groups and Christian dating websites offer many chances to meet other quality Christians, but don't rule out what God may have in mind for you or places that may seem daily and routine.
7. Meet Christian Singles at a Friend's Party
If you are in your 20's, then you probably have a standard circle of friends or are starting to hang out with people that share the same interests. Whether you get together to play games or host house warming parties, you have a lot in common with the people you hang out with. Many Christian singles mingle with guests their friends bring and end up realizing how much they have in common. Groups of friends often share the same morals, beliefs, hobbies and goals. When your best buddy brings their new coworker to your weekly dinner night, look for the qualities that are attractive to you.
6. Meet Christian Singles at a Wedding
Many weddings on television are portrayed as wild parties, but many Christian couples steer clear of the open bar tab and crazy dancing. This gives guests a chance to mingle and since emotions often run freely at weddings, you are more likely to be yourself and have fun. This is an attractive quality and allows you to connect with people quicker. Christian weddings often reduce the awkwardness if you are uncomfortable with drinking or crazy dances. If you don't like to dance, look for the person sitting off on their own and strike up a conversation!
5. Meet Christian Singles Working Out
More and more people have started incorporating exercise into their daily routine. If staying in shape is important to you, then be open to hanging out with your gym buddy outside of your morning run. Christian couples can connect through grueling workouts and there is something about sweating together that helps you move past first appearances quicker!
4. Meet Christian Singles at a Coffee Shop
Coffee is a big deal for many people and it's not uncommon to meet other Christian singles at a coffee shop! Bonding over java can lead to realizing the full potential of pursing a relationship. Whether or not a potential spouse drinks coffee may not be the deal breaker, but this small commonality may indicate you have much more in common.
3. Meet Christian Singles Camping
Do you enjoy camping with a group of family or friends? Many Christians enjoy spending time in the outdoors because it allows you to embrace God's beauty through nature. Don't shy away from a connection with another Christian while on a camping trip. It's important to have at least a few hobbies in common with your potential spouse and camping is a great stress reliever!
2. Meet Christian Singles Out Running Errands
Meeting your future spouse in the checkout line at the grocery store probably doesn't sound too romantic, but it could be your story. You are compatible with people that have similar habits as you, so connecting with someone who shops at the same time isn't that uncommon. Don't shrug off the next friendly hello while pumping gas or standing in line to mail a package. Plus, dinner can be a close bonding experience if you find someone who loves the same style of stir-fry and authentic Chinese as you.
1. Meet Christian Singles on a Missions Trip
When you commit your time to God through a mission trip, He may have bigger plans for you. Most Christian singles are longing for the person that God has intended for them to spend the rest of their life with. If God has placed serving others through a mission trip on your heart, whether it's serving your local community or going to Africa, listen to your calling. Meeting a significant other who has a heart for serving others will lead to a unique and wonderful bond. Recently, Jill Duggar became engaged to Derick Dillard and they shared their story of how Jill flew to Nepal while he was on a mission trip.
If you are married, how did you meet your Christian spouse? Please share your funny or inspiring story with us! Dating as a Christian can be difficult because there are many pressures in our culture, but just remember that God has a plan for all of us and knows the right time to introduce you to Mr. or Mrs. Right.
Article by Elise Cleary
I am a Christian writer and editor that lives in northern Michigan and thoroughly enjoy music, movies, TV shows, books and other entertainment with a Christian focus. My favorite song is "Oceans" by Hillsong United because it reminds me that has big plans for me and everyone else who puts their trust in Him. There are many movies that have impacted my life, but a few include God's Not Dead, The Shunning and Letters to God. I also write for www.faithandentertainment.com and love connecting with readers, so please don't hesitate to contact me! When I'm not writing I enjoy watching movies and laughing with my busy toddler and husband.