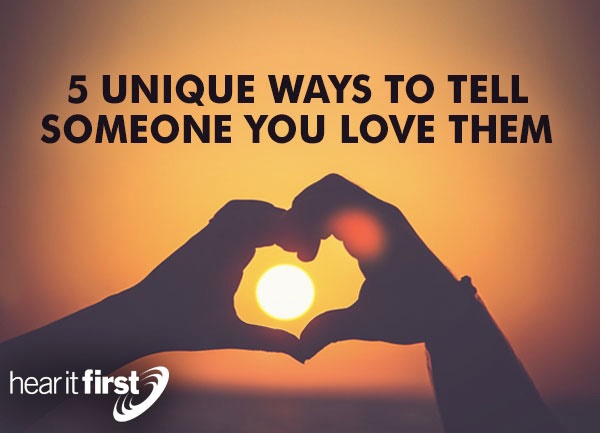 Here are 5 unique ways to tell someone you love them.

By Doing for Them
You can tell someone you love them, you can write it on a card but until you do something for them that shows your love is more than mere words, you'll never give them the reassurance that they actually do love them. My beloved wife is such a good wife and mother. She does so much so I try to do things for her that she doesn't ever ask me to do. I do the dishes, I clean out the litter box, and I take out the trash. I try to lighten her heavy load by doing things for her before she asks me and do things that she typically does so that she doesn't have to. Imagine what Jesus did. He didn't feel like going to the cross, He didn't want to bear all of our sins since sin is repulsive to a holy God but He displayed the greatest love that's ever been shown in all of human history by dying for me while I was still His enemy and a wicked sinner (Rom 5:8, 10).
Redo that First Date Night
Too often couples get into a routine about life and forget how they got there. Do you remember the first time you may have met? What was your first date like? Where do you go? What did you do? My wife and I first dated at a nearby city park with a picnic. It was very special and that would be a great idea to go back and have another picnic. Now that all of our children are grown, we can schedule it much easier but go back in time to the place and circumstance where your first day happened. If the romance is missing from your marriage, go back to that same spot or relive those same moments by recapturing what it was that brought you two together in the first place. They say that smells bring back memories more than nearly anything. Music has the same effect. Why not have a second honeymoon? Why not follow those first footsteps you laid down when you were first dating on the event or occasion of your first date. By making it a surprise, it makes it even better or be spontaneous and just go. That's one unique way to tell someone you love them.
Say it with Art
A few years ago I got online and created some t-shirts and cups with images of my wife, children, and even an image of my wife's mother, my mother-in-law, and daughter (the girls of my life). The shirts have pictures or images on them that displayed my wife, daughter, and mother-in-law with lettering like "World's Best Mother" and things like that. Something my daughter did for Mother's Day was to buy a sports bottle with pictures of my wife, mother-in-law, herself and me on it which made this sports bottle pretty special to her. Every time she uses it she'll be reminded of my daughter and the special love that she has for her mother. That is a great way to tell someone that you love them. I've made a "Welcome Home" poster once for when my wife was out of town and decorated it with hugs and kisses and all sorts of decorative art as a way to welcome her home. Something you make with your hands is always more special than something you buy like flowers or a card because it comes from the heart and it shows that you went to a considerable about of time and trouble to put it all together.
Hold Hands, Cuddle, Watch a Romantic Movie
These are things that money can't buy. If your spouse is a romantic person, why not bring home some flowers for no special occasion at all. Why not rent a DVD with one of her or his favorite movies on it and even watch it in bed. ? Why not just sit on the couch and cuddle up next to one another. Intimacy seems to take a back seat in a lot of couple's lives because they just get so busy with "life." Find a babysitter and take a date night out at home or at one of your favorite restaurants. Send him or her a greeting card in the mail. Serve them breakfast in bed. Oh yes, I almost focused so much on not saying it but say "I love You," "I need you," "My life would not be as awesome as it is if you weren't a part of it." Thank them for all that they do. We might overlook the obvious but words do have meaning. Tell them verbally how you feel. Brag about them in public. Tell others how great of a spouse you have. They love hearing these things back from others. Those things are priceless.
Make Love a Verb
Love is a lot more than feelings. Love is a verb, it is action oriented, it is what you do more than what you say or what you feel. I never grew up hearing "I love you" but in some ways I knew my parents loved me by what they did. They provided for my needs, my food, shelter, clothing, and other essentials of life. Jesus did for me what I could never do for myself (Eph 2:8-9) and by doing this for me He showed just how much God loved me…and you too. They didn't ever say it until I was an adult but they did actually show their love by what they did, if that makes sense.
Article by Pastor Jack Wellman