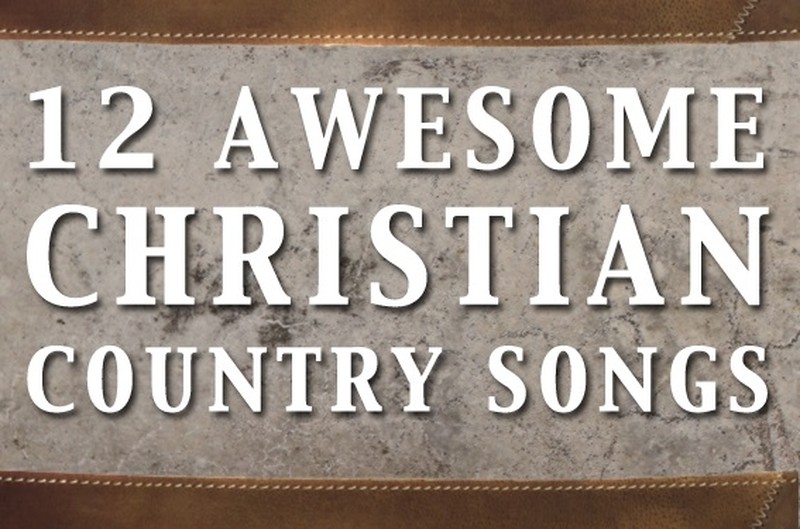 There are many country artists who are Christian and they pour their heart and soul into their songs as they sing about God, Jesus and faith. Carrie Underwood, Jamey Johnson, Alabama, Tim McGraw, Vince Gill and countless other artists have brought amazing Christian songs to the country music world. There are more than 12 awesome Christian country songs, but these are some of my favorites.
12. Me and God by Josh Turner
Josh Turner's voice fits this song about his relationship with God well and he performs it effortlessly. The message is simple but meaningful.
Favorite Lyrics:
He's my Father
He's my friend
The beginning
And the end
He rules the world
With a staff and rod
We're a team
Me and God
11. Holes in the Floor of Heaven by Steve Wariner
Losing a loved one is always hard, especially because we have to keep moving on without that person physically with us. Steve Wariner brings a lot of emotion and draws a great connection to our loved ones remaining with us in spirit.
Favorite Lyrics
Cause there's holes in the floor of heaven
And her tears are pouring down,
That's how you know she's watching,
Wishing she could be here now,
10. Jesus Take the Wheel by Carrie Underwood
There are times when all we can do is relent to God and a situation is out of our power. Jesus welcomes this and Carrie Underwood brings hope through difficult situations through this song.
Favorite Lyrics
It was still getting colder when she made it to the shoulder
And the car came to a stop
She cried when she saw that baby in the backseat sleeping like a rock
And for the first time in a long time
She bowed her head to pray
9. Believe by Brooks and Dunn
Brooks and Dunn share the story about how old man Wrigley is full of truth, years learning what life is all about and how this impacted a young man.
Favorite Lyrics
Says he was in the war when in the navy
Lost his wife, lost his baby
Broke down and asked him one time
How ya keep from going crazy
He said I'll see my wife and son in just a little while
I asked him what he meant
He looked at me and smiled, said

I raise my hands, bow my head
I'm finding more and more truth in the words written in red
They tell me that there's more to life than just what I can see
Oh I believe
8. New Again by Brad Paisley and Sara Evans
Some things in life are hard to accept and Brad Paisley and Sara Evens capture this perfectly through the lyrics and music.
Favorite Lyrics
Whatever happens...whatever you see...
Whatever your eyes tell you has become of me
This is not...
Not the end...
I am making all things new again
7. Duct Taped Bible by Trent Bourgeois
A young and old man at church begin talking about the duct taped Bible the young man is holding and realize they have much more in common than just serving in the military.
Favorite Lyrics
I took this duct taped Bible to fight someone else's battle

Somewhere in the Gulf in 1993

I came home, I was a hero

Right up 'til ground zero

I thought some how we could all be free
6. Bless the Broken Road by Rascal Flatts
Everyone has their own story about finding their true love and when you find the one, you realize the path you were on all along was leading to this person.
Favorite Lyrics
I think about the years I spent just passing through
I'd like to have the time I lost and give it back to you
But you just smile and take my hand
You've been there you understand
It's all part of a grander plan that is coming true
5. God Gave Me You by Blake Shelton
When you are with the perfect person it just feels like God made them specifically for you. It's clear that Blake Shelton meant this for his wife Miranda Lambert.
Favorite Lyrics
God gave me you for the ups and downs
God gave me you for the days of doubt
For when I think I've lost my way
There are no words here left to say, it's true
God gave me you
4. I Saw God Today by George Strait
When you become a parent for the first time you are left in awe of God's creation and the responsibility you have been blessed with. The first few moments of a baby's life are precious.
Favorite Lyrics
Got my face pushed up against the nursery glass,
she's sleeping like a rock,
my name on her wrist,
wearing tiny pink socks,
she's got my nose,
she's got her Mama's eyes,
my bran new baby girl,
she's a miracle,
I Saw God Today
3. Help Pour Out the Rain by Buddy Jewel
A child's way of interpreting life is always so amusing and Buddy Jewel describes it well in this country Christian hit song.
Favorite Lyrics
She said: "Daddy, when we get to Heaven, can I taste the Milky Way?
"Are we goin' there to visit, or are we goin' there to stay?
"Am I gonna see my Grandpa? Can I have a pair of wings?
"An' do you think that God could use another Angel,
"To help pour out the rain?"
2. I Love You This Much by Jimmy Wayne
Children are so eager for their parent's love and acceptance. It's heartbreaking when a parent doesn't show the love for their children and you can see it in a child's eyes. Jimmy Wayne brings this to light and what many children think and feel.
Favorite Lyrics
I love you this much
And i'm waiting on you
To make up your mind
Do you love me too?
How ever long it takes
I'm never giving up no matter what
I love you this much
1. I Remember You by Jamey Johnson
Jamey Johnson's deep, soulful voice is amazing in this song. This song is peaceful and simple, but extremely powerful.
Favorite Lyrics
I remember you, In the pages of a book
A lady read me once, In Sunday school
I remember you, I studied every word
And I hid it in my heart, Just like you told me to
Country music has a way of breaking down walls about spiritual topics as they are connected to everyday joy, pain, hurt and happiness. What are some of your favorite country Christian songs?
Article by Elise Cleary
I am a Christian writer and editor that lives in northern Michigan and thoroughly enjoy music, movies, TV shows, books and other entertainment with a Christian focus. My favorite song is "Oceans" by Hillsong United because it reminds me that has big plans for me and everyone else who puts their trust in Him. There are many movies that have impacted my life, but a few include God's Not Dead, The Shunning and Letters to God. I also write for www.faithandentertainment.com and love connecting with readers, so please don't hesitate to contact me! When I'm not writing I enjoy watching movies and laughing with my busy toddler and husband.