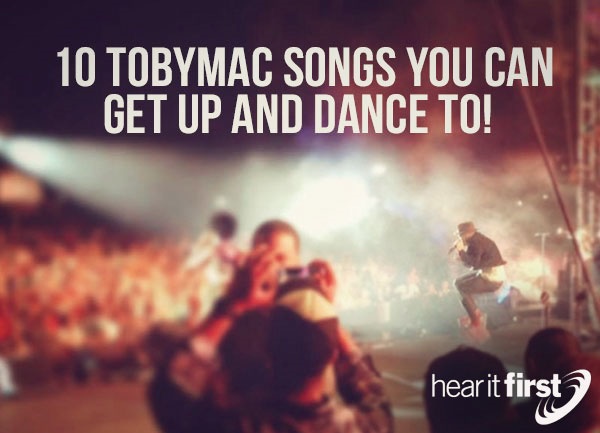 TobyMac has been a favorite Christian artist since his DC TALK days and he continues to appeal to both younger and older audiences alike! His new album This Is Not a Test was just released in August and again proves that he can still make you jump up and dance while lighting a fire within you for Christ.
Here are 10 TobyMac songs you can get up and dance to!
10. "Me Without You"
This song is very upbeat and fun to get up and start moving around to. The message makes you want to dance even more because we are nothing without God. You will quickly remember the words and create great memories if you invite a friend to dance along with you.
9. "Like A Match"
"Like A Match" is a brand new song from TobyMac's album This Is Not A Test. When you experience love that is inspired by the Holy Spirit, you can't help but feel the pull to share it. This song pushes you and will energize you to become more like Christ.
8. "Backseat Driver" (feat. Hollyn & Tru)
Have you given full control over to God or are you a backseat driver? Control keeps you tight and stressed out, but letting God drive gives you the freedom to fully dance through life. The music video shows how you can let go and let God. My favorite lyric in "Backseat Driver" is "But I want Your way, Yahweh From dirt roads to highways."
7. "Speak Life"
One of the most challenging aspects of being a Christian is to control your tongue. TobyMac makes it clear in "Speak Life" that the words you say either bring life or death. Hold onto the people who speak life and encourage you in every season you go through. Think of your favorite teacher or positive role model from when you were a kid and take in the words they used to say to you every day.
6. "Lights Shine Bright" (feat. Hollyn)
"Lights Shine Bright" is also one of the new songs from TobyMac's new album. It makes me smile as I think about the bright lights in my own life. My favorite lyrics are: "Yo, that smile might be joy that's connected to the spirit | The spirit might be contagious if you dare, you dare come near it | I remember, can't forget, peace that you can't second guess | Sparkle as the light reflects we writin' pay it forward checks."
5. "Beyond Me" (Phenomenon Remix By Soul Glow Activatur)
What happens when you mix in pop and techno with "Beyond Me"? An upbeat track you can't help but tap to the beat and sing along to as you sing "You take me to the place where I know I need You | Straight to the depths that I can't handle on my own | And Lord I know, I know I need You | So take me to Your great |Take me to Your great unknown."
4. "Love Broke Thru"
Have you gone through a season when you felt lost and then you suddenly felt God's love embrace you, renewing your soul? This feeling of God pursuing you is a great reminder as you start your week and it will keep you energized the entire week.
3. "Love Feels Like" (feat. DC TALK)
"Love Feels Like" gives you a tremendous reason to get up and dance because it features DC TALK! Although the band is not officially back together, it's awesome to see the trio join forces again to deliver this powerful message about love.
2. "This Is Not A Test" (feat. Capital Kings)
"This Is Not A Test" will energize your soul to give your work, your family and God everything you have. You have one life to live and one chance each moment to make it count. My favorite lyrics are: "We've only got one shot | Gonna to take it now | Goin' all in, gonna make it count | Won't look back, gonna set my eyes | 'Cause there ain't no practice runs in life."
1. "Feel It" (feat. Mr. Talkbox)
"Feel It" is one of my favorite songs from TobyMac's new album This Is Not a Test because it describes the way that God always shows up. You can feel it happening deep within your spirit and see how God transforms you into a new being.
What is your favorite TobyMac song to dance to? I love these 10 songs because he collaborates with other Christian artists to deliver an upbeat and diverse rhythm of songs. You can follow TobyMac on Facebook, Twitter and Instagram, and you can get his newest album This Is Not A Test HERE. Share your favorite picture dancing to your favorite TobyMac song.
Article by Elise Cleary
I'm a Christian writer and editor residing in northern Michigan and thoroughly enjoy Christian centered music, movies, TV shows and books. A favorite song is "Oceans (Where Feet May Fail)" by Hillsong United and I find many songs by Matt Maher, Tim Timmons, Third Day, Laura Story, Jeremy Camp and numerous other artists uplifting. A few of my favorite Christian movies include God's Not Dead, The Shunning, Do You Believe and many by the Kendrick brothers. When I'm not writing, I enjoy running, experimenting in the kitchen and spending time with my musically gifted husband and spunky daughter. I am so blessed and in awe of the work God is doing throughout the Christian entertainment industry.