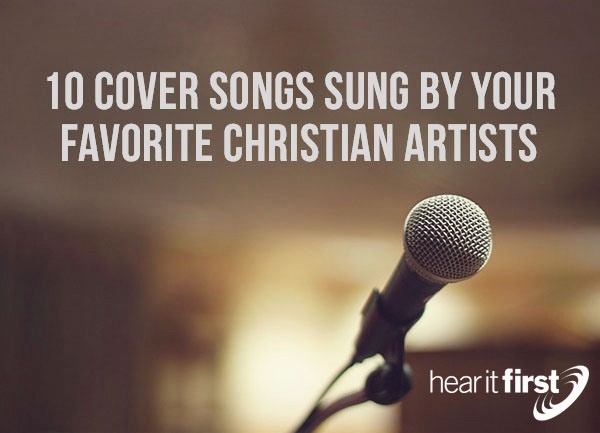 It's a breath of fresh air when artists break of their norm and do something different. There is something refreshing about a well-known musician taking leave of their usual genre and presenting their fans with another side of themselves. There is so much creativity needed to take an established song and do a rendition of it that is all your own and many of your favorite Christian artists have done just that over the years.
Take a listen to these 10 cover songs and give your ears a perk up with their fresh, faith-based perspective and experience an old favorite in a new way!
1. Shake It Off – Royal Tailor
With their goal of breaking down walls and enhancing a feel of community Royal Tailor offers a fresh and fun time with their cover of Taylor Swift's, Shake It Off. True to the Royal Tailor style, it will encourage you and make you want to shake off everything that keeps you from moving in the freedom we have in Christ.
2. Stellar Kart - Livin' On A Prayer
You'll definitely enjoy this remake of Bon Jovi's, Livin' On A Prayer, by the pop funk band, Stellar Kart. This song lends itself to the hope and power of prayer. Perhaps with this cover, you can be inspired in your prayer life while reverently head banging a little. I don't think God will mind.
3. Chris Tomlin – Where The Streets Have No Name
Chris Tomlin's heart for missions shows in this one matching that of the original artist of this song. Where the Streets Have No Name, as sung by Tomlin promotes a missional mindset of going places, getting outside of ourselves and sharing our lives and Christ with others in service in all corners of the world. While U2 may not have intended it to be a Christian song, the lyrics and heart behind it make it an effective cover for Chris Tomlin.
4. RED – Ordinary World
This song from the synth/pop band Duran Duran, circa 1993, has been given new life and meaning as a cover by the rock band, RED. We all long for meaning and purpose for our lives and the searching of it in our ordinary world is apropos in both secular and Christian venues. RED's version of Ordinary World reminds us of how our world is broken yet it compels us to leave the past behind and move forward. Seeking. Searching. Surviving.
5. Newsong - People Get Ready
Newsong takes us back to 1965 with a little jive and some bluesy sway. Newsong's cover of People Get Ready, as originally debuted by The Impressions, prompts us to be ready for the coming of Christ. This song has been covered by multiple artists over the last 30+ years but Newsong's version is one that will take you to church.
6. Salvador – Heaven
Staying true to my own South Texas roots, one of my all-time favorite bands is Los Lonely Boys, the original band for the song, Heaven. While I'm proud of my homeland, I long for my home in Heaven and this song makes me want to dance all the way there. I'm loving the cover by Salvador, who incidentally also hail from Texas, and I think you will too. "'Cause I know there's a better place than this place I'm livin'. How far is heaven?"
7. The Almost – Free Fallin'
Some in the younger generation might connect this tune to John Mayer but it was originally released in 1989 by Tom Petty. Instead of living free and without care as Tom Petty and John Mayer might have been suggesting in their earlier recordings, this rockin' cover by The Almost boasts a message that urges a response of Free Fallin' into the arms of Jesus who cares for you.
8. Michael W. Smith – Bridge Over Troubled Waters
An oldie but goodie is transformed into a message of incredible hope for life by Michael W. Smith. When you listen to this song in a context of faith in Christ, our hearts and minds are easily turned to all that Jesus has done for us as or Bridge to the Father through the touching lyrics. "When evening falls so hard
I will comfort you. I'll take your part, oh, when darkness comes
And pain is all around. Like a bridge over troubled water, I will lay me down."
9. Amy Grant – Big Yellow Taxi
Long time artist and Christian favorite, Amy Grant, has provided a fun cover of Joni Mitchell's 1970 classic Big Yellow Taxi. It is easy to imagine that the upbeat and dynamic lyrics would be an indication of how everything changes and that life is fleeting. When everything in life seems to ebb and flow, even when the parking lot tears up our paradise, our God remains unchanging.
10. Sixpence None The Richer – Don't Dream It's Over
New Zealand's, Crowded House, released Don't Dream It's Over back in 1986. It's reported to be one of their biggest hits. With a similar version to the original but performed by a female vocalist, the message behind this song gives strength in life's daily battles and hope in the fight. John 16:33 tells us that we will have trouble in this world but Christ has overcome. We don't have to dream that it's over. We can know freedom because we know how the story ends.
I am beguiled and encouraged by how some songs clearly written for secular purposes can be simultaneously used to promote the Gospel of Christ. How clever our God is! The Creator of all things, including music, can take anything, even without a faith-driven intention and use it for His purpose and plan.
Listen to the Spotify Playlist of all these great Cover songs
Article by Andrea Stunz
I'm a born-and-raised Texan who enjoys any adventure that requires a passport. As a Christ-following pilgrim, I'm a lover of stories and a connoisseur of sunrises and coffee - best when served together. I listen to a wide range of musicians with Andrew Peterson, Jimmy Needham and Bethel Music being just a few of my favorites. When I'm not writing, you'll find me in the kitchen or spending time with those I love.