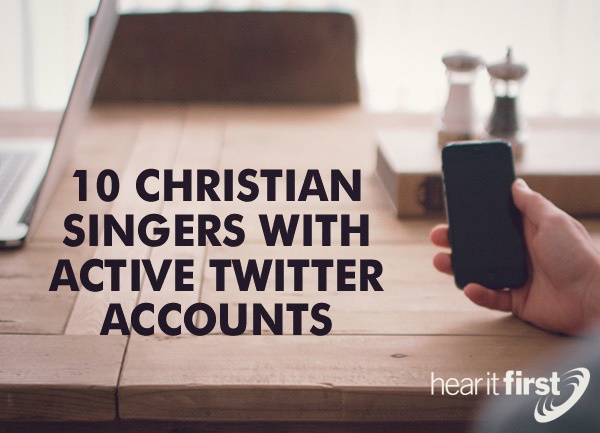 Do you use Twitter? There are 284 million users around the world and many Christian artists have created accounts. Social media provides an incredible outlet to stay updated on what your favorite Christian bands are doing and to learn about the latest shows and announcements. Many bands have Twitter accounts, but not all of them maintain active accounts. Twitter is a great platform for short communication and some artists publish exactly what's on their Facebook and Instagram accounts, but some take to Twitter when they are traveling for the brevity.
Here are 10 Christian singers with active Twitter accounts to check out. These are not listed in a specific order – each one is unique!
10. Sidewalk Prophets (@swprophets – 112K Followers)
Sidewalk Prophets is fun to follow and interact with. Their funky personality comes through the photos, announcements and pictures they post. They use Twitter to update fans on where they are playing, share ideas on how to serve others and spread encouragement.
9. Natalie Grant (@NatalieGrant – 262K Followers)
Natalie Grant uses social media platforms in a different way than most Christian artists. She shares what's on in her heart as she is away from her family, performing, traveling, reunited and even her fear of flying. If you follow her on Twitter, you will stay updated on tour dates and notice how much she interacts with fans.
8. Matthew West (@matthew_west – 218K Followers)
Matthew West does some promotion for his latest CD release – currently A Christmas to Believe In – but also focuses on interacting with fans and sharing tour updates and has quite the sense of humor. Did you catch his tweet around Thanksgiving: "Because you know I'm all about that bundt, bout that bundt, no pumpkin?" Some fun hashtags he has used include #hellomynameiscrazy and #ClarkGriswaldStyle.
7. Jeremy Camp (@jeremycamp – 408K Followers)
Be sure to check out Jeremy Camp on Twitter if you are interested in daily encouragement. He posts prayers and Bible verses each day, along with tour updates and announcements to keep you in the loop on what he's doing.
6. Sanctus Real (@SanctusReal – 131K Followers)
Sanctus Real tweets about what they are up too and messages of encouragement, including quotes and Bible verses. A few recent tweets include, "Thankful that there is a purpose and perfect dream for each of us," and "People that we know well can still take us by surprise if they let us down. Just remember: nobody is perfect. (Except One.)."
5. Matt Redman (@matt_redman – 305K Followers)
Matt Redman is fun to follow because his sincerity and thankfulness comes through each tweet. He shares photos of where he is playing and updates on the latest collaborations, such as while writing songs with Chris Tomlin. Look on his page for inspirational and encouraging messages, and posts retweeted from the Christian Guy.
4. Jamie Grace (@jamiegraceh – 167K Followers)
It's easy to connect with Jamie Grace via Twitter because she is genuine and real. She doesn't hide what she is thinking, feeling or struggling with, including her journey with Tourette syndrome. Jamie tweets encouraging messages, praises for God and shares her love of football.
3. Kutless (@kutless – 153K Follwers)
Kutless tweets many Bible verses and small insights to take with you through your day. They also provide updates on contests they are holding and often post what they are praying about.
2. Third Day (@thirdday – 285K Followers)
Third Day maintains a very active presence on Twitter and retweets many encouraging posts from Nigel James, the band's pastor, besides posting their own encouragement. They include facts about Mac Powell and other members of the band and tour updates.
1. Hillsong United (@hillsongunited – 901K Followers)
I love Hillsong United for many reasons, including the fact that they let God speak through them. They share what's happening and what inspires them, instead of focusing on self-promotion. Many of their tweets could be lyrics in songs and are from Bible verses, such as "Minds racing with ideas," "lifted out of the ashes I am found in the aftermath" and "we caught a huge storm rolling through Sydney this afternoon… Gods thunder tympanic, God's thunder symphonic."
There are many other Christian singers on Twitter, including Capital Kings, Britt Nicole, Royal Tailor, Chris August, Peter Furler, David Crowder, Building 429, Aaron Shust, Mikes Chair, Hawk Nelson, TobyMac, Casting Crowns, The Afters, Thousand Foot Krutch, Tenth Avenue North, Steven Curtis Chapman, Brandon Heath, Tim Timmons and Michael W. Smith. I love using Twitter and you can follow me at @WrittenProofer. Some people use Twitter solely for self promotion, but many use it to bring awareness to causes, praise God, thank fans and share announcements.
Article by Elise Cleary
I am a Christian writer and editor that lives in northern Michigan and thoroughly enjoy music, movies, TV shows, books and other entertainment with a Christian focus. My favorite song is "Oceans" by Hillsong United because it reminds me that has big plans for me and everyone else who puts their trust in Him. There are many movies that have impacted my life, but a few include God's Not Dead, The Shunning and Letters to God. I also write for www.faithandentertainment.com and love connecting with readers, so please don't hesitate to contact me! When I'm not writing I enjoy watching movies and laughing with my busy toddler and husband.