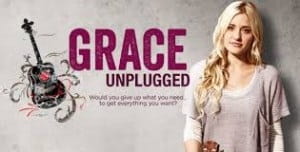 Coming to theaters this October 4th is "Grace Unplugged" a story about a young Christian lady with extraordinary musical talent. This movie is brought to you in conjuction by "Lionsgate" and "Roadside Attractions".  The theme song for the movie "All I Ever Wanted" is actually performed by the star of the movie, A.J. Michalka who is portraying the teen talent "Gracie Trey". This cast also features several other well known names including Kevin Pollak as "Frank Mostin", James Denton as "Johnny Trey", Grace's father, and also the multi-talented Christian singer/actor Jamie Grace.  Heading up the Directing and Writing duties for this film is Brad J. Silverman, while James Killian and Brandon Rice are credited alongside Silverman for the Story credits.
The story picks up where Grace is turning 18 and wants to know what the world holds for her singing future aside from just singing at her church. A church where the worship leader happens to be her father "Johnny Trey" who himself was formerly a rock star singer at a younger age. After becoming saved Johnny makes some career and life changes leaving fame behind.  However when Grace is introduced to her father's former agent Frank "Mossy" Mostin, one thing leads to another until 'Mossy' helps Grace get a chance at her dreams in Los Angeles. What she encounters there in real life stardom will no doubt test her faith in Christianity.
This is a can't miss movie for fans of faith-based films. The lead role is played by A.J. Michalka who is best known as one half of the duo 78violet (Formerly Aly & AJ) with her sister Aly Michalka. A.J. (Amanda Joy) also previously recorded the theme song and music video for the hit film "Secretariat" which was entitled "It's Who You Are". Now with her starring role in 2013's "Grace Unplugged" she has also released the theme song for the film titled "All I Ever Wanted", check out the music video below, and see the movie starting October 4, 2013.
Anything added to grace destroys it just as surely as does anything taken from it. When law – even God's own law – is added to grace, His grace ceases to be grace. - John MacArthur (1987)
Full Video
"The Truth" (Ephesians 2:7-10) For by grace you have been saved through faith. And this is not your own doing; it is the gift of God, not a result of works, so that no one may boast.
Check out these other great Christian movies:  5 Must See Christian Movies
Resources- ESV Holy Bible, Youtube, photo by dreaminsoul.com