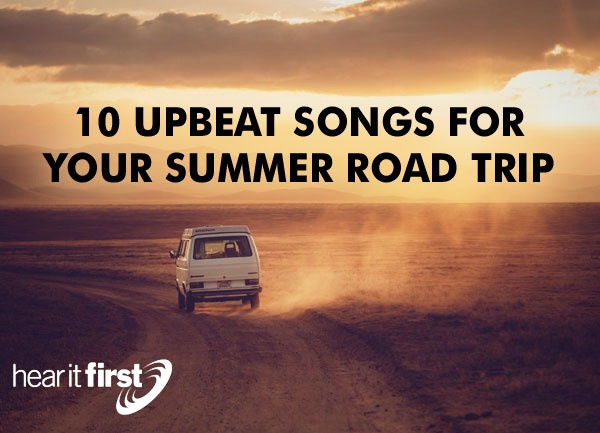 Taking a summer road trip brings unexpected adventures and memories you won't soon forget, whether they include eating the world's largest piece of cherry pie or taking a shortcut that brings you to a dead end. Driving until you are hungry, stopping when a shiny sign catches your eye and sleeping under the stars listening to the waves crash along a peaceful lake gives your soul a chance to breathe and reenergize. You remember each one of these moments with a warm breeze blowing or a cold down pour every time the song that happened to be playing comes on. Music creates the beat to the memory and helps shape how your adventure will start and end.
Here are 10 upbeat songs for your summer road trip to go along with the fun and carefree memories you are about to create.
10. The Maker – Chris August
"The Maker" is the perfect song to listen to while backpacking across the Appalachian trail, looking up at the stars in a canoe in Lake Manitou or hearing the night time sounds while staying in a cabin in the Smokey Mountains in Tennessee. God's creation is amazing and all around you. Don't miss it while camping, fishing and hiking across the country.
Favorite Lyrics
I see You, You are creation
I see the grandness of Your majesty
The universe is singing all Your glory
I can't believe You live inside of me

Everything that You have made is beautiful
Oh, my God, I can't believe my eyes
But in all of this to think that You would think of me
Makes my heart come alive
9. "Day One" by Matthew West
A road trip is often a chance for renewal and reenergizing your life. You may find yourself in a new place each hour, so treat each day on your adventure as "day one of the rest of your life"! What you observe during this time of adventure will stay with you for the rest of your life.
Favorite Lyrics
It's day one of the rest of my life
It's day one of the best of my life
I'm marching on to the beat of a brand new drum
Yeah, here I come
The future has begun
Day one

Well, every single day Your grace reminds me
That my best days are not behind me
Wherever my yesterday may find me
Well, I don't have to stay there
8. Overcomer – Mandisa
Does part of your adventure include overcoming some of your fears? Cliff diving, rock climbing, kayaking the rapids and running an obstacle course can help you overcome your fears and embrace your inner strength. Let your mind wonder to everything you have overcome while you start the next long leg of driving.
Favorite Lyrics
You're an overcomer
Stay in the fight 'til the final round
You're not going under
'Cause God is holding you right now
You might be down for a moment
Feeling like it's hopeless
That's when He reminds You
That you're an overcomer
You're an overcomer
7. "Ready Or Not" by Britt Nicole
Take the opportunity to be yourself while you travel. Wear your personality loudly and let God shine through you! "Ready Or Not" is a fun song to drive to because you are going places that are new, exciting and unknown, just as you are while walking with Christ through faith.
Favorite Lyrics
Ready or not
Here, here, here, here I come
I'm about to show you where the light comes from
Oh, oh, oh ready or not
Here, here I come
This is who I am
I won't hide it
I'mma take it all over the world
To the young, to the old, every boy and girl
Ready or not
Here, here I come
I'mma show the world where the love is
6. This Is Living – Hillsong Young & Free
Life is for living so take hold of this trip you are on and use God as a GPS to decide where to go and what to do. He will help you truly live and cherish what's most important as you search for and find adventure. He is the giver of life so go directly to the source!
Favorite Lyrics
See the sun now bursting through the clouds
Black and white turns to colour all around
All is new, in the Savior I am found

This is living now
This is living now

You lead the way, God You're right beside me
In Your love I'm complete
There's nothing like living with You
This life You created I choose
5. The Only Name (Yours Will Be) – Big Daddy Weave
A road trip back to your childhood home town can bring mixed emotions: excitement reliving your favorite spots, anxiety seeing people who were mean and calming peace as God redeems painful memories. Play "The Only Name (Yours Will Be)" when these feelings begin creeping up, regardless of the reason for coming back "home".
Favorite Lyrics
Yours is the Name the Name that has saved me
Mercy and grace the power that forgave me
And Your love is all I've ever needed

When I wake up in the Land of Glory
And with the saints I will tell my story
There will be one Name that I proclaim
4. Write Your Story – Francesca Battistelli
If your trip itinerary is an empty page, let God fill it with destinations He has predetermined. These are stops full of adventures with people and places that you could have never imagined. Let Him infuse your soul with His truth as He opens your eyes and meets you across the country in an unknown area.
Favorite Lyrics
I'm an empty page
I'm an open book
Write Your story on my heart
Come on and make Your mark

Author of my hope
Maker of the stars
Let me be Your work of art
Won't You write Your story on my heart

Write Your story, write Your story
Come on and write Your story, write Your story
Won't You write Your story on my heart
3. Thrive – The nightshift Remix – Casting Crowns
Does your summer road trip involve moving across the country? Maybe it's for an internship or your first job after college. Maybe it's moving your military family to a new base. Maybe it's to start your life with your new spouse after your wedding. You will thrive in this season of change as you hold onto His many promises, one of which is found in Jeremiah 29:11 – "For I know the plans I have for you, declares the Lord, plans for welfare and not for evil, to give you a future and a hope."
Favorite Lyrics
Into Your word we're digging deep
To know our Father's heart

Into the world we're reaching out
To show them who You are

So living water flowing through
God we thirst for more of You
Fill our hearts and flood our souls
With one desire
2. Impossible – Building 429
Embrace "Impossible" as you experience new places, people, road stops, food and adventures. Have you been planning this trip for an eternity? It may have seemed impossible at one time, but nothing is impossible with God! He has brought you here for a reason, so embrace it with an open mind and heart. Blast this song through the speakers when you face uncertainty or butterflies in your stomach as you travel.
Favorite Lyrics
You've got a vision

You've got a dream

But it feels a million miles away

You got your passion

You got to believe

That this is why you remain

It takes a little time, takes a little

It takes a little time to see

I said

It takes a little time to believe

We can rise above the typical

And be anything but usual

We know

We know

We know

That there's no such thing as impossible

And nothing is unreachable

When we trust the God of miracles
1. All The People Said Amen – Matt Maher
Road trips are a great opportunity for reflection; remembering the good times, difficulties, how you managed getting through the last season with your friends and family by your side. "All the People Said Amen" is a great song to sing with your best friend, boyfriend, girlfriend, brother or sister riding in the car with you. Remind them how much of a blessing they are in your life. "And all the people said amen."
Favorite Lyrics
You are not alone if you are lonely
When you feel afraid, you're not the only
We are all the same in need of mercy
To be forgiven and be free
It's all you got to lean on
But thank God it's all you need

And all the people said Amen, whoa oh
And all the people said Amen
Give thanks to the Lord for His love never ends
And all the people said Amen
Conclusion
There are many reasons why you are planning a road trip this summer and these songs will bring purpose and meaning into each mile you drive. There is a greater reason why you are going on this trip and God wants to reveal this to you. Let these songs sink truths into your mind and heart as you travel home for a class reunion, camp across the vast west, go on a music festival tour along the east coast or even venture to places unknown to get away with a friend. Let each memory you make be filled with purpose. You can check out all these songs on the WOW Summertime playlist on Spotify. Are there other songs you plan on adding to your road trip playlist this summer?
Summertime Playlists
Article by Elise Cleary
I'm a Christian writer and editor residing in northern Michigan and thoroughly enjoy Christian centered music, movies, TV shows and books. A favorite song is "Oceans (Where Feet May Fail)" by Hillsong United and I find many songs by Matt Maher, Tim Timmons, Third Day, Laura Story, Jeremy Camp and numerous other artists uplifting. A few of my favorite Christian movies include God's Not Dead, The Shunning, Do You Believe and many by the Kendrick brothers. When I'm not writing, I enjoy running, experimenting in the kitchen and spending time with my musically gifted husband and spunky daughter. I am so blessed and in awe of the work God is doing throughout the Christian entertainment industry.