7-Year-Old Sings Religious Rendition Of 'Hallelujah'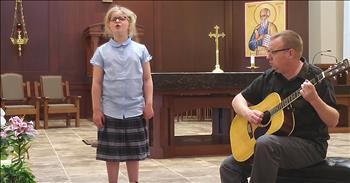 7-year-old Veronica gives the classic song 'Hallelujah' a stunning religious makeover.

Leonard Cohen's rendition of 'Hallelujah' is one of the most popular songs of all time. The powerful tune was originally released in 1984, but it wasn't until Jeff Buckley released the song on his 1994 album, 'Grace' that the song really started to gain momentum.
Over the years, many artists have covered this powerful song, which sounds like a perfect blend of a rock ballad and a gospel song. Some notable covers include Bon Jovi, Pentatonix and Susan Boyle. Though 'Hallelujah' is not a Christian song, it still sounds like a perfect blend of a rock ballad and a gospel worship song.
Today, first grader Veronica decided to turn this iconic song into a true religious tune with new lyrics set to the same tune. Just listen as Veronica stands at the front of the church and belts out these praise-worthy lyrics. It's so incredible to hear this popular song used to worship our Lord. And there's something about this simple performance in front of a beautiful backdrop that gives it an amazing new feel.
Veronica may be young but she already knows how to lead worship to our Lord in Heaven. With a beautiful gift like this, there is no doubt that we will see more of Veronica in the future. Who else is singing along with these new lyrics?
Jeremiah 20:13 "Sing to the LORD! Give praise to the LORD! He rescues the life of the needy from the hands of the wicked."
kidsarecute

6688 views

2019-12-27T12:24:54

source: Ben Bross 7-year-old Veronica gives the classic song 'Hallelujah' a stunning religious makeover.

Leonard Cohen's rendition of 'Hallelujah' is one of the most popular songs of all time. The powerful tune was originally released in 1984, but it wasn't until Jeff Buckley released the song on his 1994 album, 'Grace' that the song really started to gain momentum.

Over the years, many artists have covered this powerful song, which sounds like a perfect blend of a rock ballad and a gospel song. Some notable covers include Bon Jovi, Pentatonix and Susan Boyle. Though 'Hallelujah' is not a Christian song, it still sounds like a perfect blend of a rock ballad and a gospel worship song.

Today, first grader Veronica decided to turn this iconic song into a true religious tune with new lyrics set to the same tune. Just listen as Veronica stands at the front of the church and belts out these praise-worthy lyrics. It's so incredible to hear this popular song used to worship our Lord. And there's something about this simple performance in front of a beautiful backdrop that gives it an amazing new feel.

Veronica may be young but she already knows how to lead worship to our Lord in Heaven. With a beautiful gift like this, there is no doubt that we will see more of Veronica in the future. Who else is singing along with these new lyrics?

Jeremiah 20:13 "Sing to the LORD! Give praise to the LORD! He rescues the life of the needy from the hands of the wicked."

Today's Devotional
A Prayer for When the World Makes You Anxious - Your Daily Prayer - March 30
Top Artists