Adorable Girl Sings Sweet Rendition Of '10,000 Reasons (Bless The Lord)'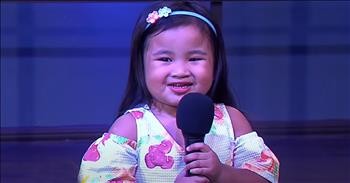 Be blessed as you listen to this young girl lead us in worship with '10,000 Reasons (Bless The Lord).'

Matt Redman released '10,000 Reasons (Bless The Lord)' in 2011. The song became an instant hit, climbing all the way to the number one spot on the Christian Billboard charts. '10,000 Reasons (Bless The Lord)' even went on to win 2 Grammys and multiple Dove awards.
Since that time, the worship tune has become a modern-day staple in church services all across the world.
"Bless the Lord, Oh my soul
Oh my soul, worship his holy name
Sing like never before, Oh my soul
I'll worship your holy name"
Today, we're hearing a very special rendition of this worship song as little Sophia A. Siban sings her heart out to these lyrics. It's always such a blessing to hear the younger generation worship our Lord and '10,000 Reasons (Bless The Lord)' is the perfect song to sing of His many praises.
Sophia certainly has a heart for the Lord and she's letting the whole world know that our King is ready to love and accept us no matter our sins or faults.
"The sun comes up, it's a new day dawning
It's time to sing your song again
Whatever may pass and whatever lies before me
Let me be singing when the evening comes"
James 1:17 "Every good gift and every perfect gift is from above, coming down from the Father of lights with whom there is no variation or shadow due to change."
kidsarecute

6557 views

2020-05-13T16:49:00

source: Music of Hope Be blessed as you listen to this young girl lead us in worship with '10,000 Reasons (Bless The Lord).'

Matt Redman released '10,000 Reasons (Bless The Lord)' in 2011. The song became an instant hit, climbing all the way to the number one spot on the Christian Billboard charts. '10,000 Reasons (Bless The Lord)' even went on to win 2 Grammys and multiple Dove awards.

Since that time, the worship tune has become a modern-day staple in church services all across the world.

"Bless the Lord, Oh my soul
Oh my soul, worship his holy name
Sing like never before, Oh my soul
I'll worship your holy name"

Today, we're hearing a very special rendition of this worship song as little Sophia A. Siban sings her heart out to these lyrics. It's always such a blessing to hear the younger generation worship our Lord and '10,000 Reasons (Bless The Lord)' is the perfect song to sing of His many praises.

Sophia certainly has a heart for the Lord and she's letting the whole world know that our King is ready to love and accept us no matter our sins or faults.

"The sun comes up, it's a new day dawning
It's time to sing your song again
Whatever may pass and whatever lies before me
Let me be singing when the evening comes"

James 1:17 "Every good gift and every perfect gift is from above, coming down from the Father of lights with whom there is no variation or shadow due to change."

Suggested For You
---
Related Videos
---
Today's Devotional
A Prayer to Forgive Yourself - Your Daily Prayer - June 3
Top Artists