'Reckless Love' Michael W. Smith Live Performance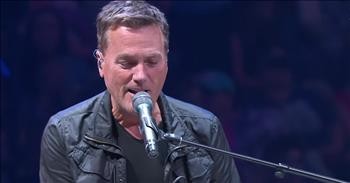 Michael W. Smith shares a beautiful, live performance of the hit song 'Reckless Love.' During one of Michael's recent concerts, he sat down at a piano and start to sing the words to this powerful song.

'Oh, the overwhelming, never-ending, reckless love of God
Oh, it chases me down, fights 'til I'm found, leaves the ninety-nine
I couldn't earn it, and I don't deserve it, still, You give Yourself away
Oh, the overwhelming, never-ending, reckless love of God, yeah'
'Reckless Love' was originally written and recorded by Christian artist Cory Asbury. In 2018, Michael W. Smith released a cover of the song on his live album 'Surrounded.'
This incredible worship song has touched lives all over the world and the inspiring message is still reaching out to the multitudes. God loves us in ways that we could never imagine. Despite our sins and mistakes, He continues to show us mercy and grace.
When we hand our lives over to God, it's so important to remember that there is truly a better one waiting for us in Heaven. Even when we may feel lost or distant from the Lord, take comfort in knowing that He is always by our side. He is our light, our strength, and our truth for all of eternity and this song is the perfect reminder.
1 John 3:1 " See what great love the Father has lavished on us, that we should be called children of God! And that is what we are! The reason the world does not know us is that it did not know him."
michael-w-smith

4867 views

2019-03-07T14:36:44

source: Michael W. Smith Michael W. Smith shares a beautiful, live performance of the hit song 'Reckless Love.' During one of Michael's recent concerts, he sat down at a piano and start to sing the words to this powerful song.

'Oh, the overwhelming, never-ending, reckless love of God
Oh, it chases me down, fights 'til I'm found, leaves the ninety-nine
I couldn't earn it, and I don't deserve it, still, You give Yourself away
Oh, the overwhelming, never-ending, reckless love of God, yeah'

'Reckless Love' was originally written and recorded by Christian artist Cory Asbury. In 2018, Michael W. Smith released a cover of the song on his live album 'Surrounded.'

This incredible worship song has touched lives all over the world and the inspiring message is still reaching out to the multitudes. God loves us in ways that we could never imagine. Despite our sins and mistakes, He continues to show us mercy and grace.

When we hand our lives over to God, it's so important to remember that there is truly a better one waiting for us in Heaven. Even when we may feel lost or distant from the Lord, take comfort in knowing that He is always by our side. He is our light, our strength, and our truth for all of eternity and this song is the perfect reminder.

1 John 3:1 " See what great love the Father has lavished on us, that we should be called children of God! And that is what we are! The reason the world does not know us is that it did not know him."
Today's Devotional
A Prayer for Rest from the Need to Prove Ourselves - Your Daily Prayer - October 22
Top Artists