A Cappella Rendition Of 'I Must Tell Jesus' From Kaoma Chende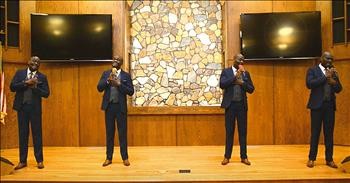 The incredible a cappella voice of Kaoma Chende sings praise to the Lord with 'I Must Tell Jesus.' This classic hymn is loved by so many and reminds us all that Jesus is truly the answer to all of our Earthly worries.

"I must tell Jesus all of my trials;
I cannot bear these burdens alone;
In my distress He kindly will help me;
He ever loves and cares for His own."
Today, Kaoma is lending his voice to this iconic song and it is such a blessing to hear. Not only is this performance completely a cappella, but Kaoma sings each harmony too. Just one song can take hours upon hours to arrange and record. And this talented singer performs flawlessly every single time. It's so amazing to see this man use his God-given talent to give praise to His Name. Just listen as he stands in front of a church and belts out these powerful words.
"I must tell Jesus! I must tell Jesus!
I cannot bear my burdens alone;
I must tell Jesus! I must tell Jesus!
Jesus can help me, Jesus alone."
We cannot bear our burdens on our own. Hand your worries over to the Lord and let Him guide the way.
Philippians 4:6-7 "Do not be anxious about anything, but in everything by prayer and supplication with thanksgiving let your requests be made known to God. And the peace of God, which surpasses all understanding, will guard your hearts and your minds in Christ Jesus."
GodTube-Music

1269 views

2019-10-08T12:28:43

source: Kaoma The incredible a cappella voice of Kaoma Chende sings praise to the Lord with 'I Must Tell Jesus.' This classic hymn is loved by so many and reminds us all that Jesus is truly the answer to all of our Earthly worries.

"I must tell Jesus all of my trials;
I cannot bear these burdens alone;
In my distress He kindly will help me;
He ever loves and cares for His own."

Today, Kaoma is lending his voice to this iconic song and it is such a blessing to hear. Not only is this performance completely a cappella, but Kaoma sings each harmony too. Just one song can take hours upon hours to arrange and record. And this talented singer performs flawlessly every single time. It's so amazing to see this man use his God-given talent to give praise to His Name. Just listen as he stands in front of a church and belts out these powerful words.

"I must tell Jesus! I must tell Jesus!
I cannot bear my burdens alone;
I must tell Jesus! I must tell Jesus!
Jesus can help me, Jesus alone."

We cannot bear our burdens on our own. Hand your worries over to the Lord and let Him guide the way.

Philippians 4:6-7 "Do not be anxious about anything, but in everything by prayer and supplication with thanksgiving let your requests be made known to God. And the peace of God, which surpasses all understanding, will guard your hearts and your minds in Christ Jesus."

Today's Devotional
A Prayer for When Life Gets You Down - Your Daily Prayer - July 6
Top Artists