'Resurrecting' Elevation Worship Live Performance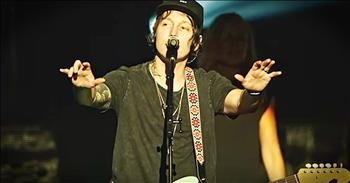 Christian worship band Elevation worship perform a live rendition of their chart-topping song 'Resurrecting.'

These powerful words are a reminder to us all that there is strength and victory in God's name.
"The head that once was crowned with thorns
Is crowned with glory now
The Savior knelt to wash our feet
Now at His feet we bow"
Elevation Worship formed in 2007 at Elevation Church in Charlotte, North Carolina. Similar to bands like Hillsong UNITED and Bethel Music, they started as the Sunday praise band and gradually transitioned to a worldwide audience.
Over a decade later, this Elevation Worship continues to lead praise all for the glory of God. Today, they are performing the incredible single, 'Resurrecting' from the album 'Here As In Heaven.'
"By Your spirit I will rise
From the ashes of defeat
The resurrected King, is resurrecting me
In Your name I come alive
To declare Your victory
The resurrected King, is resurrecting me"
There is power in the name of Jesus and He gives us strength when we feel weak. These lyrics remind us that there is a force greater than all of us that continues to save us all.
Isaiah 40:29-31 "29 He gives strength to the weary and increases the power of the weak.
30 Even youths grow tired and weary, and young men stumble and fall;
31 but those who hope in the LORD will renew their strength. They will soar on wings like eagles; they will run and not grow weary, they will walk and not be faint."
elevation-worship

4955 views

2016-03-01T15:16:00

source: Elevation Worship Christian worship band Elevation worship perform a live rendition of their chart-topping song 'Resurrecting.'

These powerful words are a reminder to us all that there is strength and victory in God's name.

"The head that once was crowned with thorns
Is crowned with glory now
The Savior knelt to wash our feet
Now at His feet we bow"

Elevation Worship formed in 2007 at Elevation Church in Charlotte, North Carolina. Similar to bands like Hillsong UNITED and Bethel Music, they started as the Sunday praise band and gradually transitioned to a worldwide audience.

Over a decade later, this Elevation Worship continues to lead praise all for the glory of God. Today, they are performing the incredible single, 'Resurrecting' from the album 'Here As In Heaven.'

"By Your spirit I will rise
From the ashes of defeat
The resurrected King, is resurrecting me
In Your name I come alive
To declare Your victory
The resurrected King, is resurrecting me"

There is power in the name of Jesus and He gives us strength when we feel weak. These lyrics remind us that there is a force greater than all of us that continues to save us all.

Isaiah 40:29-31 "29 He gives strength to the weary and increases the power of the weak.

30 Even youths grow tired and weary, and young men stumble and fall;

31 but those who hope in the LORD will renew their strength. They will soar on wings like eagles; they will run and not grow weary, they will walk and not be faint."
Today's Devotional
A Prayer for Fulfillment - Your Daily Prayer - July 17
Top Artists