'Voice Of Truth' Casting Crowns Live Performance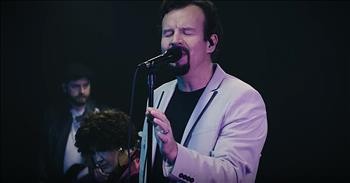 Award-winning Christian group Casting Crowns shares a live performance of their song, 'Voice Of Truth.' These powerful words remind us that there is strength and wisdom in the Name of Jesus.

"But the voice of truth tells me a different story
The voice of truth says, "Do not be afraid!"
The voice of truth says, "This is for My glory"
Out of all the voices calling out to me
I will choose to listen and believe the voice of truth"
There may be times in our lives when we are plagued with fear or sadness. During these times of darkness, it is so important to remember that our Lord loves us beyond comprehension.
Our faith truly sets us free and we can soar to heights we've never imagined. That's exactly the message in 'Voice Of Truth.'
Time after time, this popular ensemble delivers the Word of God in an incredible way. And today, Casting Crowns is at the YouTube Space in New York for an incredible live performance of this modern day classic. What a blessing it is to serve such a merciful God!
"I will soar with the wings of eagles
When I stop and listen to the sound of Jesus
Singing over me
I will choose to listen and believe the voice of truth"
John 8: 31-32 "31 To the Jews who had believed him, Jesus said, "If you hold to my teaching, you are really my disciples. 32 Then you will know the truth, and the truth will set you free."
casting-crowns

3639 views

2019-08-20T12:34:44

source: Casting Crowns Award-winning Christian group Casting Crowns shares a live performance of their song, 'Voice Of Truth.' These powerful words remind us that there is strength and wisdom in the Name of Jesus.

"But the voice of truth tells me a different story
The voice of truth says, "Do not be afraid!"
The voice of truth says, "This is for My glory"
Out of all the voices calling out to me
I will choose to listen and believe the voice of truth"

There may be times in our lives when we are plagued with fear or sadness. During these times of darkness, it is so important to remember that our Lord loves us beyond comprehension.

Our faith truly sets us free and we can soar to heights we've never imagined. That's exactly the message in 'Voice Of Truth.'

Time after time, this popular ensemble delivers the Word of God in an incredible way. And today, Casting Crowns is at the YouTube Space in New York for an incredible live performance of this modern day classic. What a blessing it is to serve such a merciful God!

"I will soar with the wings of eagles
When I stop and listen to the sound of Jesus
Singing over me
I will choose to listen and believe the voice of truth"

John 8: 31-32 "31 To the Jews who had believed him, Jesus said, "If you hold to my teaching, you are really my disciples. 32 Then you will know the truth, and the truth will set you free."

Today's Devotional
A Prayer for When You Don't Feel Like Praising God - Your Daily Prayer - May 27
Top Artists