'Yes And Amen' Chris Tomlin Cover From Anthem Lights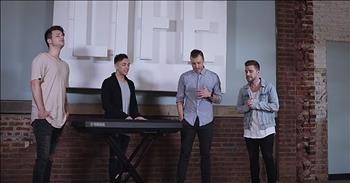 The talented men of Anthem Lights perform a worship cover of Chris Tomlin's 'Yes and Amen.' This powerful song has given hope and joy to hearts all over the world and the words continue to touch us today.

"Faithful you are
Faithful forever you will be
Faithful you are
All your promises are yes and Amen
All your promises are yes and Amen"
Countless artists have covered this beautiful song over the years, but Anthem Lights puts their own spin on the tune. The men of Anthem Lights always select the perfect worship music to showcase their incredible talent and love for the Lord. These lyrics truly remind us that God is always faithful and He will never leave our side.
"Beautiful Saviour
You have brought me near
You pulled me from the ashes
You have broken every curse
Blessed redeemer
You have set this captive free
Lord I can't help but sing"
God has truly given us so many blessings and gifts in this life. Even when we do not deserve His love, He gives it to us anyways. What a loving Father we serve. This worship song is the perfect way to give praise to His name and spread God's message for all the world to hear. Who else is saying amen right now?
Isaiah 4:10 "So do not fear, for I am with you; do not be dismayed, for I am your God. I will strengthen you and help you; I will uphold you with my righteous right hand."
anthem-lights

691 views

2019-02-07T12:43:52

source: Anthem Lights The talented men of Anthem Lights perform a worship cover of Chris Tomlin's 'Yes and Amen.' This powerful song has given hope and joy to hearts all over the world and the words continue to touch us today.

"Faithful you are
Faithful forever you will be
Faithful you are
All your promises are yes and Amen
All your promises are yes and Amen"

Countless artists have covered this beautiful song over the years, but Anthem Lights puts their own spin on the tune. The men of Anthem Lights always select the perfect worship music to showcase their incredible talent and love for the Lord. These lyrics truly remind us that God is always faithful and He will never leave our side.

"Beautiful Saviour
You have brought me near
You pulled me from the ashes
You have broken every curse
Blessed redeemer
You have set this captive free
Lord I can't help but sing"

God has truly given us so many blessings and gifts in this life. Even when we do not deserve His love, He gives it to us anyways. What a loving Father we serve. This worship song is the perfect way to give praise to His name and spread God's message for all the world to hear. Who else is saying amen right now?

Isaiah 4:10 "So do not fear, for I am with you; do not be dismayed, for I am your God. I will strengthen you and help you; I will uphold you with my righteous right hand."
Today's Devotional
A Prayer for Fulfillment - Your Daily Prayer - July 17
Top Artists