Toddler With Spina Bifida Walks For The First Time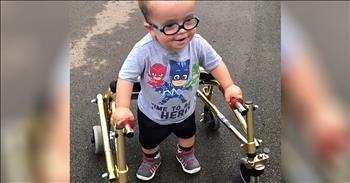 It was a heartwarming moment caught on camera when this toddler with spina bifida walks for the first time. 2-year-old Roman Dinkel was diagnosed with the disorder when he was still in utero. His mother, Whitney Dinkel, was 20 weeks pregnant when doctors broke the news to the family.

During this time, Roman underwent surgery to help with his breathing and functional movement in his legs after birth, but the doctors warned that Roman may never walk. Whitney and her husband, Adam, chose to remain positive.
After he was born, Roman utilized physical and chiropractic care and eventually was able to move around with a walker. Then, this brave toddler started to use crutches and that's when he took his very first steps. The incredible moment was all captured on camera and you can feel the excitement from everyone in the room. My heart nearly soared hearing this adorable tot shout "I'm walking! I'm finally walking!"
And I'm not the only one because this precious video has been viewed over 124 million times. Now, Roman is a viral sensation with his own Facebook page that follows his inspiring journey. Many parents may have given up hope, but Roman's family never lost faith in God or their son's perseverance. Now, Roman is experiencing the world in a whole new way and it's making millions of people smile.
Joshua 1:9 "Have I not commanded you? Be strong and courageous. Do not be afraid; do not be discouraged, for the LORD your God will be with you wherever you go."
godtube-inspiration

17982 views

2019-02-07T12:50:00

source: ABC News It was a heartwarming moment caught on camera when this toddler with spina bifida walks for the first time. 2-year-old Roman Dinkel was diagnosed with the disorder when he was still in utero. His mother, Whitney Dinkel, was 20 weeks pregnant when doctors broke the news to the family.

During this time, Roman underwent surgery to help with his breathing and functional movement in his legs after birth, but the doctors warned that Roman may never walk. Whitney and her husband, Adam, chose to remain positive.

After he was born, Roman utilized physical and chiropractic care and eventually was able to move around with a walker. Then, this brave toddler started to use crutches and that's when he took his very first steps. The incredible moment was all captured on camera and you can feel the excitement from everyone in the room. My heart nearly soared hearing this adorable tot shout "I'm walking! I'm finally walking!"

And I'm not the only one because this precious video has been viewed over 124 million times. Now, Roman is a viral sensation with his own Facebook page that follows his inspiring journey. Many parents may have given up hope, but Roman's family never lost faith in God or their son's perseverance. Now, Roman is experiencing the world in a whole new way and it's making millions of people smile.

Joshua 1:9 "Have I not commanded you? Be strong and courageous. Do not be afraid; do not be discouraged, for the LORD your God will be with you wherever you go."
Today's Devotional
A Prayer for When You're Way Too Busy - Your Daily Prayer - February 27
Top Artists