David Crowder Red Letters (Official Music Video)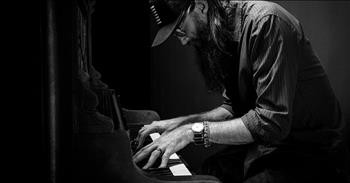 Three time GRAMMY nominated artist, David Crowder, releases an emotional single "Red Letters" from his newest album "I Know A Ghost" coming out November 9. "Red Letters" shares the narrative of God's plan of rescue for believers as it's told throughout the Bible. From the earliest moments, God had a plan in place to lead the world to His Son.

"Red Letters" video shows red string throughout symbolizing God's paths for our life, the grace of God, to bring us to salvation. It's a truly powerful concept to think that woven throughout our lives is a "bread trail" to free us from the sin and darkness that consumes the world. God has always had a plan and desires for us to find our freedom in Him!
"Then I read the red letters
And the ground began to shake
The prison walls started falling
And I became a free man that day"
Crowder is known for worship anthems such as "How He Loves" and " O Praise Him". His newest release, "Red Letters" tells the path of those in sin, "Hell was my destiny," instead saved by the Holy Spirit and given new life in Christ.
"Felt like lightning hit my veins
My dead heart began to beat
Breath of God filled my lungs
And the Holy Ghost awakened me
Yeah, the Holy Ghost awakened me"
Crowder shares about Red Letters, "The meta-narrative of the story of God's rescue woven through the Scriptures is intricate and powerful and that's what I wanted to pick up on with this song. It's worth singing about. I love it and I hope it's meaningful for my fans and listeners out there."
crowder

14461 views

2018-11-07T13:34:00

source: CrowderVEVO Three time GRAMMY nominated artist, David Crowder, releases an emotional single "Red Letters" from his newest album "I Know A Ghost" coming out November 9. "Red Letters" shares the narrative of God's plan of rescue for believers as it's told throughout the Bible. From the earliest moments, God had a plan in place to lead the world to His Son.

"Red Letters" video shows red string throughout symbolizing God's paths for our life, the grace of God, to bring us to salvation. It's a truly powerful concept to think that woven throughout our lives is a "bread trail" to free us from the sin and darkness that consumes the world. God has always had a plan and desires for us to find our freedom in Him!

"Then I read the red letters
And the ground began to shake
The prison walls started falling
And I became a free man that day"

Crowder is known for worship anthems such as "How He Loves" and " O Praise Him". His newest release, "Red Letters" tells the path of those in sin, "Hell was my destiny," instead saved by the Holy Spirit and given new life in Christ.

"Felt like lightning hit my veins
My dead heart began to beat
Breath of God filled my lungs
And the Holy Ghost awakened me
Yeah, the Holy Ghost awakened me"

Crowder shares about Red Letters, "The meta-narrative of the story of God's rescue woven through the Scriptures is intricate and powerful and that's what I wanted to pick up on with this song. It's worth singing about. I love it and I hope it's meaningful for my fans and listeners out there."
Today's Devotional
A Prayer for When Life Doesn't Turn Out the Way You Expect - Your Daily Prayer - June 18
Top Artists